Business story
With strong technology accumulation, Video-Star has been deeply involved in the real estate industry for many years, and has successively launched a series of smart home solutions for the real estate industry, aiming to make KNX (a smart home system) smarter, more comfortable, and more caring. By connecting home devices, and offering services according to Video-Star users' living habits, KNX provides a modern and intelligent living environment that are safe, comfortable, and convenient.
Why choose Tuya
With the increasingly fierce competition in the smart home market, the coverage of device categories determines a lot of user scenarios. The hardware ecology of Tuya Smart provides a favorable category supplement for Video-Star, and greatly improves the product competitiveness of Video-Star smart home solutions.
More importantly, due to the particularity of home real estate industry, Video-Star has the demand for the convenience of equipment installation and the stability of user experience. The Zigbee networking scheme of Tuya has a large network capacity, high safety factor, and stable data transmission, which can well address the business demands of Video-Star.
Solutions
The cloud service AITritium of Video-Star is connected to the Tuya cloud through the cloud interaction. The Zigbee devices in the Tuya ecosystem are included in the system of Video-Star smart life system.

After integrating the Tuya App SDK, Zhuhui (筑慧 in Chinese), a mobile smart home application developed by Video-Star, can configure the hardware products in the Tuya ecosystem and add the products to Zhuhui app. In this way, Video-Star users can manage and control the devices both from Video-Star and the Tuya ecosystem through mobile phones.
Video-Star also launched a set of solutions based on the converged gateways. See the following picture.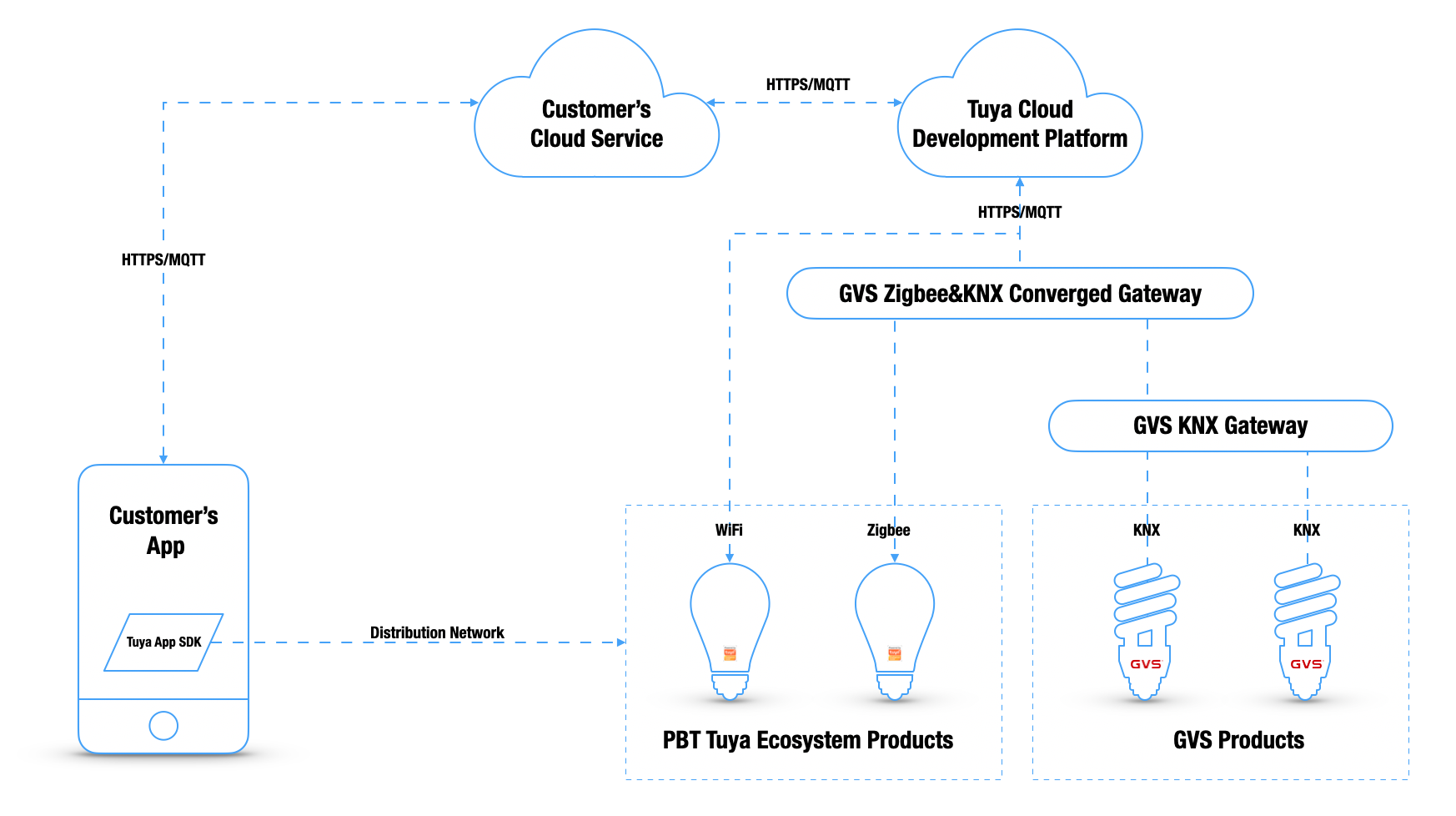 Benefits
The real estate solution launched by Video-Star has been successfully implemented in the demonstration of several Chinese real estate projects such as Zumiao of Jinmaoyue group, and will be promoted to the nation as a typical case in the future.