The challenge
In recent years, the domestic market of air conditioning is slowing down, and the competition in the domestic market is increasingly fierce. Many air conditioning suppliers are actively layout the international market.
Skyworth air conditioning is serving hundreds of international customer brands and solving different needs. Skyworth is also looking for the most appropriate solutions to meet the needs of customers.
Why choose Tuya Smart
As a global AIoT platform, Tuya Smart can provide hardware access, cloud services, App software development and other capabilities, which can well meet the demands of Skyworth air conditioning.
Customer demands are always diversified. By choosing Tuya Smart, Skyworth's customers can easily build genuine brand smart app and device control panel.

The device can be easily controlled and managed through the popular smart speakers from the international market, such as Amazon Alexa and Google home.

It is difficult to manage customer data in different regions and from different device separately. By a unified solution, Skyworth only needs to maintain one device ID to simplify management.
Solutions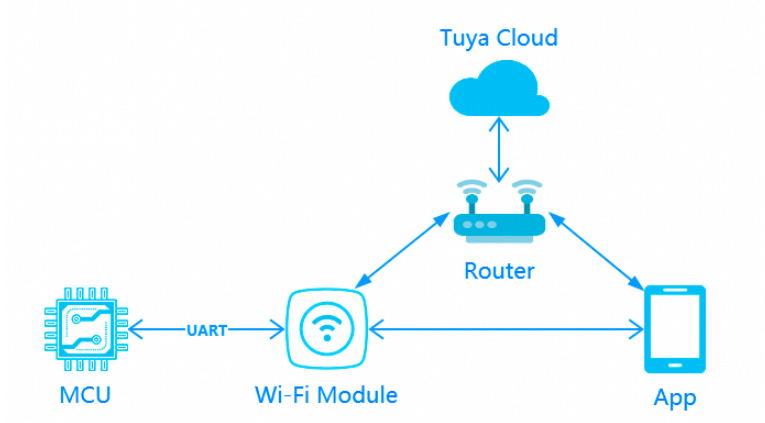 Tuya Smart IOT development platform supports one-stop service of networking module & App & cloud infrastructure construction for smart products. It has rich experience in global market access, making development more convenient and efficient.
Smart hardware access: networking module developed by Tuya Smart has obtained multiple authoritative certification and easy access to the global market. According to the product features of Skyworth air conditioner, the hardware scheme can be redeveloped based on the Tuya Smart module SDK, and connected with the main control board of the air conditioner through the specially made module adapter board.
App: if customers want to build their own App, Tuya Smart provides OEM App solutions without additional development resources. With the IOT console, customers can generate genuine brand apps. At the same time, Tuya also provides the value-added service of packing and putting on the shelf, and self-guided development can be completed through the platform.
Cloud service: Tuya Smart is committed to providing global customers with safe, stable, and fast cloud services. It has the ability to operate hundreds of millions of massive data and tens of millions of users simultaneously, with an uninterrupted rate of 99.9%. The advantages of global deployment, global acceleration and flexible expansion make users in the international market worry free.
Other advantages:
In terms of smart speaker service, Tuya Smart supports more than ten major voice assistants at home and abroad. Skyworth can select third-party access services by itself, such as Amazon Alexa, Google Assistant, Yandex Alice, and so forth.

SKYWORTH air conditioning products have a wide variety of global channels. It is complicated to maintain customer material numbers according to product dimensions. Through the mapping relationship between the cloud and app, Tuya can support the need to maintain only one product material number based on different customer devices.
The benefits
Through Tuya IOT development platform, Skyworth Wi-Fi intelligent air conditioner is developed and sold in the online and offline channels of Skyworth global agents and major OEM manufacturers. The customized brand app of Skyworth's OEM customers can be searched and downloaded in Google play and App Store.