Business story
Aurine cooperated with Tuya Smart for the first time on the Vanke smart community project in 2019, and conducted in-depth cooperation about the smart community platform, smart home ecosystem, Zigbee module, etc., and signed strategic partnership agreement with Tuya on January 3, 2020.
As a solution provider of smart community, Aurine has been working on the real estate industry for years, with rich experience in project implementation. While Tuya, as a leading global AIoT platform, has formed a good mutual assistance and supplement with Aurine in the development and operation of cloud platform, SaaS platform of smart community, smart home system and hardware module capabilities.
With the deepening of the cooperation, more and more smart and efficient smart community projects will be implemented to achieve mutual benefits.
Why choose Tuya
Aurine needs a mature SaaS application scheme that can manage and operate all accessed devices and business data. Moreover, this SaaS application scheme may have multi tenant application, so that Aurine can independently provide application service authority to key accounts.

The smart community app of Aurine can manage not only its own products connected to Tuya ecosystem, but also products of other manufacturer in the Tuya ecosystem.

In the process of project implementation, typical apps cannot be used for multiple devices, rooms, networks, and so forth. Aurine hopes to have a solution that is dedicated to the project implementation. The expected solution helps to complete a series of deployment operations such as smart device join, room completion, scene configuration, and so on in a complex on-site environment, so as to establish a fast and batch implementation capability.

The devices in the Tuya ecosystem apply to the communication protocol of Aurine 433 and Zigbee 3.0.
Solutions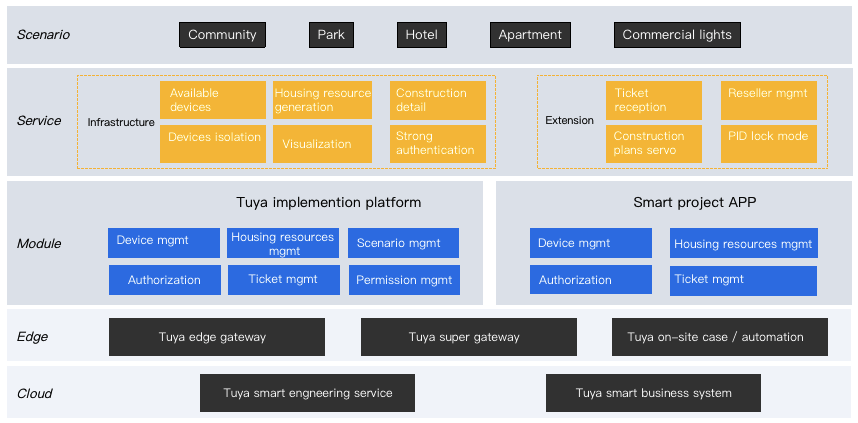 The Tuya SaaS application scheme of smart community is provided to Aurine for deployment application service. It can manage and operate all the business data connected to the Aurine SaaS application, and the device data does not involve the user privacy. In the future, it can get through the security information system of the community, including the self-management function.

After the smart community app of Aurine is integrated with the home SDK provided by Tuya, Aurine users can control all products connected to Tuya ecosystem through the Aurine smart community app.

The construction platform SaaS and smart engineering app independently developed by Tuya support offline deployment and batch deployment. It can quickly complete the installation and configuration of smart devices in a complex construction environment, and support static and dynamic strong authentication, so as to avoid errors in the manual setting of personnel. After the completion of construction, the task information of smart engineering app can be uploaded with one click and synchronized to the database. After that, you can also pull all the equipment and scenes from the gateway with one click to avoid the door-to-door service after delivery.
Tuya Smart provides a gateway extension SDK to support multi-protocol access. Aurine develops the gateway through SDK to access existing 433 RF equipment and Zigbee equipment.
Benefits
A variety of wireless switches and multi-protocol wireless gateway devices have been connected, laying a solid foundation for the follow-up of smart community projects.