Case introduction: DOOYA has integrated the app of door and window motors with Tuya MCU SDK, achieved product intelligence by combining Tuya OEM App, and expanded market channel through SaaS solutions.
Business story
Main products of DOOYA are all types of door and window motors. In the smart home scenario, when the owner or service provider chooses the door and window motor, the key point is whether this product is compatible with existing smart hardware in the house. Therefore, by using diversified smart devices of Tuya, DOOYA expects to connect its motors with products of other brands.
Why choose Tuya Smart
Tuya Smart is a global AIoT development platform covering hardware access, cloud development and app development. With the closed loop of AI and manufacturing industry, consumers can achieve smart upgrade of hardware products.
Based on Tuya Smart platform capabilities, DOOYA provides a customized app for each customer, in order to meet different customers' requirements.
After connected to Tuya Smart ecosystem, DOOYA motors are compatible and interactive with other manufacturers' devices.
TuyaGo Platform helps DOOYA to expand sales channels. Besides door and window motors, DOOYA purchases smart devices according to market requirements, and thus enriches the smart home solution.
Solution
Regarding hardware, MCU can be connected to Tuya Cloud Development Platform through Tuya module serial port protocol. MCU SDK provided by Tuya IoT Development Platform encapsulates basic functions of data reporting and delivery, so you only need to call the API operations to develop an app quickly.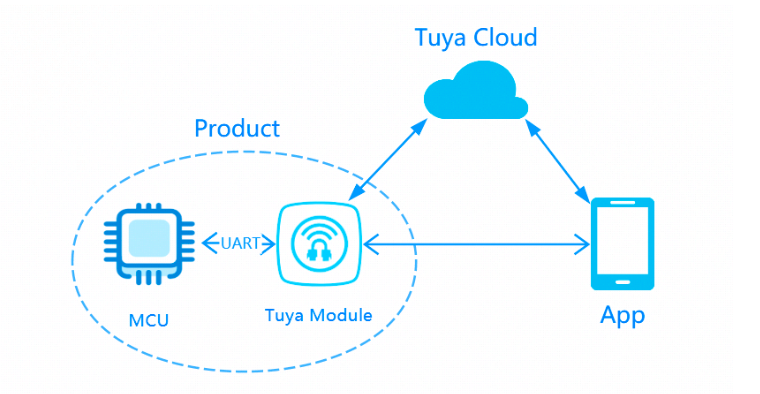 Meet different customers' requirements for a customized app, and get rid of development. Through Tuya IoT Development Platform, DOOYA generates a customized app of its brand, which can be configured flexibly. Meanwhile, Tuya provides the value-added service of self-help data packing and release.
After a product is developed, DOOYA provides product documents and samples, and applies to join TuyaGo. After DOOYA has passed Tuya testing and certification, DOOYA obtains professional marketing service and its products are sold to global channels. As a one-stop smart product purchase and sale platform, TuyaGo provides a global online/offline platform for numerous good-quality "Powered by Tuya" ecological brands. TuyaGo also provides diversified varieties of smart products.
Benefits
Two new types of motors have been developed. DOOYA will promote and sell them through online and offline channels. To meet market requirements, DOOYA will continuously develop new types of smart door and window motors to enrich the production line of "Powered by Tuya" smart motors.