Case introduction: Juku Smart has used the IoT Development Platform of Tuya Smart to develop many smart products, such as wake-up light and IR remote control.
Business story
Juku Smart boasts rich experience in hardware development in the smart home scenario. Voice control and big data are the technical development trend of smart home, but different types of smart products require different communications protocols and development modes. Therefore, an IoT platform supporting multiple terminals and protocols is required to complete device intelligence, and shorten the development cycle of smart products.

Why choose Tuya Smart
Tuya Smart provides mature solutions that support mainstream communications protocols, such as Wi-Fi, BLE and Zigbee. The solutions have been validated through mass production. Tuya Smart provides diversified customized scalable development methods of hardware, software and cloud, which meets the requirement of multiple protocols, terminals and scenarios of Juku Smart.

Some technical issues might occur during development of smart devices. Tuya Smart has a complete technical support and service system. Its response speed is far higher than the average level in the industry, so Tuya Smart can provide sufficient product development support for Juku Smart.

After a survey of IoT platforms in the market, Juku Smart thinks that Tuya Smart boasts an obvious advantage in various aspects, ranging from service quality to platform openness. As a result, at the early stage of smart product development, Juku Smart has chosen to realize product intelligence through the IoT Development Platform of Tuya Smart.
Solution
Tuya MCU SDK encapsulates the communications and networking functions. Juku only needs to integrate SDK with its application codes to call relevant interfaces and complete device intelligence quickly.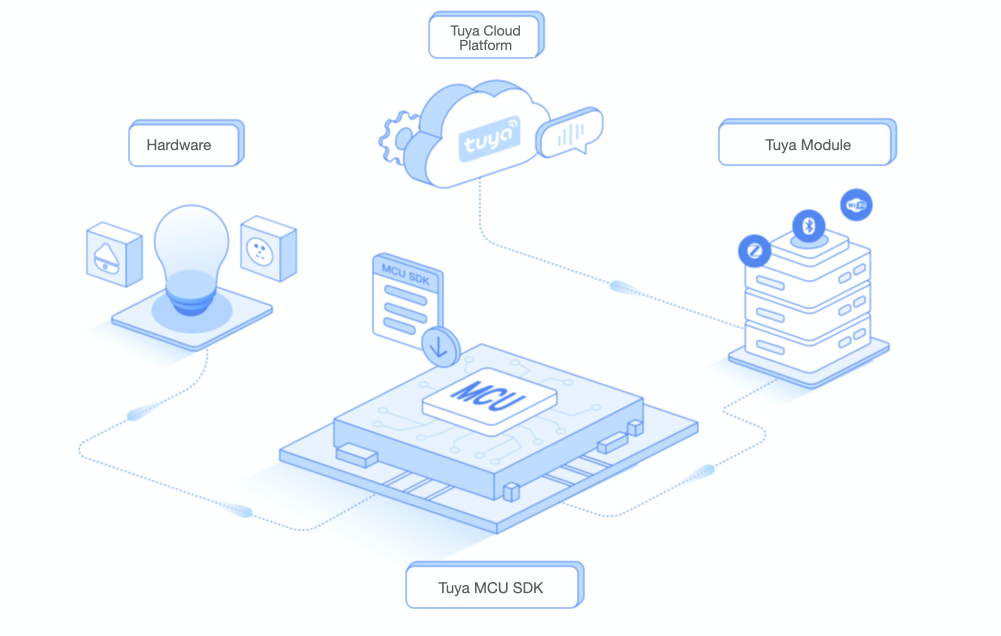 Tuya SoC development-free solution provides a complete set of functions to meet mainstream requirements in the market. Juku Smart does not need to carry out software development of existing products. The only thing that Juku needs to do is to modify hardware circuit simply, and integrate Tuya modules into hardware circuit. In this way, IR remote control and night light are developed quickly, while product release cycle is shortened substantially.

Regarding the hardware functions developed by Juku or specific to Juku, Juku App integrates with Tuya App SDK, and combines cloud development API to control the products. Existing devices can connect and communicate with new devices.
Benefits
In a very short period, Juku has researched and developed numerous products, and has put them into mass production, including wake-up light, the second generation of wake-up light, children's alarm clock, smart strip light, Bluetooth anti-lost device, Bluetooth cabinet lock, night light, and IR remote control. All these products have been released and well sold in the market throughout the country.