Design circuits based on the expected features.
Microcontroller circuit
We use Tuya's WR3E low-power Wi-Fi module as the microcontroller unit.
This module consists of a highly integrated Wi-Fi chip RTL8710BN and external flash interface, with built-in Wi-Fi stacks and various library functions. It combines a low-energy ARM®Cortex™-M4 MCU, wireless MAC/baseband/RF, and 1T1R (1 transmitter/1 receiver) design. It provides output frequency up to 125 MHz, 256 KB embedded SRAM, 2 MB flash memory, and configurable GPIOs that can function as digital peripherals for various applications.
WR3E is a real-time operating system (RTOS), integrated with all wireless MAC and TCP/IP libraries. For more information, see WR3E Module Datasheet.
We supply 5V main power from the USB port. The module operates at 3.0V to 3.6V so we use a low-dropout (LDO) regulator or DC/DC buck converter to step down the voltage.
The schematic diagram is as follows.

U1 is the AMS1117-3.3 LDO voltage regulator. It steps down 5V USB power source to 3.3V to supply the WR3E module.
D1 is the power indicator. When the module is powered on, D1 is on.
TXD and RXD are used for serial data transmission. LOG_TX is used to print logs. The three I/O pins are broken out from P2.
Infrared transmitter and receiver circuit
Most of our home appliances like air conditioners and TV are infrared-controlled so we design an infrared transmitter and receiver circuit.
The schematic diagram is as follows.

R5 is a 10K pull-up resistor to enhance the immunity to EMI of the STUDY pin.
D6 is an infrared remote receiver IRM-3638 from Everlight. IRM-3638 features a peak wavelength of 940 nm, a carrier frequency of 38 kHz, with excellent immunity to EMI. The demodulated output signal can directly be decoded by a microprocessor.
D5, D4, D3, and D2 are IR333-A IR LEDs, with a wavelength of 940 nm, 20 mA operating current, and 1.4V forward voltage. These diodes provide good consistency and resistance.
The four infrared LEDs transmit data in four directions to cover the broadest effective areas. You can prepare the infrared LED as needed.
Nightlight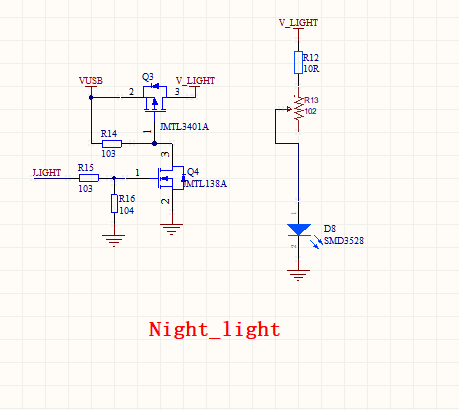 D8 is a warm white SMD 3528 chip, with a maximum current of 30 mA. SMD 3528 can provide high brightness, a large emitting angle, low thermal resistance, high uniformity of the emitting color, low light decay, and a long life span.
R13 is a 1k ohm potentiometer, used to adjust the brightness of the warm white LED.
Q3 and Q4 are two field-effect transistors. When LIGHT outputs high, Q3 is on-state and the warm light LED is turned on. When LIGHT outputs low, Q3 is cut-off and the warm light LED is turned off.
Wi-Fi status indicator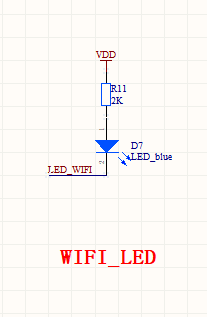 This indicator is used to tell you the current network connection. The indicator flickering slowly or quickly and the guide on the mobile app can help you complete device pairing.
When the infrared LED transmits data, this indicator will flicker to tell you data is sent.
Button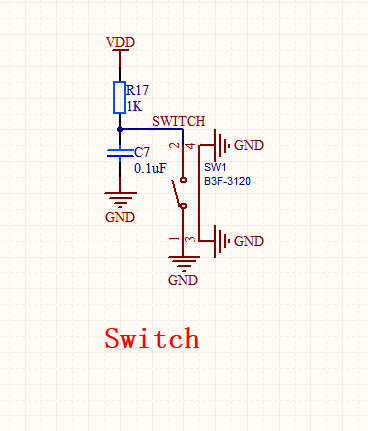 This button is used to initiate pairing. You can press and hold the button to let the AC controller enter pairing mode.
You can also press or release the button to turn on or off the nightlight.
The circuit design is completed. If you have any innovative ideas, add them to this project!