After experiencing the sample, you can learn the process of how to implement the demo and develop a custom temperature and humidity sensor.
Step 4.1: Download the development kit
Create a project, and then refer to the tutorial for transplanting the Tuya MCU SDK development kit MCU Quick Start for more information.
During the creation of the product, you must choose Security & Sensors > Temperature and Humidity Sensor > Custom > Temperature and Humidity Sensor, shown as follows. When the MCU is connected, select a custom solution before downloading to the MCU development package.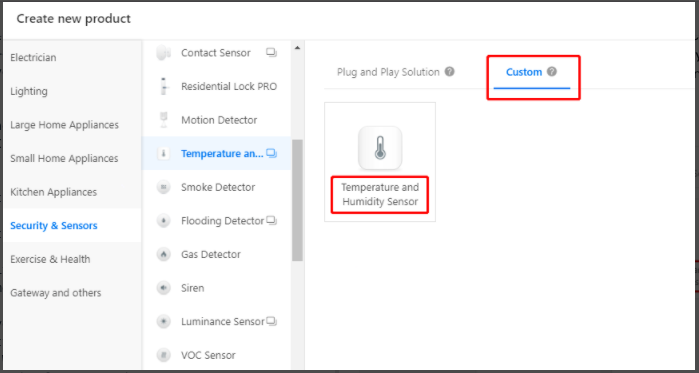 The function is selected according to your needs. Here, the basic function can only select the temperature and humidity display function by default.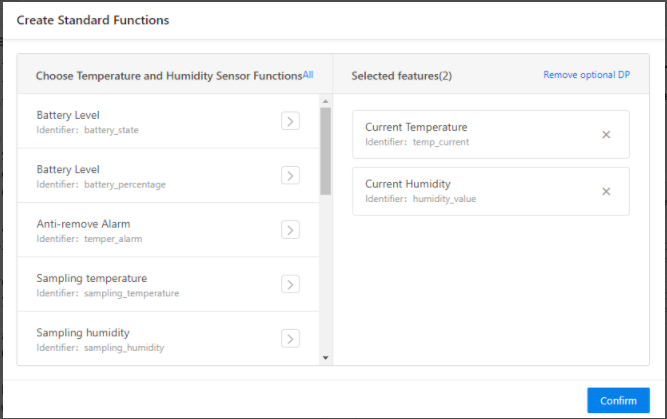 When choosing the firmware, note that the default firmware of the Wi-Fi module is general firmware, rather than the low-power firmware. You must change the power consumption type to standard power consumption. Select the standard general firmware before you can download to the relevant MCU development kit.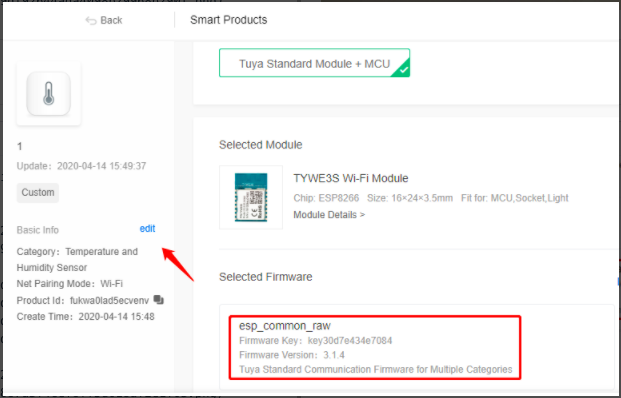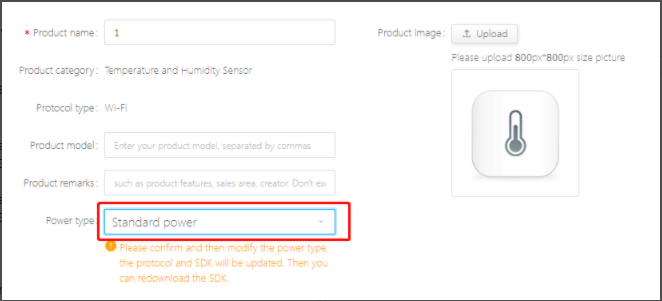 Step 4.2: Hardware test
After downloading the relevant MCU development kit, you can use the Tuya module debugging assistant in the development kit. The assistant simulates the MCU mode and cooperate with the debugging module communication board to verify whether the module is communicating properly. You can skip this step if you are sure that the communication board is available. If you have any questions about the sending and receiving data of the protocol during debugging, you can also use this assistant to view the correct data exchange format. For more information, see Wi-Fi Module MCU Development Overview.
Step 4.2: Porting and debugging
After successful porting, you will see the selected product panel. The temperature and humidity are now showing the initial value. Next, you must transplant the SHT30 driver code to obtain the temperature and humidity data and pass it to the App to display.
For detailed instruction on migration and debugging, see MCU Quick Start.