This topic describes how to configure the NVR solution to implement batch management of IP cameras (IPCs) by using the Smart Life app. For example, with an NVR, you can activate and manage IPCs in bulk and view multiple channels at the same time.
NVR features
Channel view
The NVR solution allows you to develop a 4, 8, or 16-channel NVR. After an NVR is activated, the mobile app can automatically add IPCs and organize them. Users can tap Play to view video streams from a channel or to edit the basic settings.

Button description:
①: Return to the page of the device list.
②: Tap to set the NVR.
③: Quick access to message, playback, cloud storage, and settings of the current channel.
④: Multi-channel view.
Multi-view
Tap Multi-view to view live video streams from multiple channels. This feature supports simultaneous viewing of 4/9/16 channels and quick access to mute, camera, video chat, recording, and full screen. Gestures such as swipe, double-tap, and tap and hold allow users to flip ahead, zoom in/out video, and navigate to the control panel.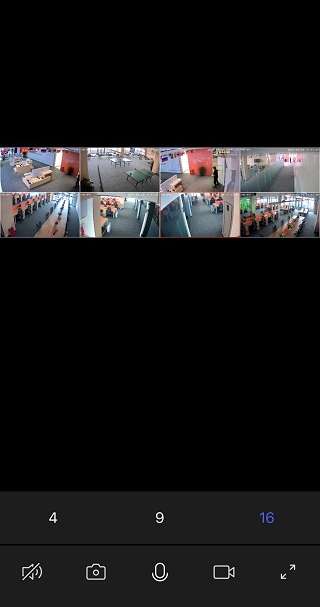 Storage management
Users can view the storage device type and storage capacity and format the storage from Storage Settings.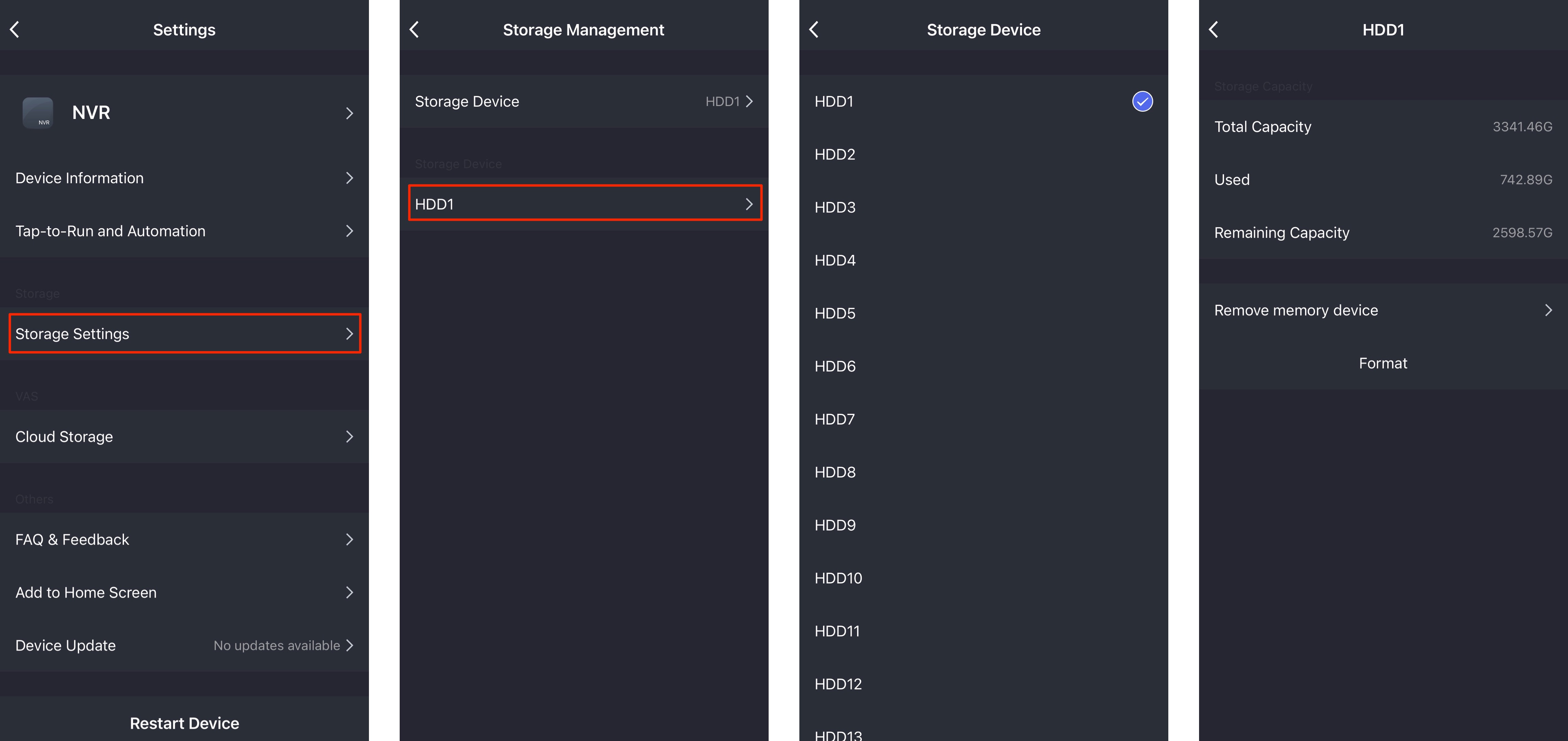 Cloud storage
Cloud storage offers a monthly plan for 7-day event-based video history with 1, 2, or 4 cameras. After subscription, users can specify channels that the plan applies to.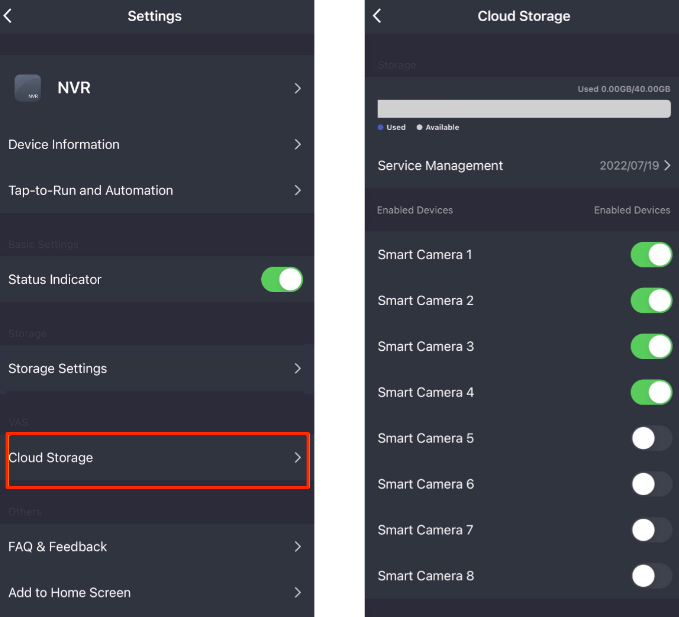 View on web
Open Chrome browser and go to Smart Camera Terminal to view the NVR on the web.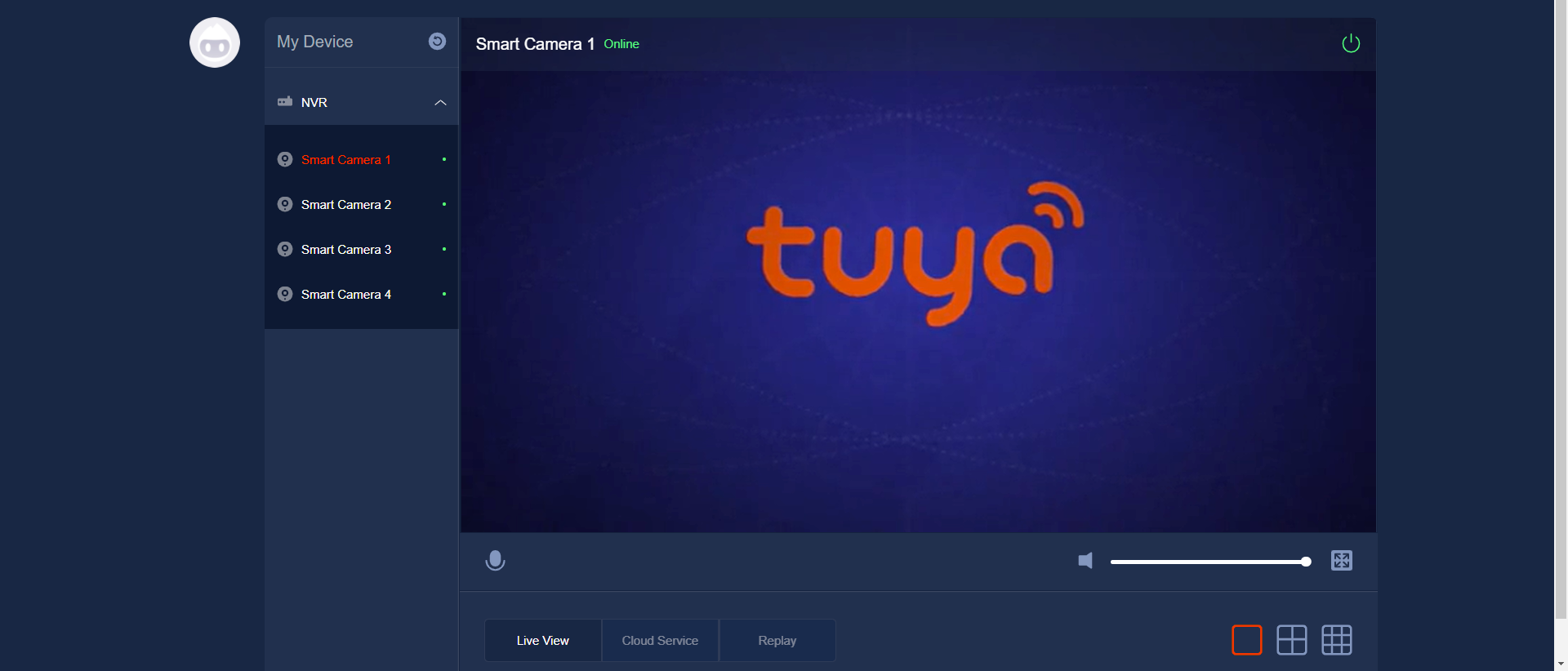 Basic IPC sub-device features
An NVR product is broken down into NVR features and IPC sub-device features. The IPC features are the same as the IPC basic features. You can configure them as needed.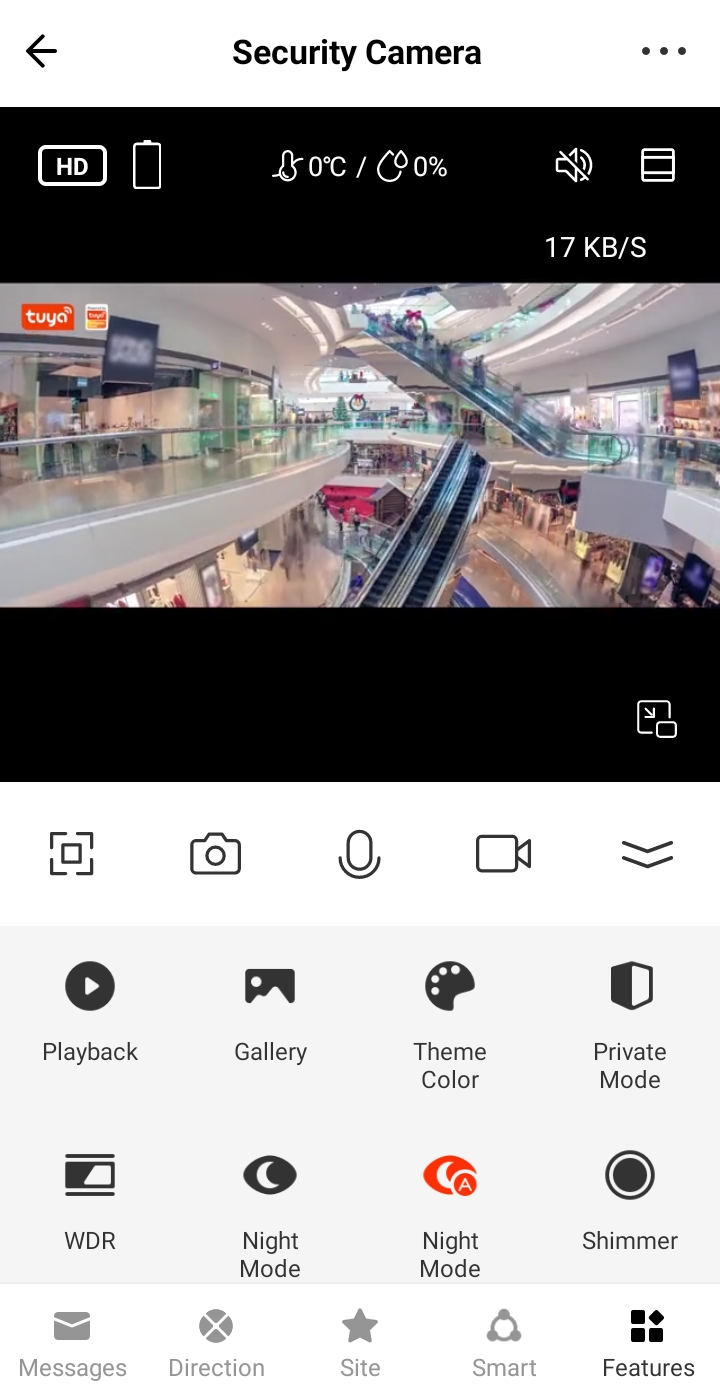 Take pictures

Tap the camera icon to take a picture during a live video stream. Tap Gallery to view or share pictures.
Video chat

Tap the microphone icon to start a video chat with the visitor during a live video stream.
Recording

Tap the video recorder icon to record a clip of the live video. Tap Gallery to view or share clips.
Playback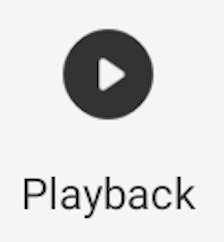 Tap Playback to view videos saved on the SD card during a live video stream.
Gallery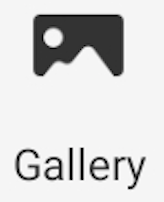 View pictures and clips taken from a live video stream.
Theme color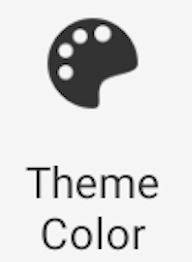 Change the color of the control panel to dark mode or light mode.
Night mode

This feature applies to cameras with IR night vision. Tap Night Mode to turn on or off night mode or enable auto night mode.
Motion detection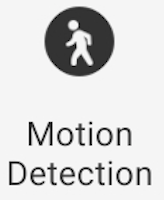 When the camera detects a moving object, it will automatically take pictures and record video while alerting users via the app in real-time. The surveillance area and motion detection sensitivity can be set.
Stretching video/picture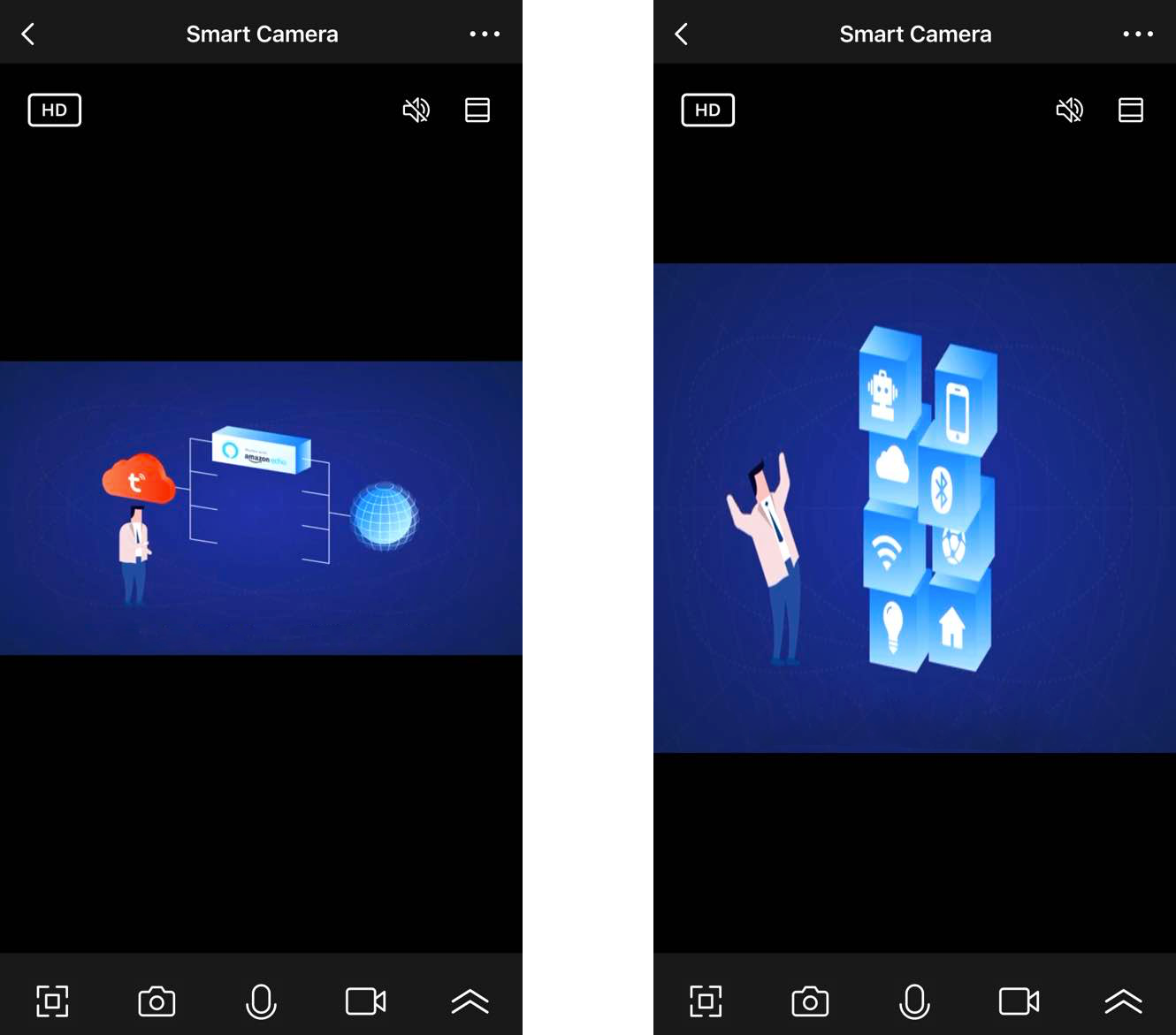 This feature enables cameras that cannot deal with high resolution encoding to deliver high resolution video on the app. For example, if a DVR outputs source video with resolution of 1080N (1080 × 944 pixels), the app displays videos, video recordings, and pictures in 1080P (1920 × 1080 pixels)
Recording schedules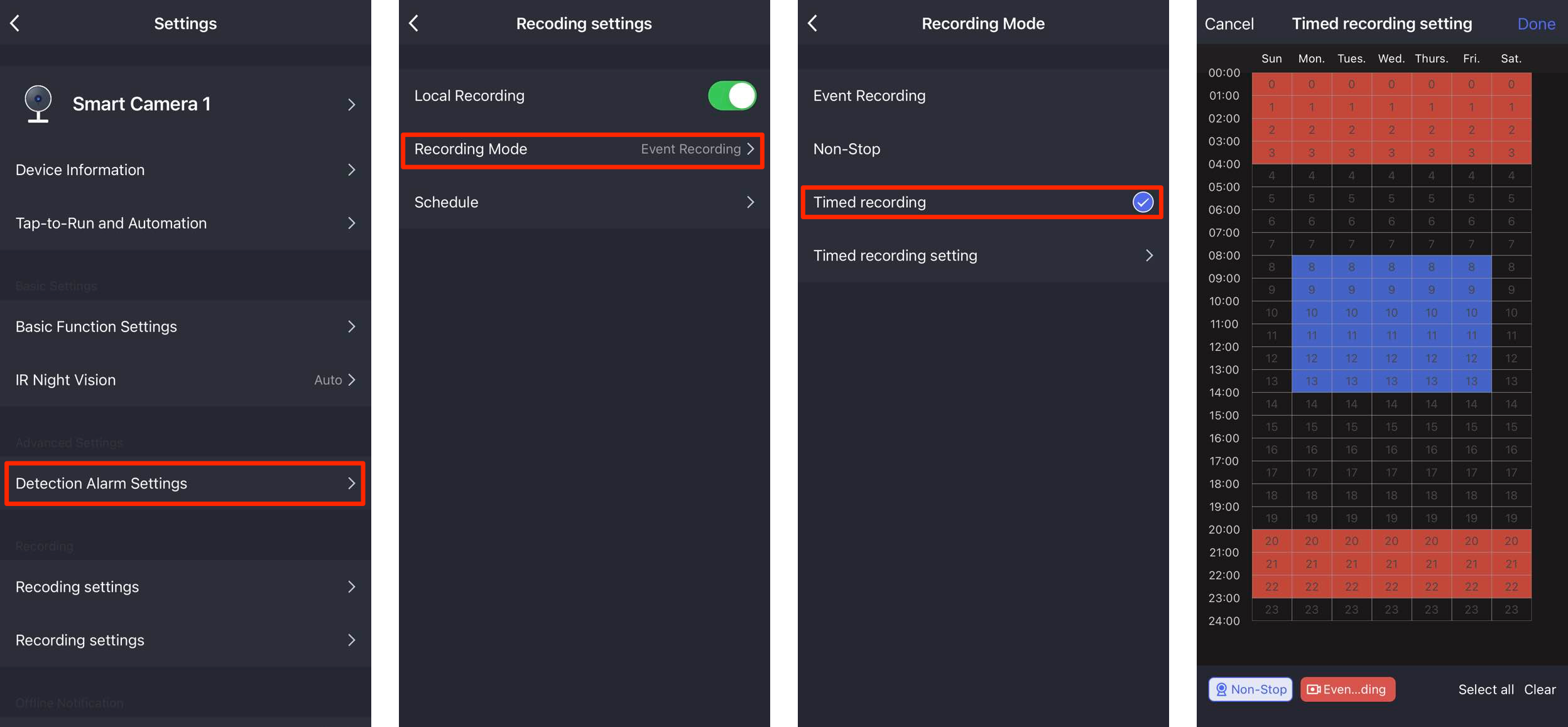 The recording modes support continuous recording, event recording, and scheduled recording. Users can set a recording schedule for each camera.
Local recording retrieve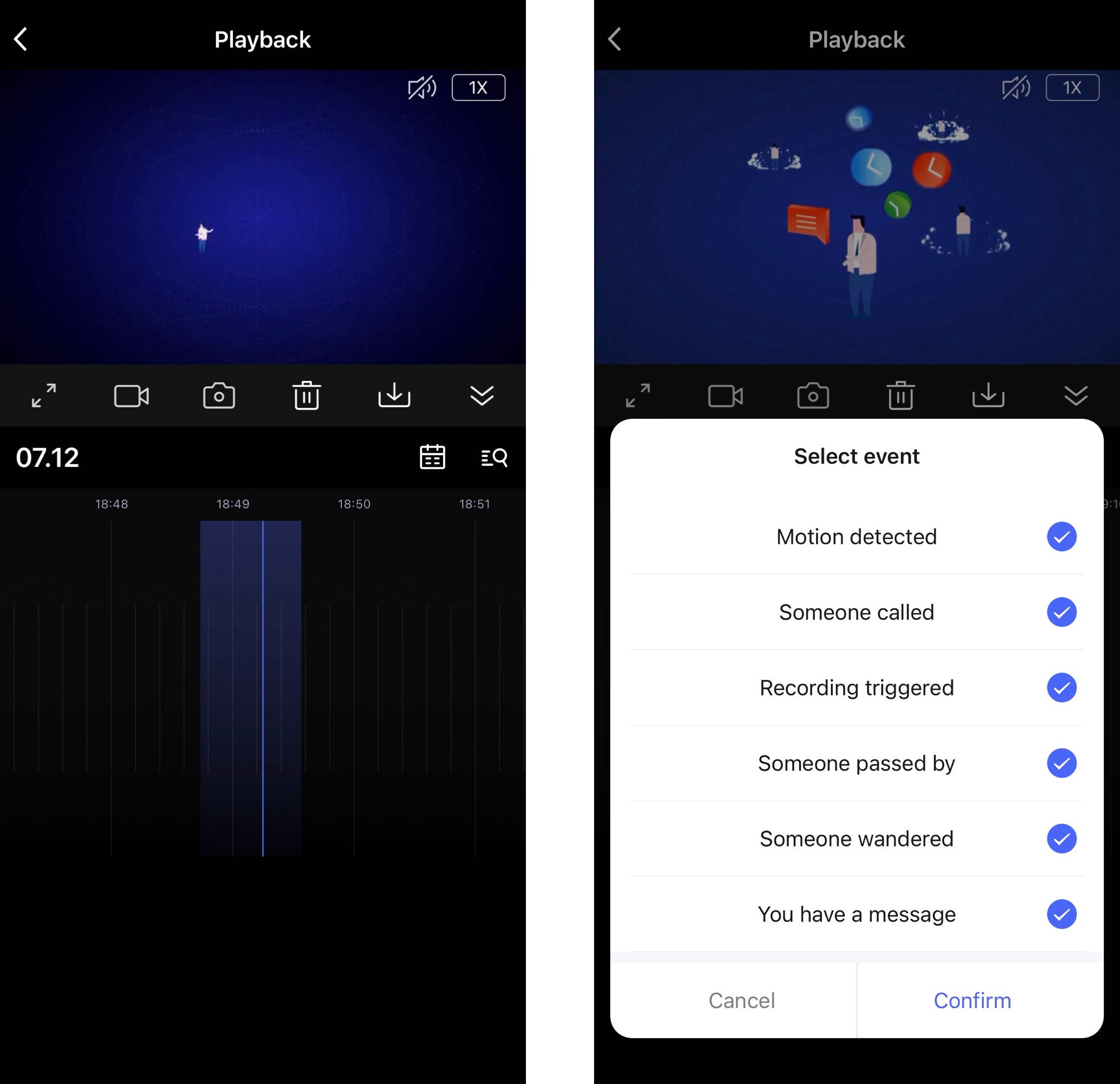 Retrieve local video recordings by event type.
Dynamic adaptation to IPC capabilities
The IPCs that can connect to an NVR vary in features. For example, the panel of cube cameras does not display the PT feature while PT cameras need it. The dynamic adaptation enables the app panel to dynamically adapt to the sub-device features according to the received capability values.
Streaming IPC on third-party devices
Stream live video to displays such as Google Nest Hub and Amazon Alexa. For more information, see IPC Video Stream Pushing.