Overview
Built on top of the RTOS, Linux, and Non-OS, TuyaOS is a distributed and platform-agnostic IoT operating system. Backed by the TuyaOS kernel and various development components, TuyaOS is designed to tackle the heterogeneity of platforms, systems, protocols, and applications in order to enable quick and reliable integration, interconnection, interoperability, and compliance.
The tiered and plug-and-play architecture design allows you to quickly tailor a development framework based on your hardware resources and use cases hence reducing the cost of development with high cost performance. Tuya's proprietary things data model and software bus allow all TuyaOS-based products to be interconnected.
TuyaOS architecture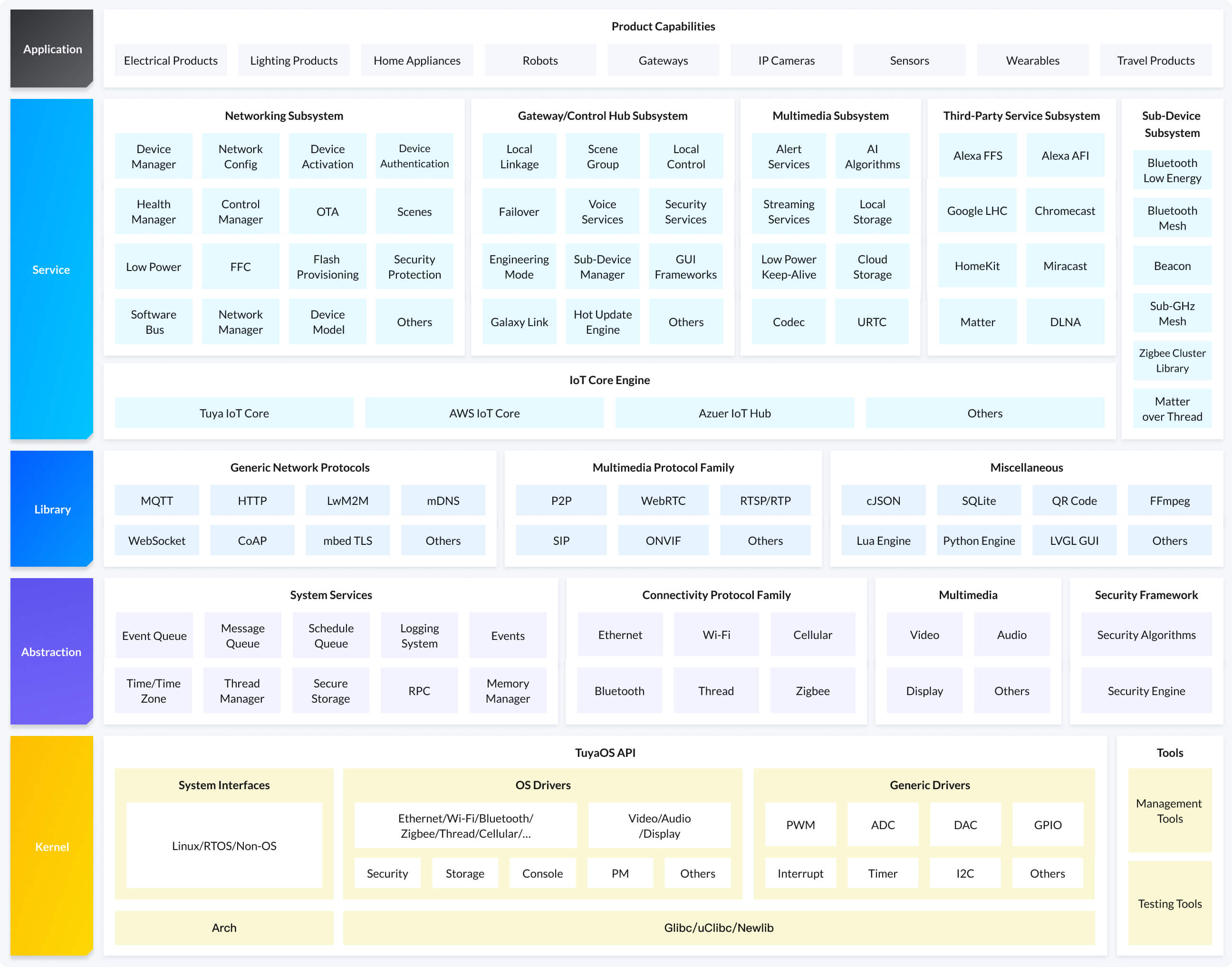 TuyaOS Kernel Layer: It is designed and defined with the principle of the least dependency and provided to the developers in the form of TuyaOS APIs. The kernel provides a stable, reliable, and consistent environment to run the upper-layer software.
TuyaOS Abstraction Layer: It abstracts away all the details of system services, connectivity protocols, multimedia, and security capabilities. Simple and standard methods are offered for service requests.
TuyaOS Libraries Layer: It provides middleware that is independent of specific service implementation.
TuyaOS Services: It provides application development services in the form of scenario-specific service subsystems.
TuyaOS advantages
Consistent development experience across platforms, systems, and protocols.
The modular approach enables you to tailor 'write-once, run-anywhere' and global-ready IoT applications with ease.
Elastic security capability and optimal security service for resource-constrained devices.
Various and stable connectivity capabilities ensure reliable networking at scale.
Reliable local interconnection across various protocols.
Scenario-specific service subsystem helps you implement different use cases with low-code development.
Integration with third parties: Apple (HomeKit), Amazon (FFS, AFI, and Echo Show), Google (Chromecast and Assistant), Matter, Miracast, and more.
Proprietary innovations: Tuya FFC (Flexible Fast Control), Tuya Flash Provisioning, Tuya Galaxy Link, Tuya ITU (IoT Hot Update), and Tuya USE-RTC (Universal, Standard, Easy).
TuyaOS EasyGo
TuyaOS EasyGo is a collective term for TuyaOS-based development kits, helping you develop IoT products with low-code development.
What it is
TuyaOS EasyGo contains development frameworks and product development kits.
Development framework: contains the type development kit and the development platform. The type development kit comprises a range of scenario-specific SDKs built on top of TuyaOS service subsystems and underlying infrastructure, meeting the needs of different resource demands and availability. The development platform comprises the TuyaOS API implementation on specific chip platforms and management tools, providing a consistent runtime environment and development experience.

Product development kit: contains vertical-specific low-code development kits built on top of development frameworks, helping you quickly develop products for a specific niche.

TuyaOS EasyGo is developed and maintained by Tuya and distributed through the Tuya Wind IDE.

The following diagram shows the development process of TuyaOS EasyGo:
TuyaOS development environment
Tuya Wind IDE (integrated development environment) provides comprehensive facilities to developers for TuyaOS development. Installed on Visual Studio Code as an extension, Tuya Wind IDE helps you tailor applications on top of the TuyaOS development framework as needed. You can write code, build projects, flash firmware, and debug applications in one place with ease. You can log in to the IDE with the account of the Tuya IoT Development Platform and develop products as described in the following procedure.