SR000-W00 is a low-power Iot Wi-Fi module developed by Hangzhou Tuya Information Technology Co., Ltd. It consists of a highly integrated radio frequency chip RTL872CS chip, which has built-in Wi-Fi network protocol stack and rich library functions. The module used 32Mbit Flash,and includes audio Codec ES8311, audio amplifier CS8138S, supports 1 ADC/DAC.
BL608 uses ARM Cortex-M4 core, supports embedded flash memory or pSRAM and rich peripheral interfaces.
SR000-W00 is an RTOS platform that integrates all Wi-FI MAC and TCP/IP protocol function libraries. Users can develop their own products based on these.
Module Specification
| Parameter | Value |
| --- | --- |
| Category | SR000-W00 |
| DSP | BL608 (160MHz) |
| Audio | Built-in Audio CODEC ES8311,24bit 8~96KHz Sampling Rate |
| Audio amplifier | Mono Class D audio power amplifier CS8138S, output power 5W |
| Port | 26 X GPIOs、1 X UART、1 X MIC、1 X SPK、1 X I2C |
| WIFI | IEEE 802.11b/g/n |
| WIFI | IEEE 802.11b+20dBm output power |
| Band | 1-14@2.4GHz |
| Antenna Type | External antenna |
| Safe mode | Suppot WEP/WPA2/WPS safe mode |
| SmartConfig | Suppot |
| Power Input | 3V-3.6V,audio amplifier power input:4.5V-5.5V |
| Working temperature | -20℃ to 85℃ |
Module Size
| Parameter | Value |
| --- | --- |
| Shape | Square,pin spacing1.5mm |
| Size | 20mm(W) x 30mm(L) x 3.2mm(H) |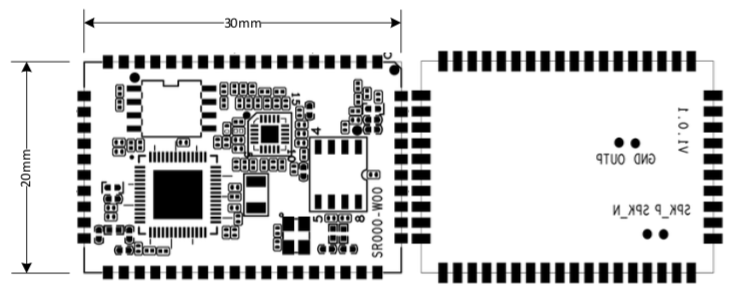 Definition of interface
| Pin No. | Mark | IO Type | Function |
| --- | --- | --- | --- |
| 1 | GND | P | Ground connections |
| 2 | MIC2- | / | not support |
| 3 | MIC2+ | / | not support |
| 4 | MIC1- | I | MIC1+ |
| 5 | MIC1+ | I | MIC1 - |
| 6 | GND | P | Ground connections |
| 7 | GPIO16 | I/O | PWM/SD_CLK |
| 8 | GPIO17 | I/O | PWM/SD_CMD |
| 9 | GPIO18 | I/O | PWM/SD_DAT0 |
| 10 | GPIO19 | I/O | PWM/SD_DAT1 |
| 11 | GPIO20 | I/O | PWM/SD_DAT2 |
| 12 | GPIO21 | I/O | PWM/SD_DAT3 |
| 13 | Sensor_MCLK | I/O | Camera master clock |
| 14 | PIX_CLK | I/O | Camera pixel clock |
| 15 | VSYNC | I/O | Camera frame sync signal |
| 16 | HSYNC | I/O | Camera line sync signal |
| 17 | PIX_DAT4 | I/O | Camera data interface |
| 18 | PIX_DAT5 | I/O | Camera data interface |
| 19 | PIX_DAT6 | I/O | Camera data interface |
| 20 | PIX_DAT7 | I/O | Camera data interface |
| 21 | PIX_DAT0 | I/O | Camera data interface |
| 22 | PIX_DAT1 | I/O | Camera data interface |
| 23 | PIX_DAT2 | I/O | Camera data interface |
| 24 | PIX_DAT3 | I/O | Camera data interface |
| 25 | AVDD33 | P | 3.3V power , peak current is about 250mA, recommended to use LDO power supply |
| 26 | GND | P | Ground connections |
| 27 | ANT | / | RF signal output, recommended to reserve matching network |
| 28 | GND | P | Ground connections |
| 29 | GND | P | Ground connections |
| 30 | RST | I | System reset, high level reset |
| 31 | UART_RX | I/O | UART_RX |
| 32 | UART_TX | I/O | UART_RX |
| 33 | GPIO8 | I/O | ADC/DAC,With interrupt function, it is recommended to connect external keys or touch chip INT |
| 34 | GPIO9 | I/O | Control module internal audio CODEC,Not recommended for use |
| 35 | GPIO10 | I/O | ADC/DAC, interrupt function |
| 36 | VDDIO_1 | P | flash/CMOS Sensor DVP,1.8V or 3.3V |
| 37 | GND | P | Ground connections |
| 38 | I2C_SCL | I/O | I2C_SCL |
| 39 | I2C_SDA | I/O | I2C_SCL |
| 40 | VDD33 | P | Digital 3.3V |
| 41 | GND | P | Ground connections |
| 42 | GND | P | Ground connections |
| 43 | SPK- | O | SPK- |
| 44 | SPK+ | O | SPK+ |
| 45 | GND | P | Ground connections |
| 46 | GND | P | Ground connections |
| 47 | GND | P | Ground connections |
| 48 | Sensor_PD | I/O | camera power down |
| 49 | GPIO33 | I/O | SWCLK,Debug interface |
| 50 | GPIO34 | I/O | SWDIO,Debug interface |
| 51 | GPIO35 | I/O | UART,Print log |
| 52 | GPIO36 | I/O | UART,Print log |
| 53 | GND | P | Ground connections |
| 54 | VDD5V | P | SPK power,5V |
| 55 | GND | P | Ground connections |
| 56 | VDD33 | P | digital 3.3V |