Tuya Smart provides product solutions to integrate smart devices with the Alexa Voice Service (AVS). The Alexa voice assistant can run on different operating systems, such as Android, Linux, real-time operating system (RTOS), and Windows, and support a variety of products. This way, Alexa voice control can be enabled for the products at your fingertips, such as screenless smart speakers, screen speakers, computers, in-vehicle devices, TV sets, mobile phones, and headsets.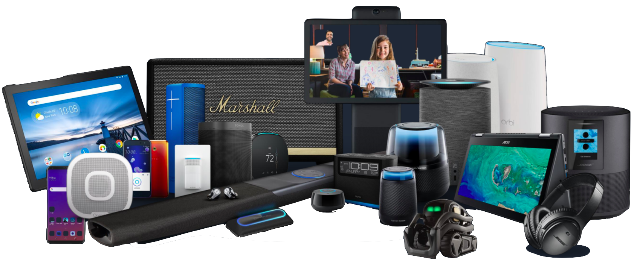 Overview
Amazon AVS products are the devices that are integrated with AVS. This type of product must pass the AVS testing and certification process. The following requirements must be met:
AVS functional requirements: acoustics, user experience design (UX) and user interface design (UI), music, and functionality.

Security requirements: Certified products can integrate Alexa Built-in (ABI) badges into product packaging, online placements, and marketing collateral. The following figure shows this type of badge.
Benefits
Qualified products can leverage ABI badges and excel in the following areas:
Getting more traffic to your Amazon listings and gaining more exposure to product recommendations
High ranking in Amazon search results
Increasing your chances of getting picked as a "frequently bought together" item on Amazon
Alexa served as the main control terminal of home automation to promote linkage to smart home categories and sales growth for your products and improve the total number of interactions
Device control
Works with Alexa (WWA) devices can be controlled with the Alexa voice assistant. ABI devices are integrated with AVS. Both product solutions work in different ways. The following architecture shows how AVS is integrated with products.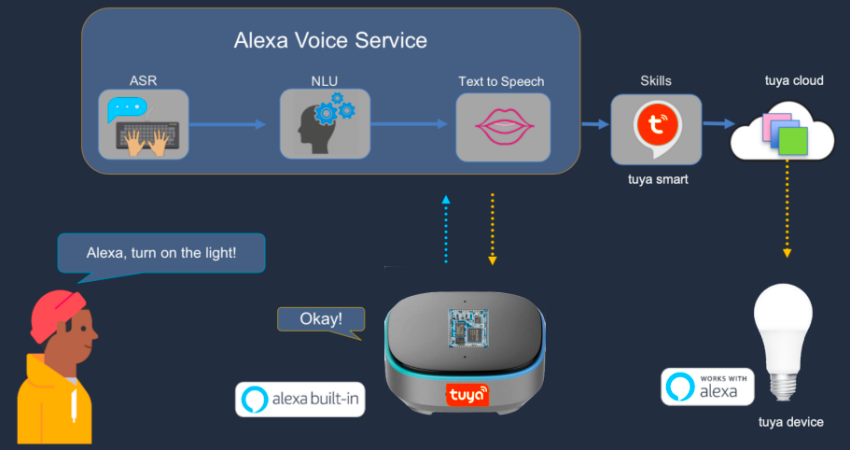 Tuya's AVS product solution integrates with AVS and brings the following benefits:
Supports smart control and scene linkage for more than 200,000 Power by Tuya devices.
Supports the following music services: Amazon Music, Audible, iHeartRadio, and TuneIn.

Note: If you want to support other music streaming services, you can develop a solution to access the content.

Supports eight languages, including English, Japanese, Spanish, German, French, Italian, Hindi, and Portuguese.
Supports most of the Amazon Alexa skills, such as news, radio, reminders, and Wikipedia.
ABI certification
ABI certification is mandatory to integrate AVS with your products. The functional and security requirements must be met.
Functional requirements involve acoustics certification, music testing, functional testing, and UX testing.
The products to be integrated with AVS must pass this certification before they can be sold. The products to be certified must be tested by the manufacturers first. Then, submit the test reports. The manufacturers can apply for the ABI certification only after the test reports pass Amazon's review. Tuya provides a comprehensive ABI certification solution. For more information, see ABI Certification.