Tutorial for Tuya Support Center
Tuya Support Center, part of Tuya's smart service system, aims to enhance the overall service quality and efficiency of our IoT platform. As a communication tool, it helps you better communicate and collaborate with Tuya during product development and after-sales processes. Tuya Support Center provides various entries for you to submit your questions easily across our IoT platform. You can find the entries on the product development page, App workstation, and customer feedback page. Our technical support teams will reply to your questions as soon as possible. In addition, Tuya Support Center allows you to view the troubleshooting progress and check historical issues that have been resolved.
Functions of the support center
Submit your question
Entry 1: In the upper right corner of the IoT platform, click Support. On the page that that is displayed, click ask.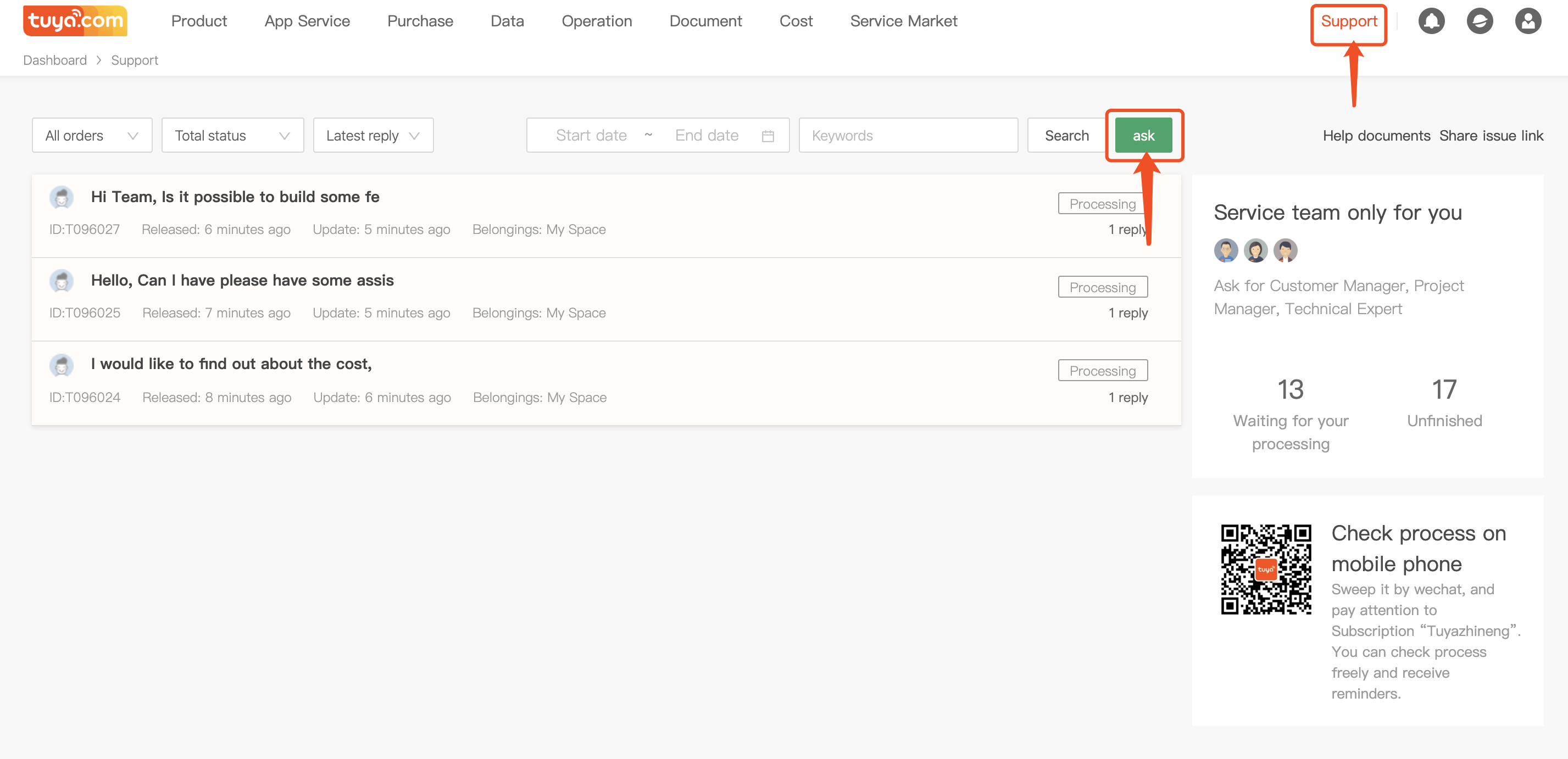 Entry 2: Click the questioning text box on any product development page or OEM App configuration page.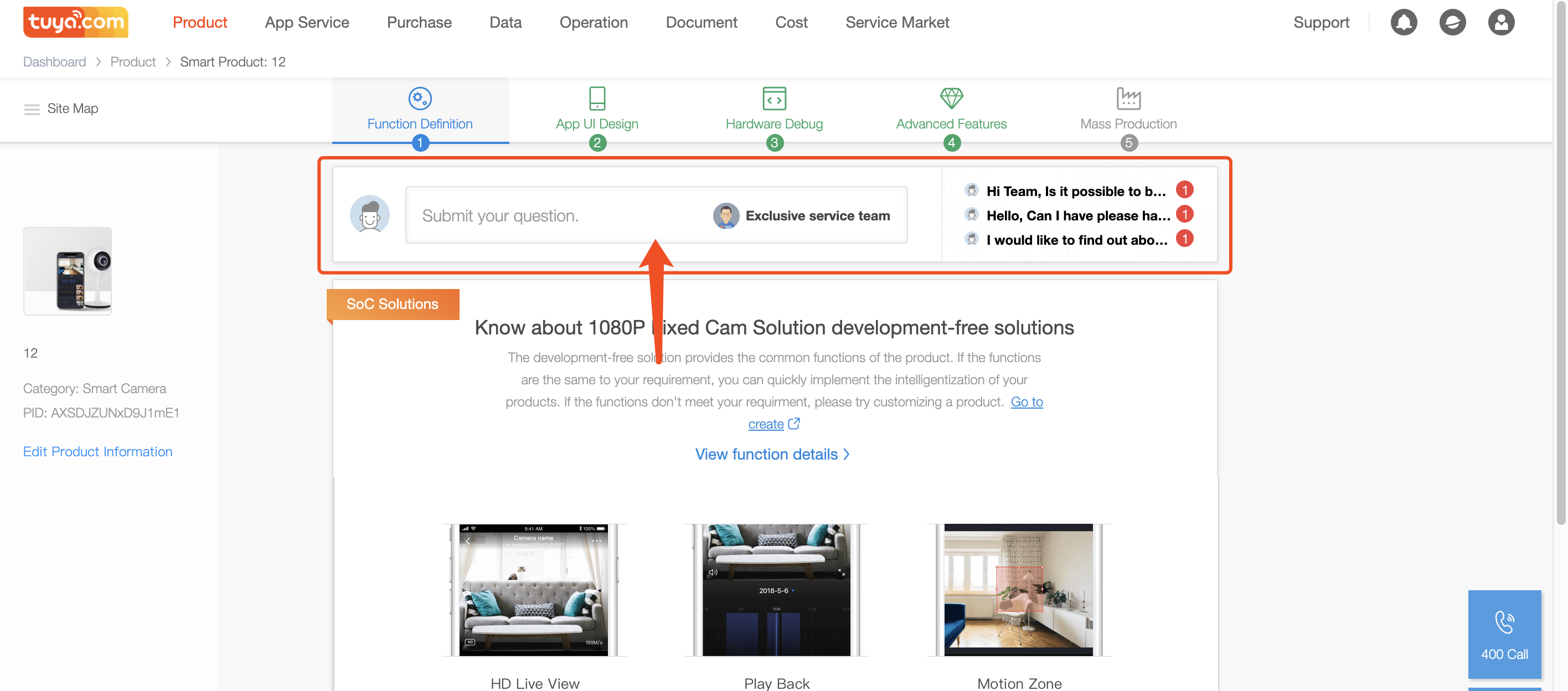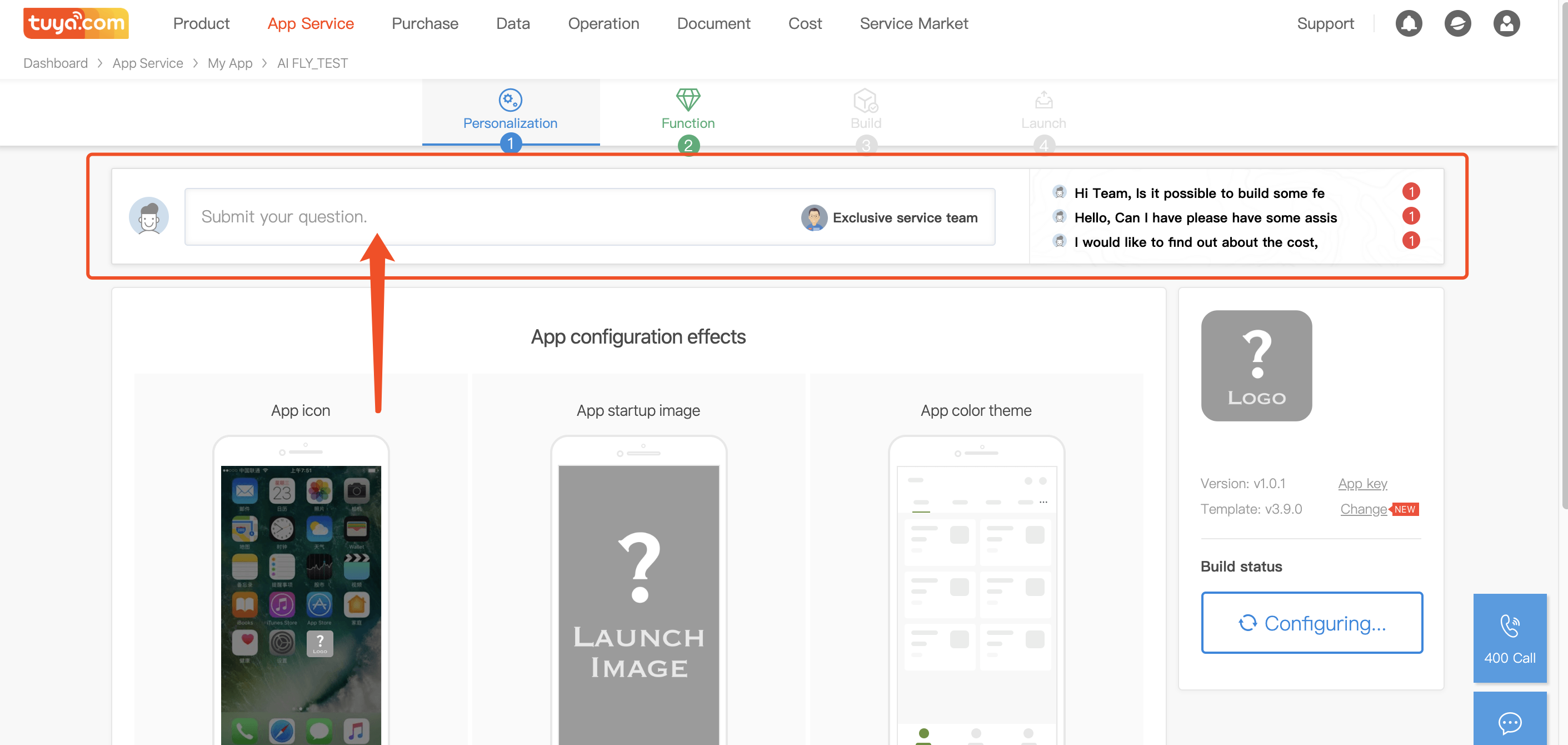 Entry 3: On the home page, click Question in the support center preview window.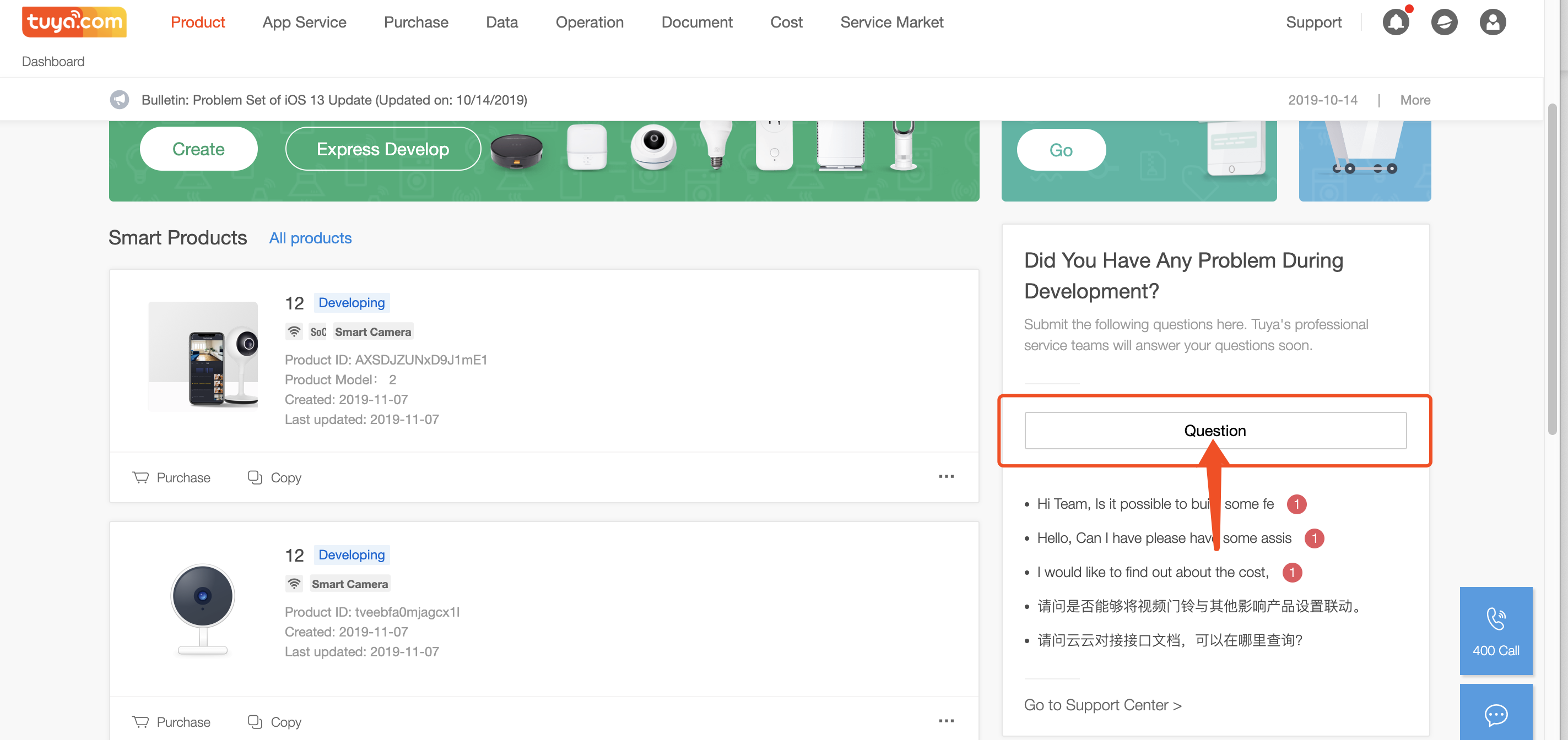 Entry 4: Choose Operation > Feedback and click a feedback record. In the Message answering dialog box that that is displayed, click Don't know how to reply? Submit ticket.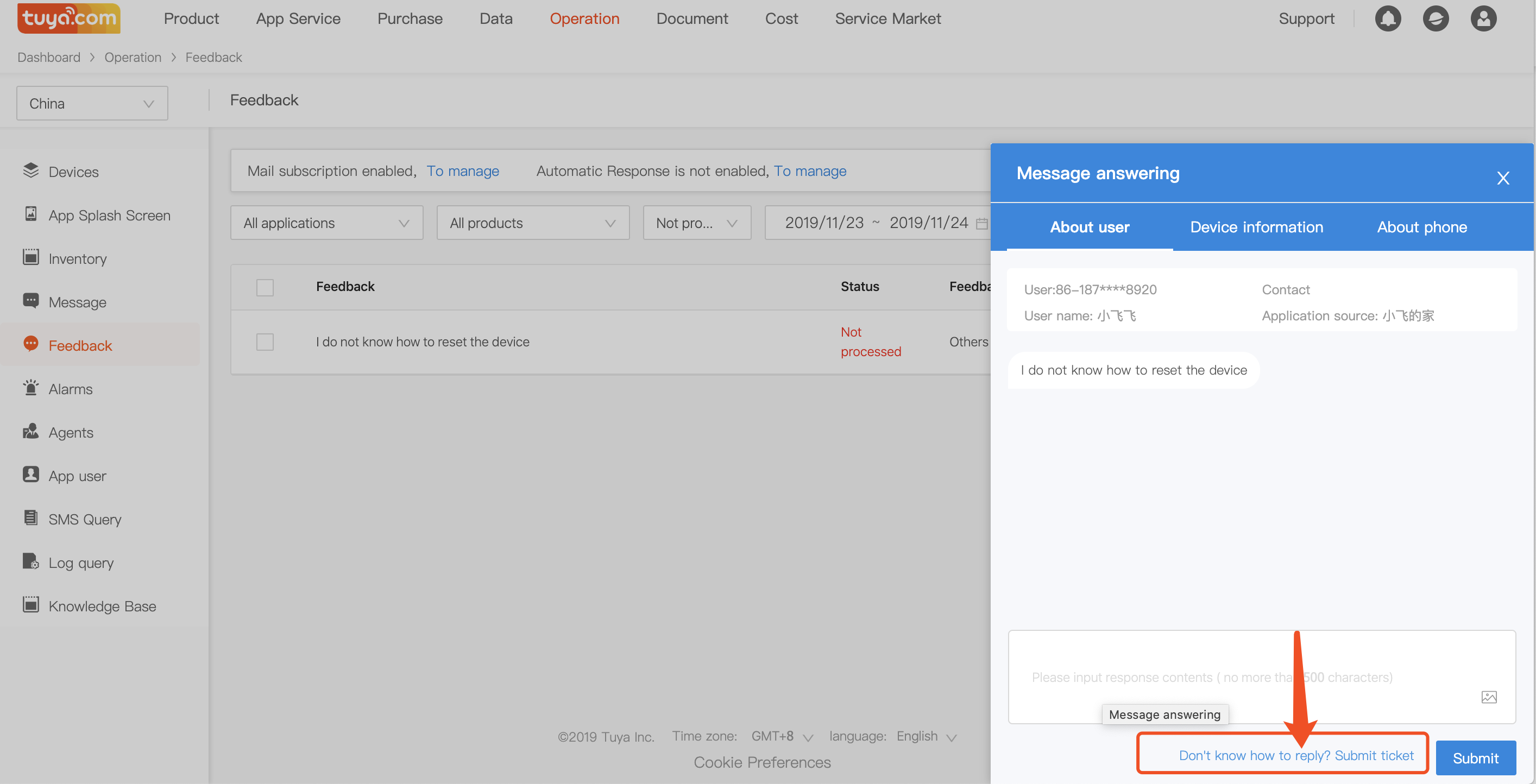 Regardless of which entry you choose, a questioning dialog box will be displayed where you can describe your issue, upload attachments, and select or add relevant product information. The pages may automatically record your product ID or App name for quick fault locating. We recommend that you describe your issues in details. This will reduce the issue clarification times and enable our support engineers resolve your issue efficiently.
Note: Currently, the questioning dialog box supports the following file formats: JPG, JPEG, PNG, DOC, DOCX, XLS, XLSX, PPT, PPTX, PDF, NUMBERS, PAGES, KEY, TXT, RAR, ZIP, WMV, RMVB, MP4, 3GP, MOV, and AVI. Make sure that each image is less than or equal to 5 MB, and each file is less than or equal to 10 MB. Up to five images and three files are supported.
View the troubleshooting progress
You can view the troubleshooting progress in the support center regardless of the entry you chose to submit your question. For questions submitted through entries 2 and 3, you can also view the troubleshooting progresses on the right of the questioning text box. Three latest questions or replies will be displayed. As shown in the following figure, new messages are displayed in bold, and red numbers Appear in the upper right corner indicating the number of unread messages. You can click them to view the details.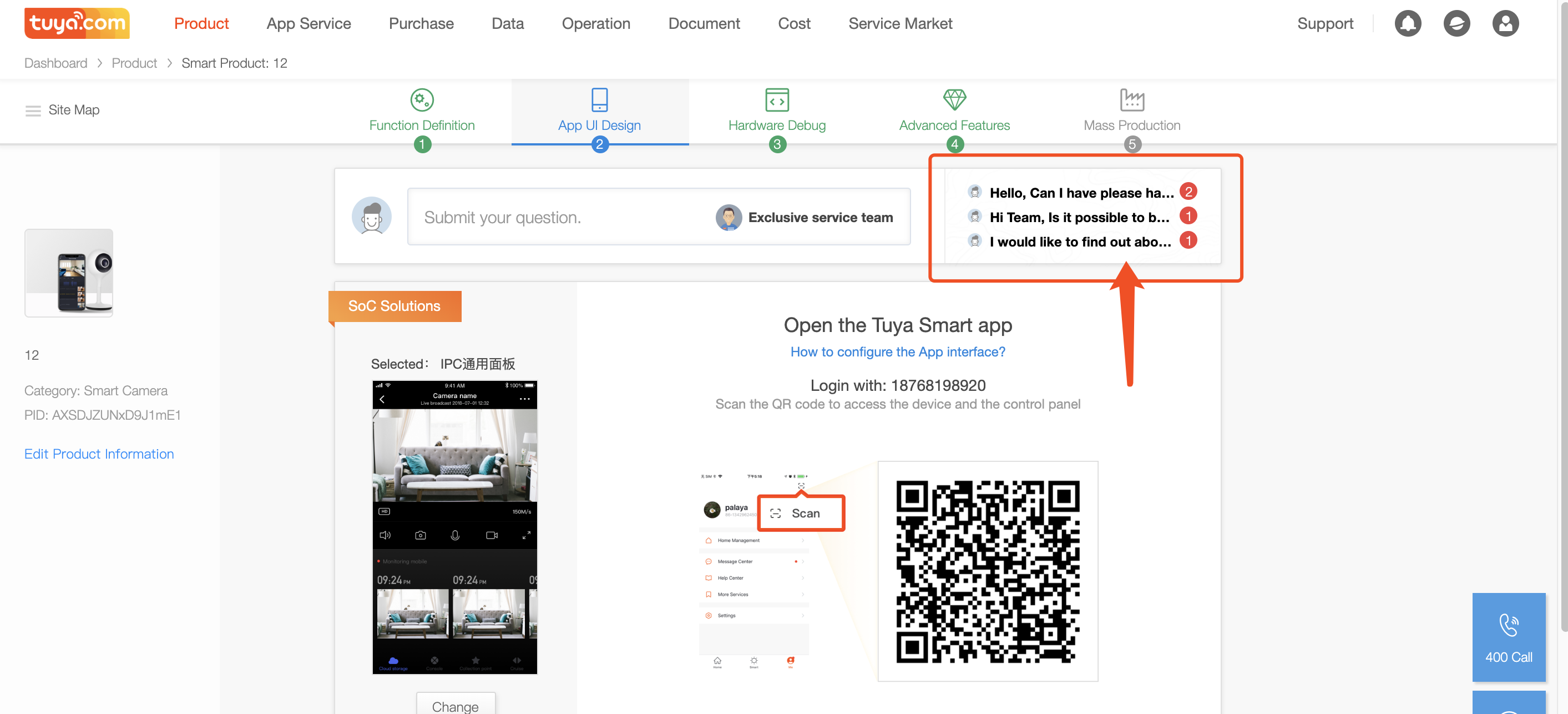 Question list
Tuya Support Center will record all historical questions submitted under your account and list them by creation or reply time in descending order. For each question, you can view the processing status on the right of the record. A new message will be displayed in bold. The processing status of questions that require your feedback or confirmation is displayed in red.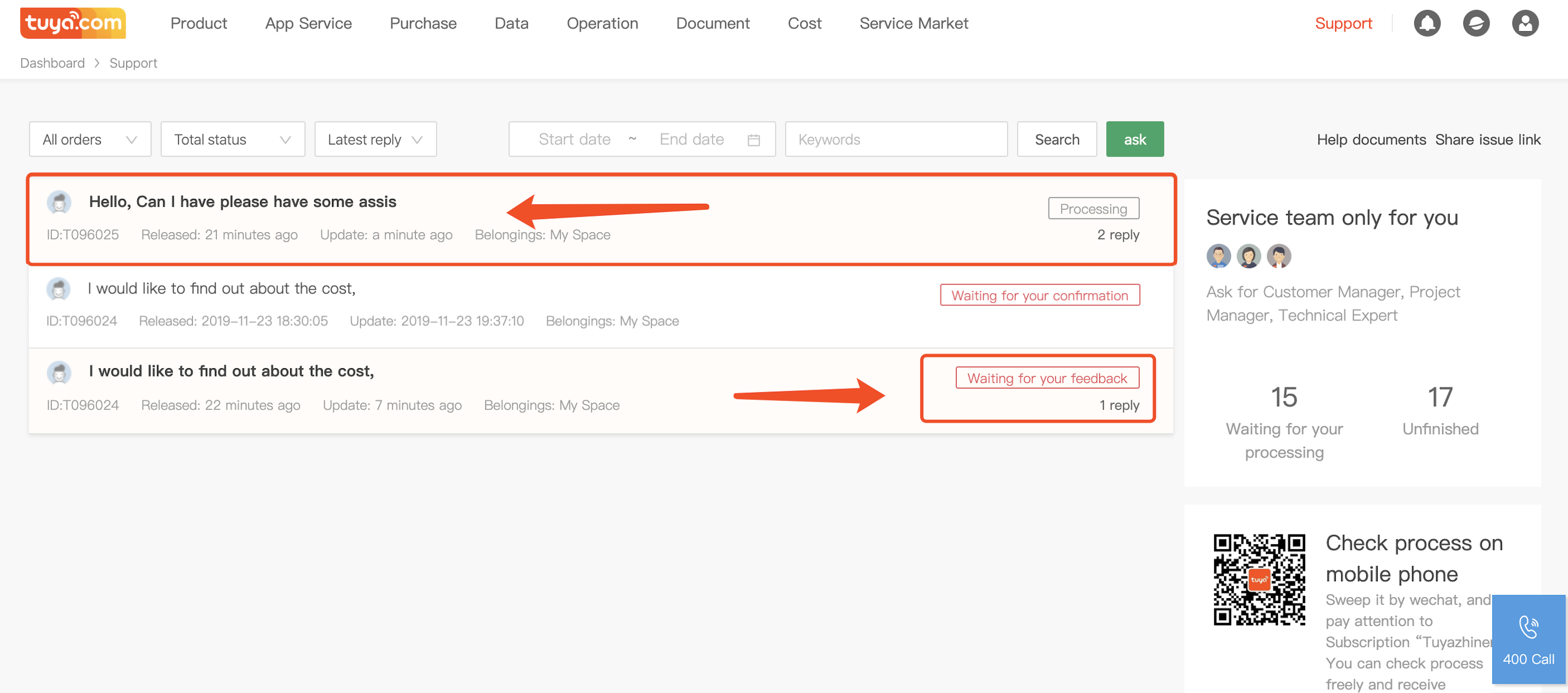 The question status is classified into the following:
Waiting for dispatching: Your ticket is waiting to be dispatched to a technical support engineer.

Pending: Your ticket has been dispatched to a technical support engineer and is waiting for processing, or you have updated your ticket and it is waiting for processing by the designated engineer.

Processing: A technical support engineer is processing your ticket.

Waiting for your confirmation: A Tuya technical support engineer has provided a solution or reply and is waiting for your confirmation.

Waiting for your feedback: More information is required from you for the troubleshooting.

Finished: The processing is complete and you have confirmed the resolution.

Closed: You have canceled the ticket, which was then closed automatically.
The question list page provides the following functions:
Searching for tickets: You can search for tickets by question submitter, ticket processing status, time when the ticket is created, and keywords. In addition, you can sort the search results by Recently created and Latest reply.

Viewing ticket details: You can click a ticket to access the details page, on which you can view the details and communicate with the technical support engineer.

Receiving new message reminders: New messages will be displayed in bold.

Checking the process and reminders on your mobile phone: After you scan the QR code and follow our official account on WeChat, you can bind your account so as to receive reminders about your ticket processing. In addition, you can create, view, and reply to questions on your mobile phone.

Follow-ups
Asking more questions: During troubleshooting, if you have any questions, you can submit them on the ticket details page. We will submit your latest questions to our technical support engineer.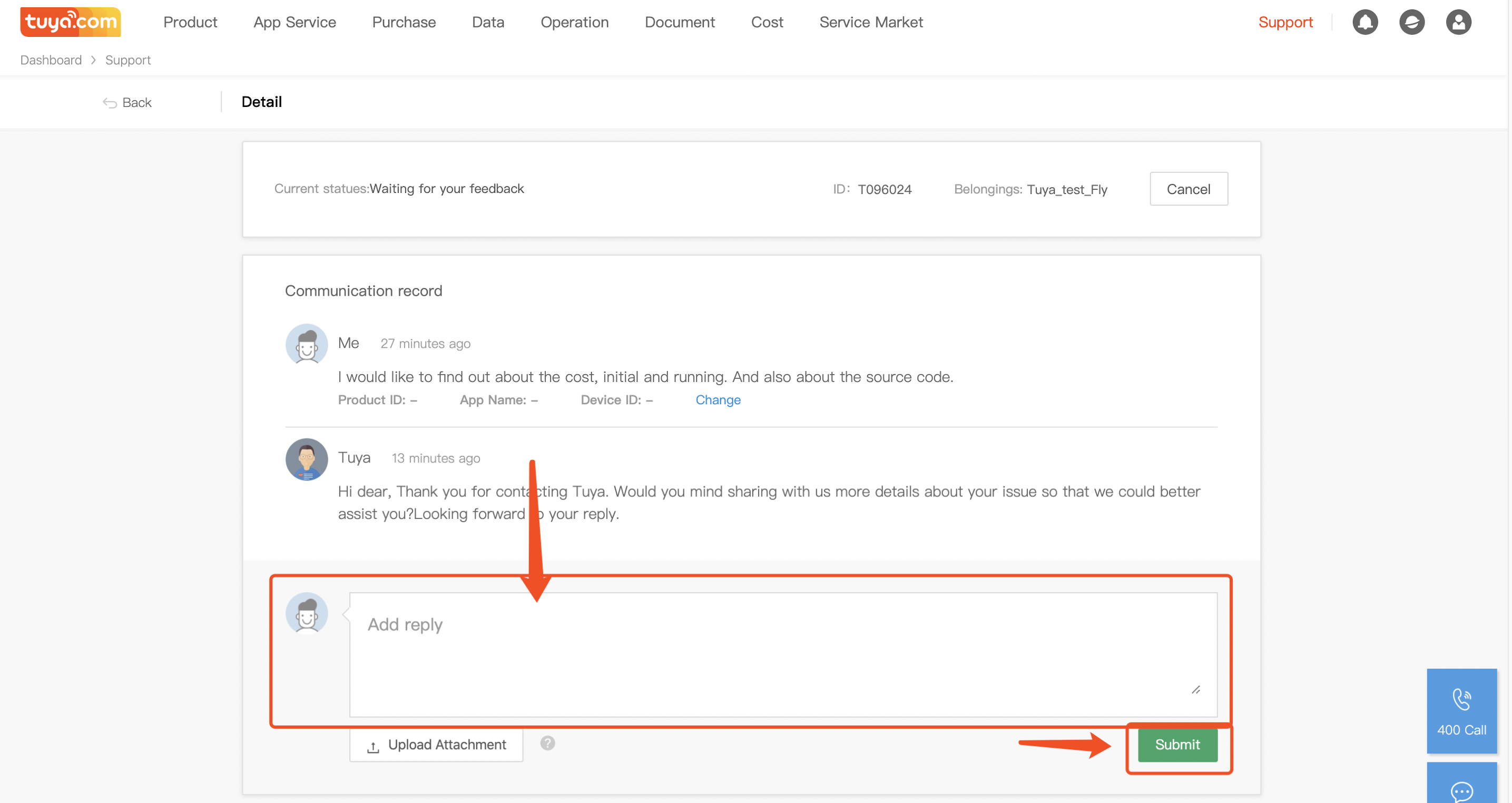 Closing a ticket: After you receive the troubleshooting result and confirm that the issue is resolved, you can close the ticket, after which new questions can only be submitted in new tickets.

Rating a ticket: When you close a ticket, you can give us feedback on whether you are satisfied with our service.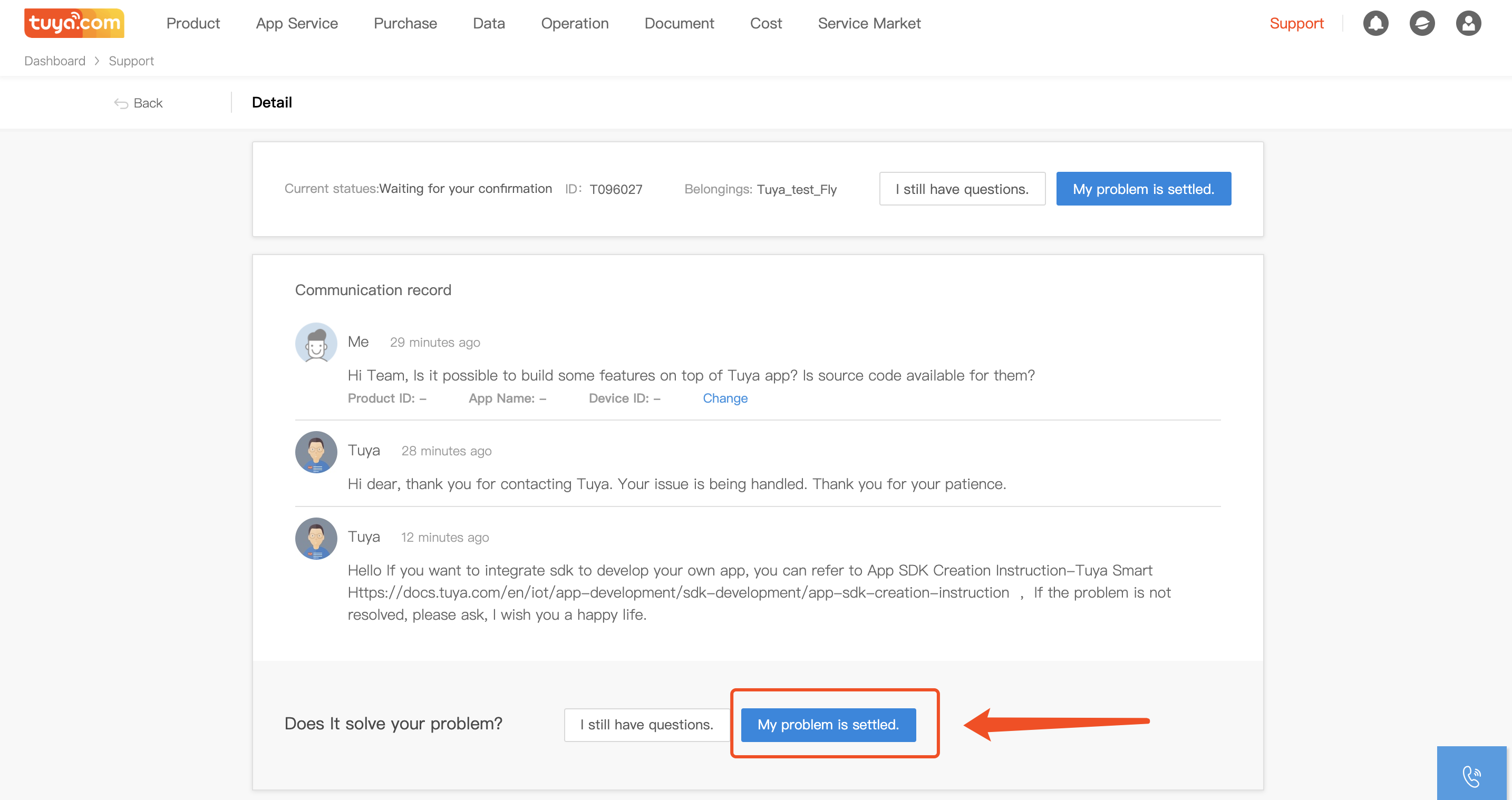 Share issue link
Share issue link
Click Share issue link, and the company's exclusive issue link will Appear in the pop-up window. You can click to copy to the clipboard and share it to WeChat.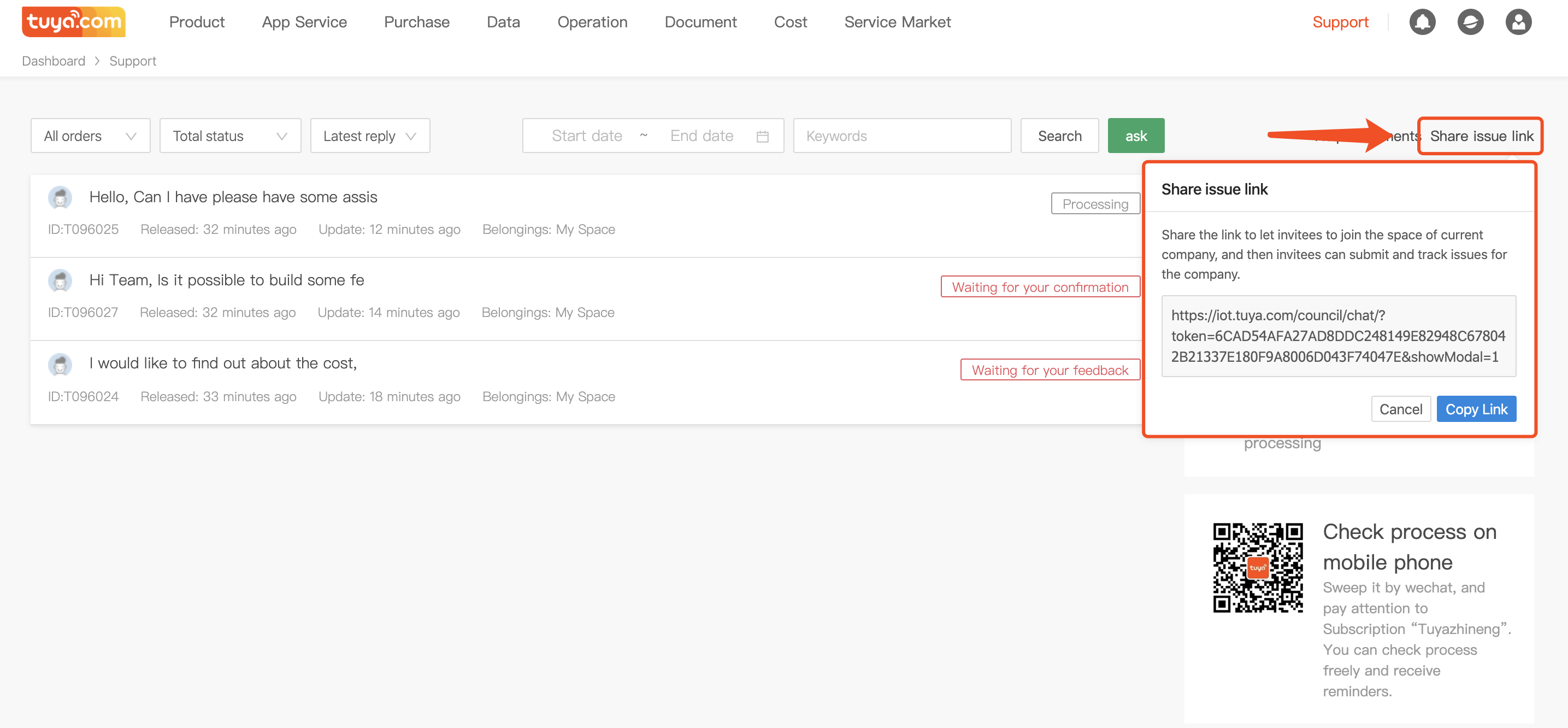 Open the link and submit the issue
You must be logged in to ask questions. If you don't have an account, you need to register an account and log in. After logging in, you can enter the company to which the link belongs.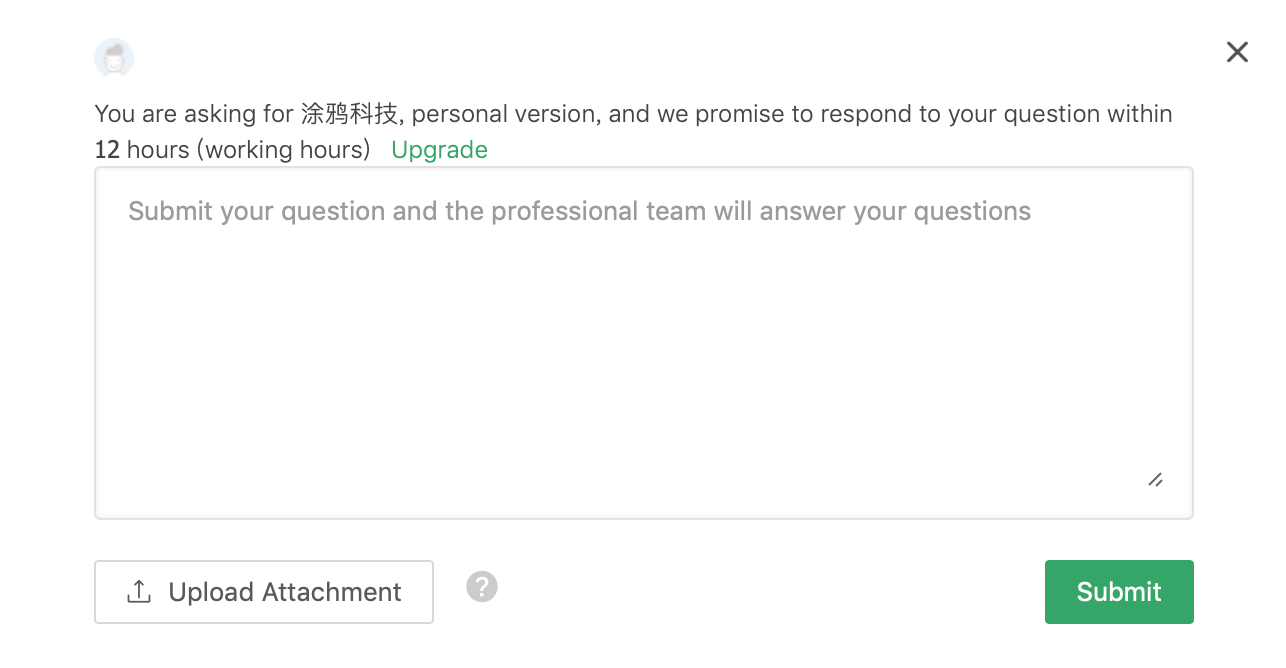 Automatic Application for authorization and authorization review
After the issue is submitted, the page popup will prompt you to automatically submit the application for authorization.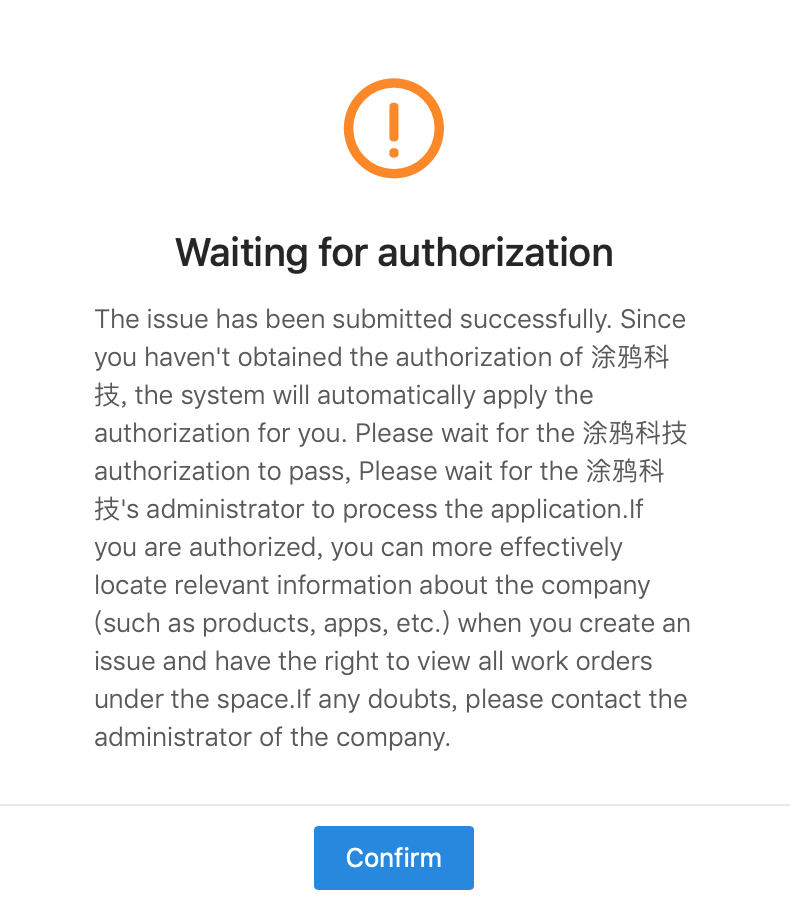 The administrator enters the authorization management page to process the application.


Follow-Up of Tickets
If the issue submitted in my space can only be seen in my space. Issues submitted in the authorized space are visible in both the authorized space and my space. You can also see all the issues in the authorized space.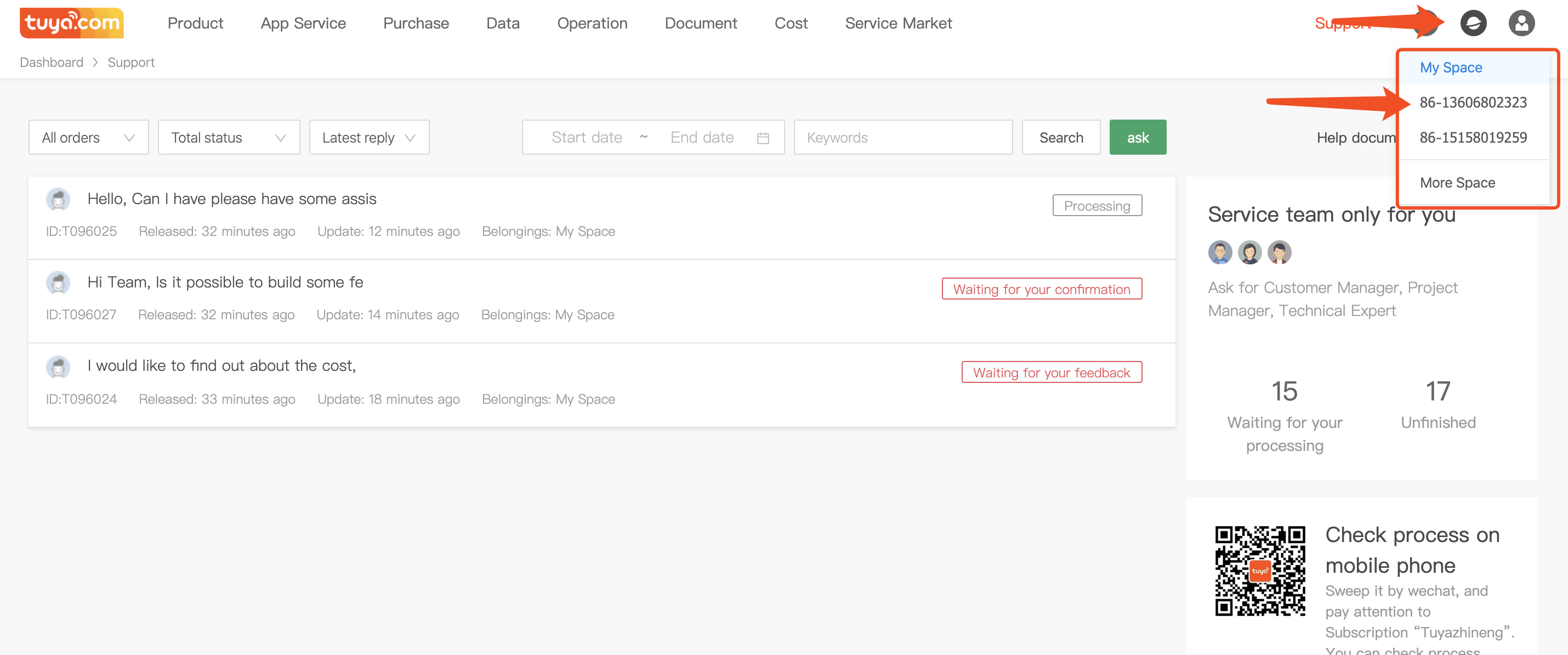 May you have a pleasant experience with Tuya Suppor