Tuya is committed to helping manufacturers in a one-stop process from smart product creation to sales through diversified layered services such as SaaS and PaaS. By integrating upstream and downstream supply and demand and building an omnichannel delivery system, Tuya helps manufacturers' smart products go global and share the trillion-dollar smart product market.
Tuya Expo
Tuya Expo is a one-stop smart hardware product selection platform. Covering popular categories of smart devices such as electricians, lighting, cameras, door locks, sensors, home appliances, gateways, pets, sports & health, outdoor travel, and more. Tuya Expo is an important display platform for customers. For more information, visit Tuya Expo.
TuyaGo
Global smart product library
The product library is your management system for finished product information and materials on the platform. Timely enroll product information into the finished product library, and participate in Tuya Smart's platform activities as follows.
Apply to join the TuyaGo sales system to obtain more customers and orders.
Apply for the 'Powered by Tuya' label and participating in global exhibitions.
Apply for being included in various Tuya showrooms and promotional activities, and attract global buyers and purchasers.
Tuya's product library connects you to global channels. Join TuyaGo, and your products will be directly connected to major sales channels around the world. You can participate in product selection activities such as retailers, e-commerce platforms, home decor and real estate, operators, chain hotels, and more. In this way, you will have the opportunity to get more orders and quickly ship goods.
One-stop smart product purchase and sales
As a one-stop smart product purchase and sales platform, TuyaGo helps high-quality smart products tap into the global market. TuyaGo covers all categories of smart home life. It creates a complete product library, standardized warehousing and distribution system, and holistic sales services. Provide global customers with full-link purchase services, and help smart products tap into the world market. For more information, visit the official website of TuyaGo.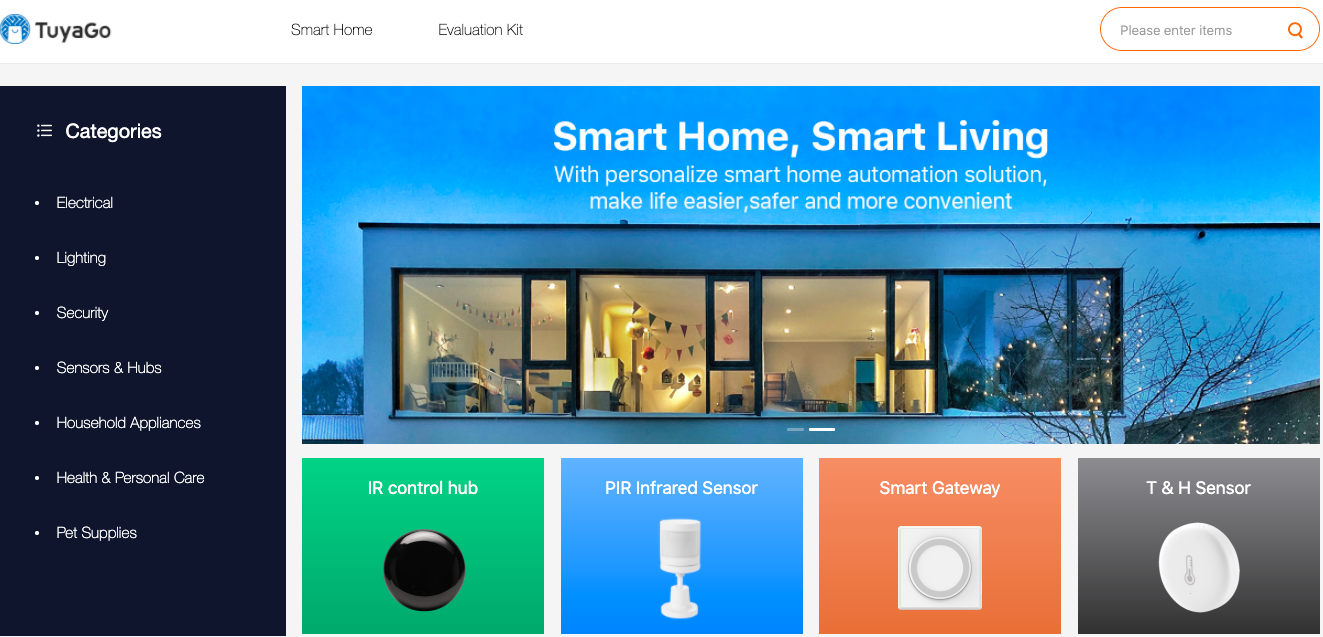 Tuya has established comprehensive online and offline shipping channels around the world to help manufacturers' distribute product globally.