Service Introduction
Tuya provides a full-process industrial design service, including product planning, design research, industrial design, and structural R&D. With the pow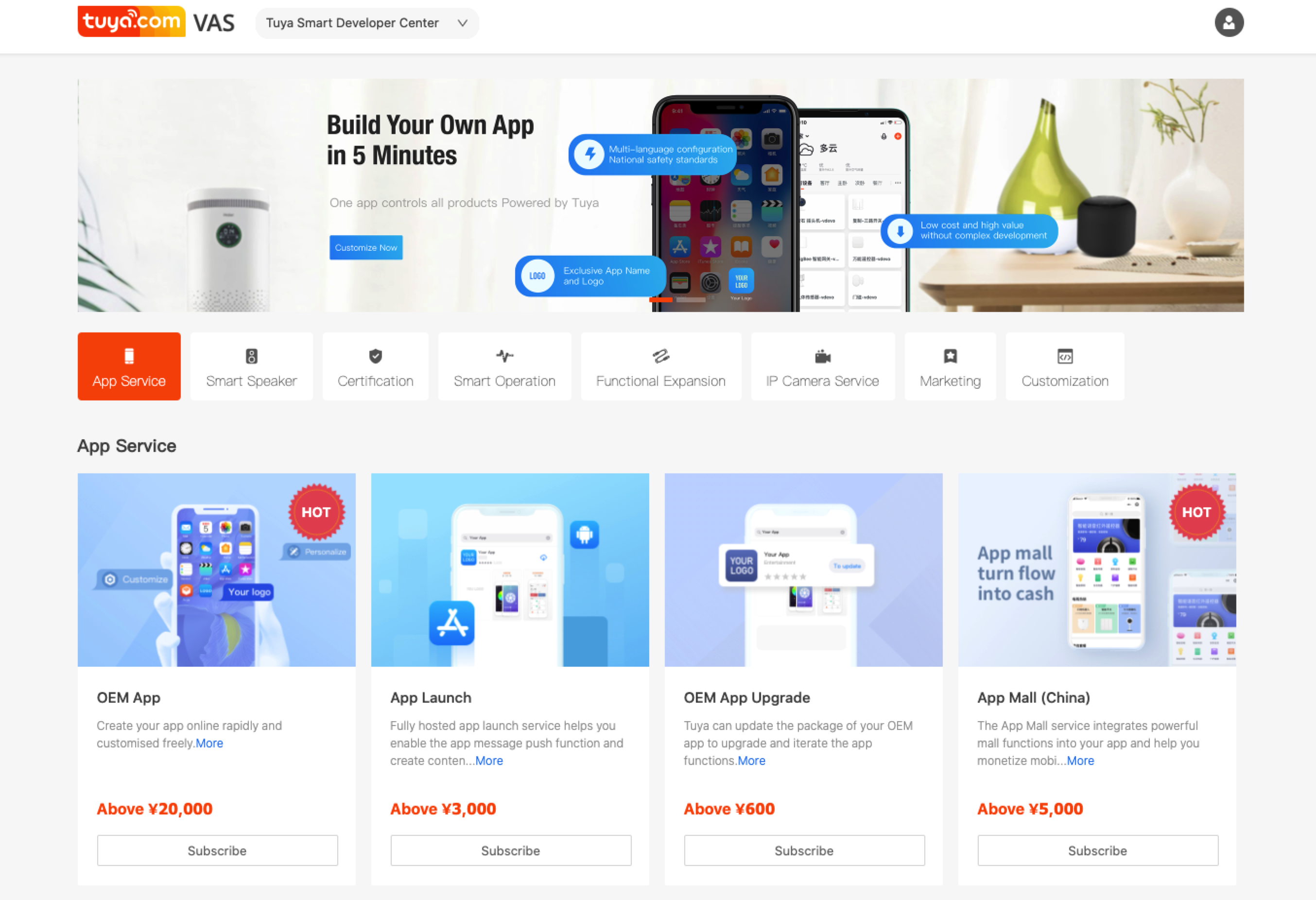 erful Tuya Smart platform, Tuya guarantees free design, supply chain support, and product sales channel support.
The industrial design service is available in several packages, including industrial design, design marketing,structural design, and package design for old and new products.
Service Subscription Process
Step 1: Logging In to the Tuya Smart Platform
Open the Tuya Smart platform login page https://iot.tuya.com/index/. If you have an account, log in with the account. If you do not have an account, click Sign Up to register for an account and then log in.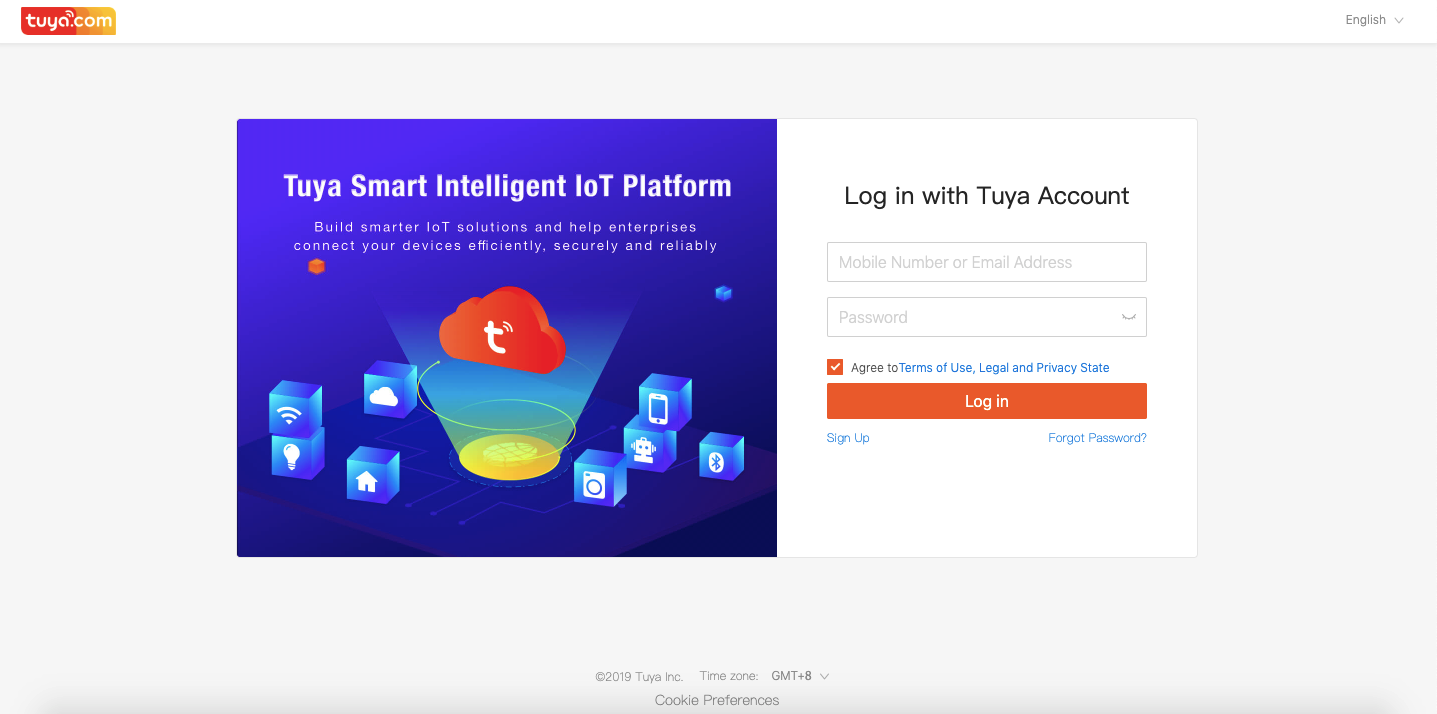 Step 2: Opening the Value-added Service Page
Click Value-added Service on the top of the homepage to open the Value-added Service page.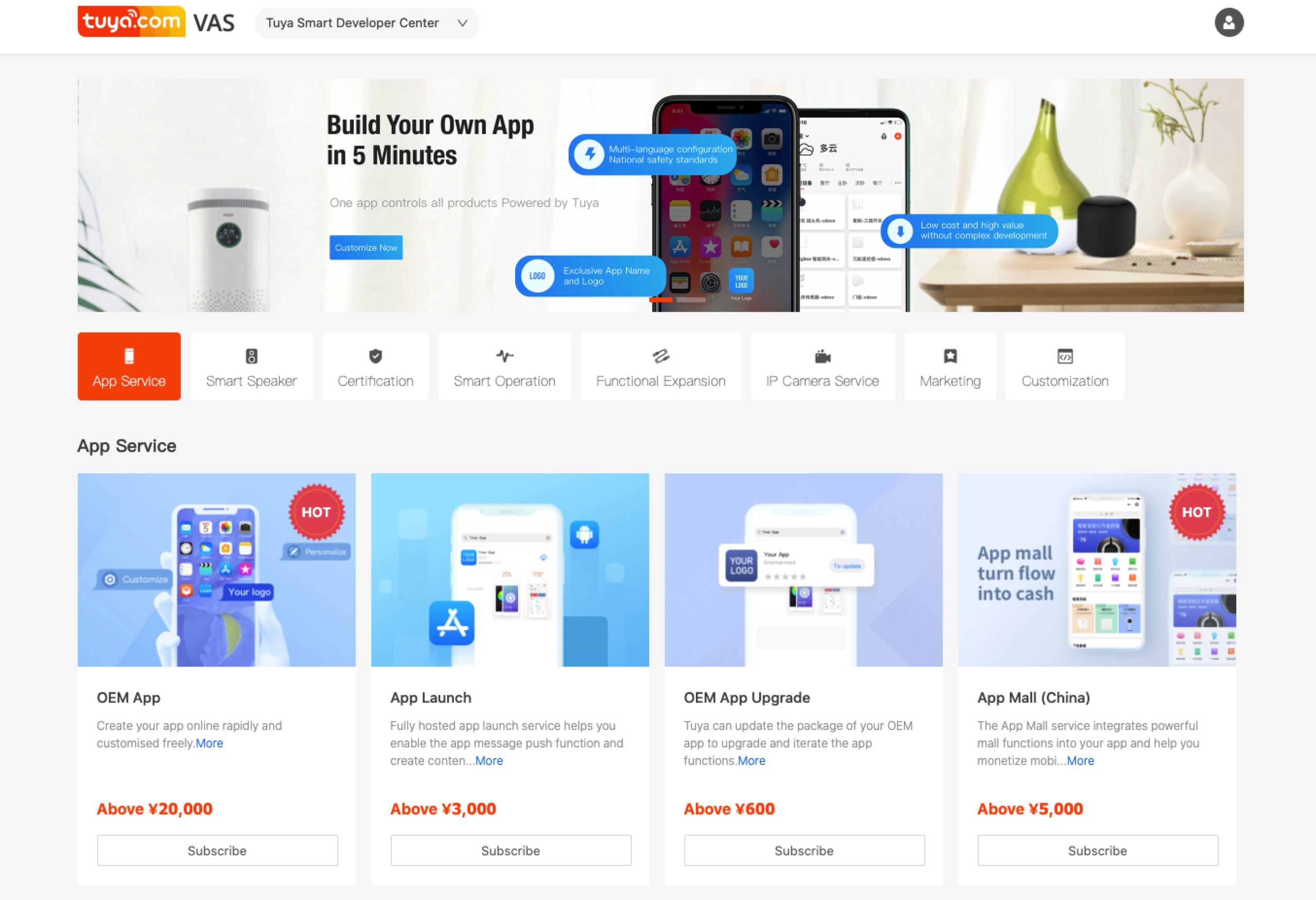 Step 3: Selecting the Required Service
Click Customization. Locate the Industrial Design service, and click Subscribe to open the Create Service Order page.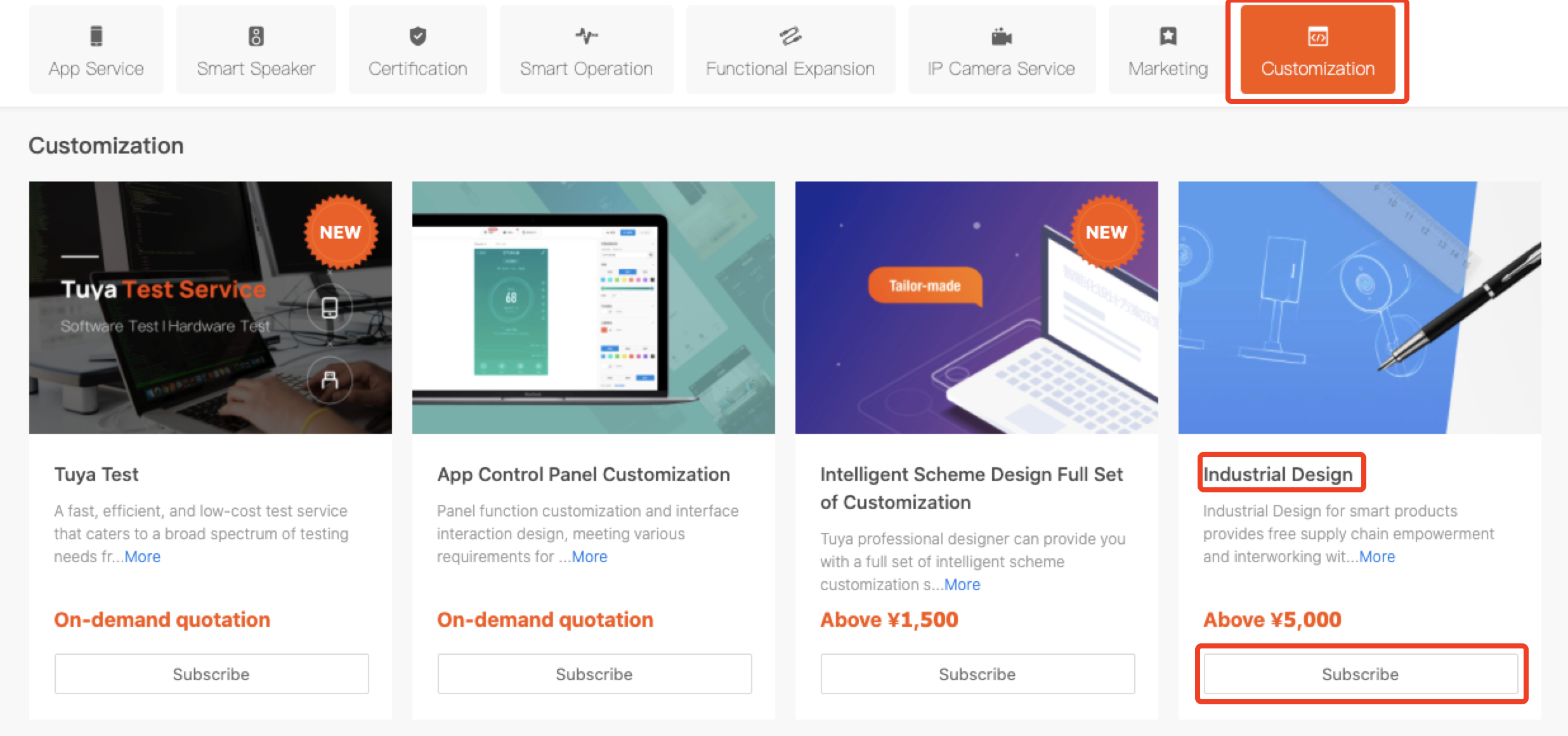 Alternatively, click More or the Service cover picture to view the service details and then click Subscribe to subscribe to the service.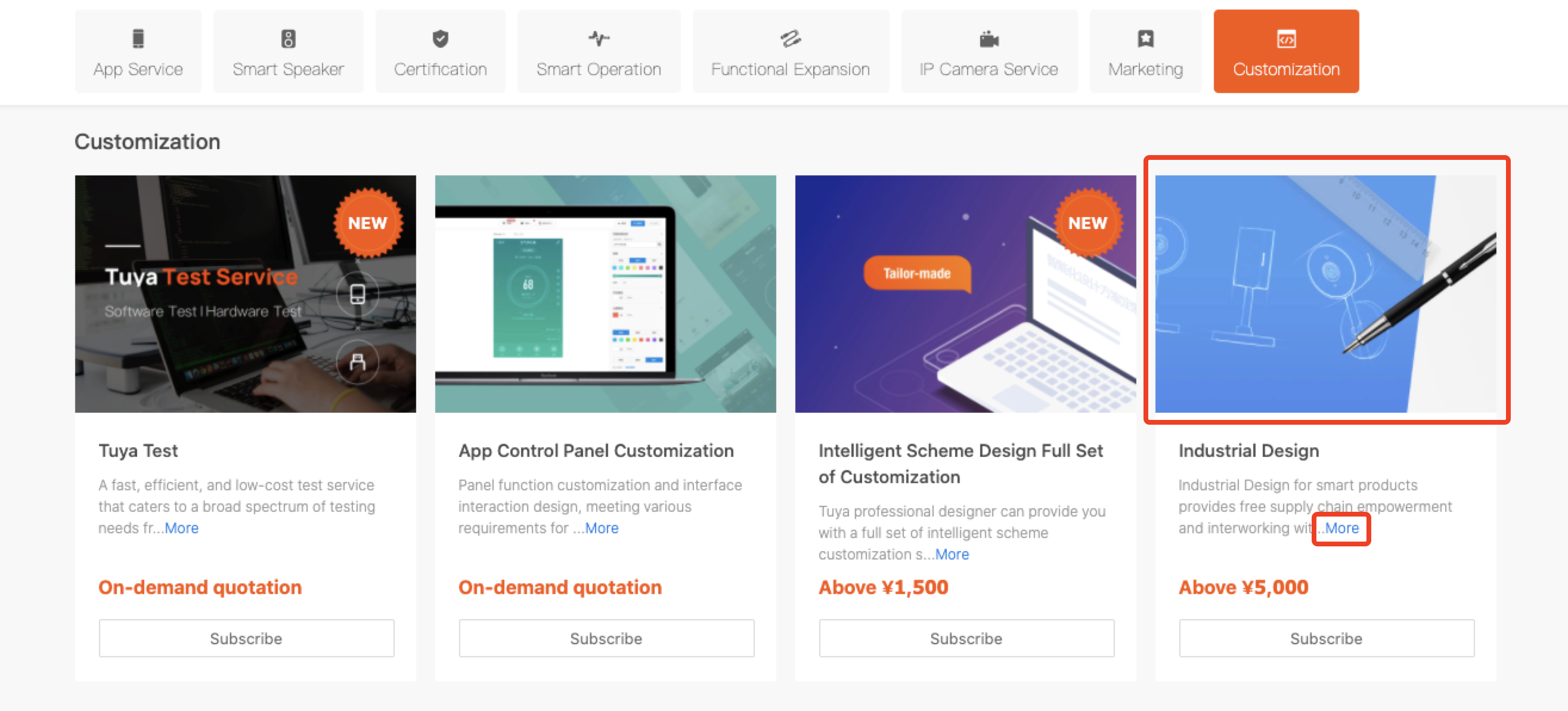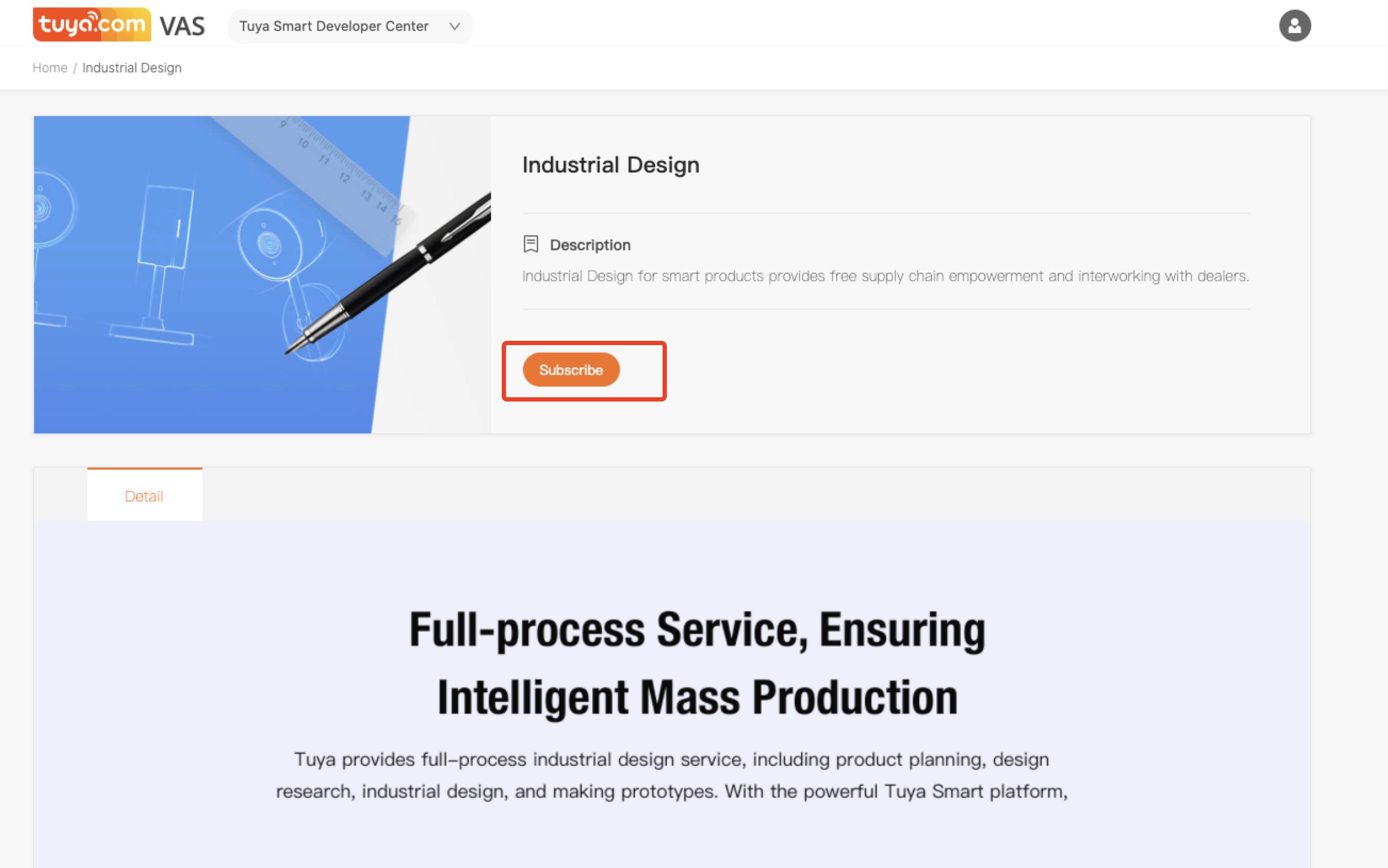 Step 4: Entering Purchase Information
Choose a package which you need to apply.
Specify your mobile phone number and email address.
Click Buy now. Tuya personnel will contact you within three workdays.

Step 5: Selecting a Payment Method
Select a payment method on the Paypal tab page.
FAQs
Does Tuya provide free product structural design after I purchase the industrial design service?
No. If you require structural design, contact Tuya customer service personnel or your business manager.
Will Tuya provide a product design draft before I make a down payment?
No. A product design draft is an important chargeable item of this service and requires Tuya designers to invest much time and effort to complete. A product design draft will be provided to you only after you make a down payment.
Is the down payment refundable if I am not satisfied with the design solution?
No. Tuya can optimize the design solution based on your requirements. If no design solution meets your requirements, you do not need to pay the remaining fee, but your down payment will not be refunded. The cooperation rules stipulated in the contract shall prevail. For more information about the contract content, contact Tuya customer service personnel or your business manager.
For more FAQs, visit https://support.tuya.com/en/help/_list?category=148152.