Overview
You can access the recipe management background at Tuya IoT Development Platform > Operation > Cloud Recipe. Two editions of Cloud Recipe are available: Free and Premium. Cloud Recipe consists of the following sections: Recipes, Recipe Categories, Ingredients, Product Groups, Properties, Marketing, and User Recipes.
Recipes, Recipe Categories, and Ingredients: To create a basic recipe, these three sections are required.
Product Groups: Provide the capabilities to associate recipes with smart kitchen appliances.
Marketing: Add banners and launch marketing campaigns. For example, recommend new recipes and smart devices.
Manufacturers and brand owners can browse the recipes uploaded and authorized by end users.
Recipes
Go to Tuya IoT Development Platform > Operation > Cloud Recipe > Recipes. On the Recipes page, you can:
Add, search, and filter recipes.
Activate, inactivate, and delete recipes in bulk.
Share OEM recipes and receive recipes across accounts.
Manage allowlisted accounts for testing.
Manage baskets and materials.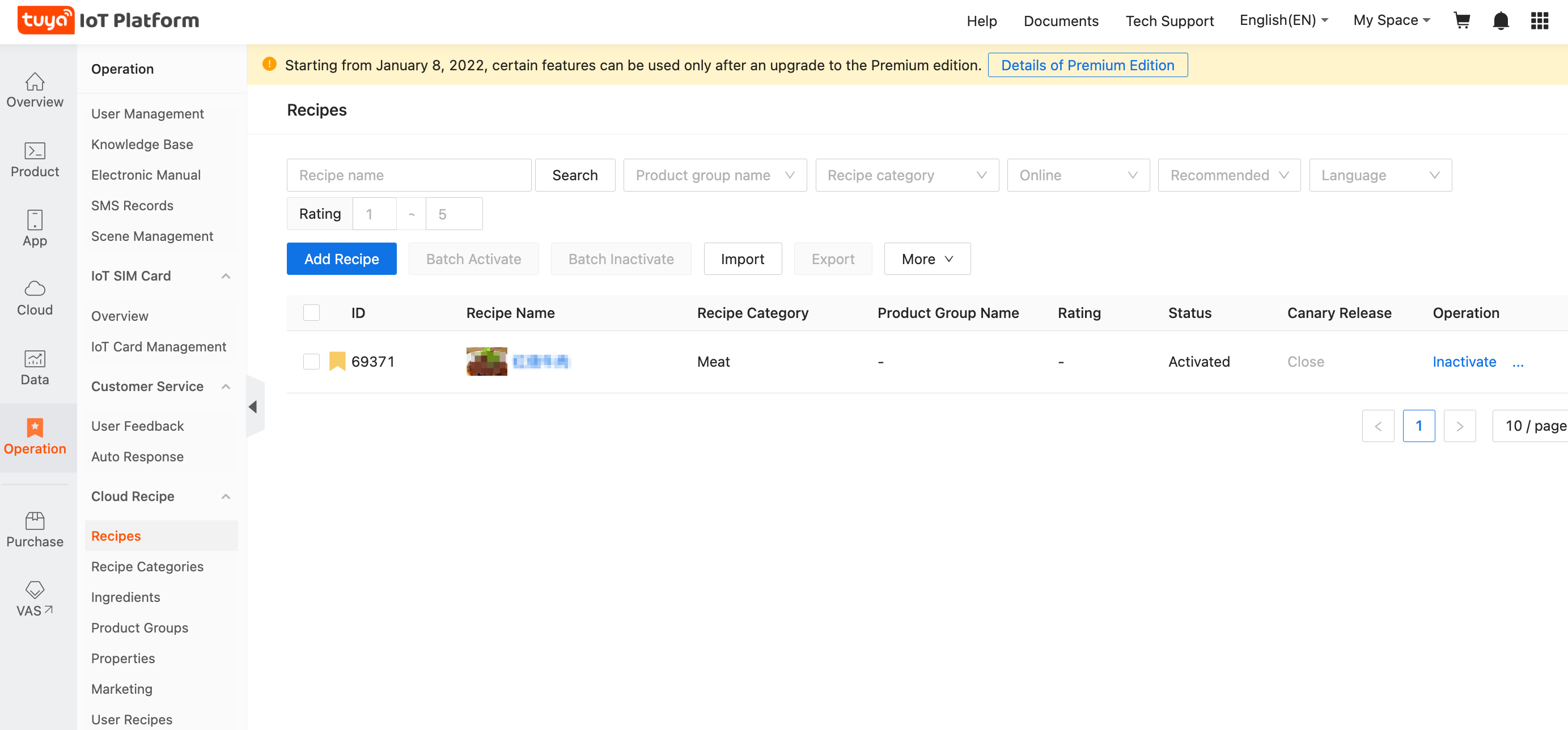 Add Recipe: Two steps are included.
Edit Basic Information: Edit images, names, ingredients, steps, and additional information.
Set One-Tap Cooking: Link a recipe with a product ID (PID) and set cooking parameters.
Search and Filter:
Search by recipe name.
Filter recipes by criteria such as Product group name, Recipe category, Online, Recommended, Language, and Rating.
Batch operations: Activate, inactivate, and delete one or more selected recipes.
Activate: A new recipe is inactivated by default. Click Activate for this recipe to set the status to Activated. Multiple recipes can be selected and activated in the same task.
Inactivate: Select a recipe and click Inactivate, so it disappears from the app.
Delete: The deletion cannot be undone. Proceed with caution.
OEM Recipes and Receive recipes: Copy recipes in bulk across accounts to simplify recipe sharing. Up to 20 recipes can be copied in the same operation.
Test Allowlist: Add accounts to the allowlist to test certain recipes in a canary release.
Set Basket: Enable the basket feature for one or more apps. Thus, a basket icon appears for a recipe in the specified app. Users can add required ingredients to the basket and sort the ingredients, for example, by recipes. Users can also modify the weight of ingredients, and share the list of ingredients. The basket feature can be enabled or disabled for one or more OEM apps on the platform.
Recommend: Click Recommend in the Operation column for an activated recipe. This way, this recipe can appear at Home > Recommended Recipes in the app.
Recipe categories
Recipes are classified into two categories: level-1 and level-2. For example, fried chicken belongs to meat as the level-1 category and chicken as the level-2 category. You can edit a recipe category, including Category Name, Multilingual Settings, Category Type, and Image.
Add Category:
Enter a recipe category name and upload the category image. Set at least one multilingual option in the Multilingual Settings field. The specified multilingual option appears in the app.
To create a level-2 category, you must select a level-1 category.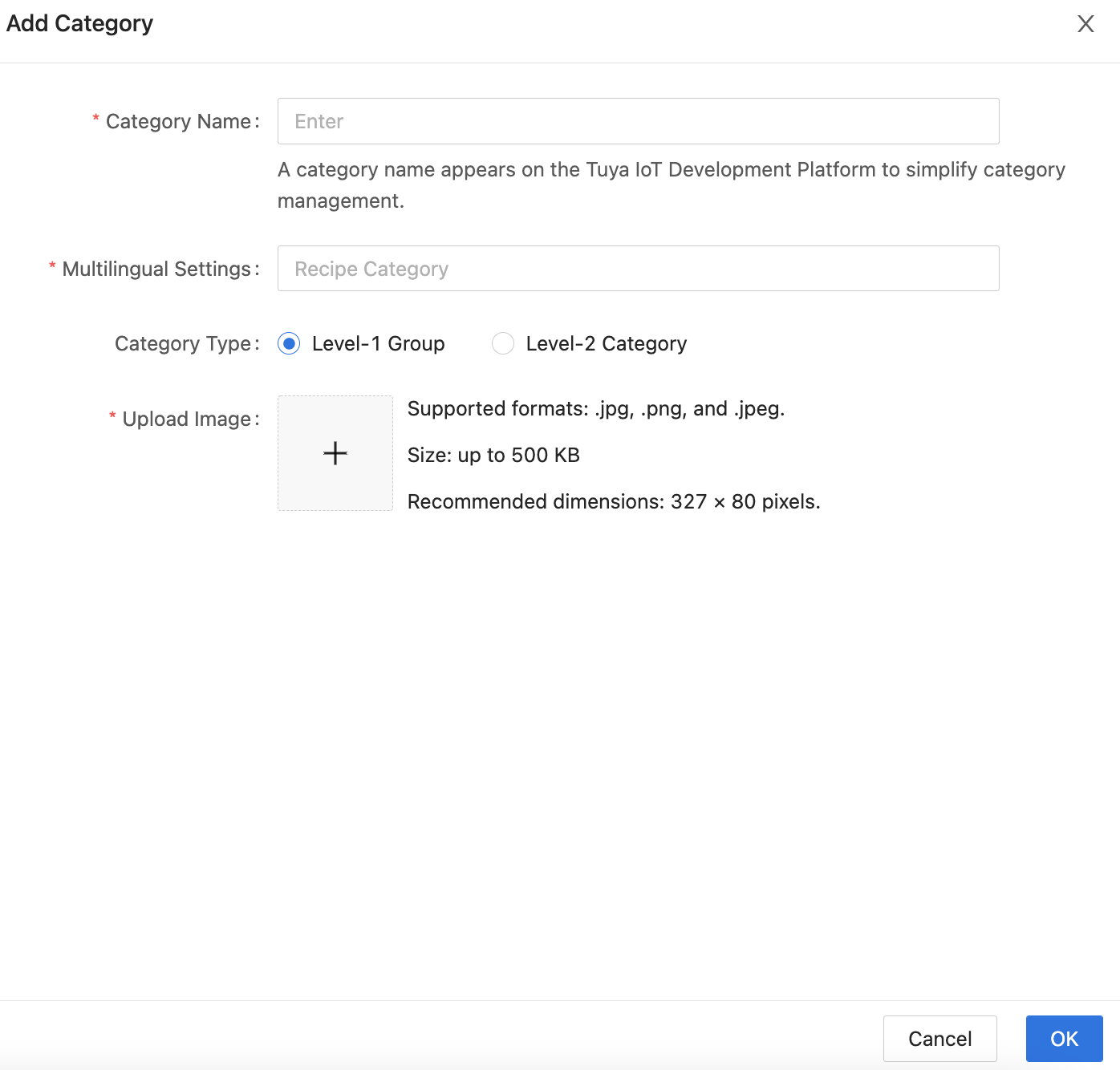 Ingredients
Import ingredients from an ingredient library such as the Chinese Food Composition Table, and edit basic information about the ingredients, multilingual settings, and nutrition facts. The nutritional values can be adjusted based on the benchmark values. Then, go to the Recipes section and link the ingredients with a recipe to show the ingredients and nutrition facts of the recipe in the app.
If nutrition facts do not need to appear in a recipe, set Enable Ingredient Library to No when you edit the recipe.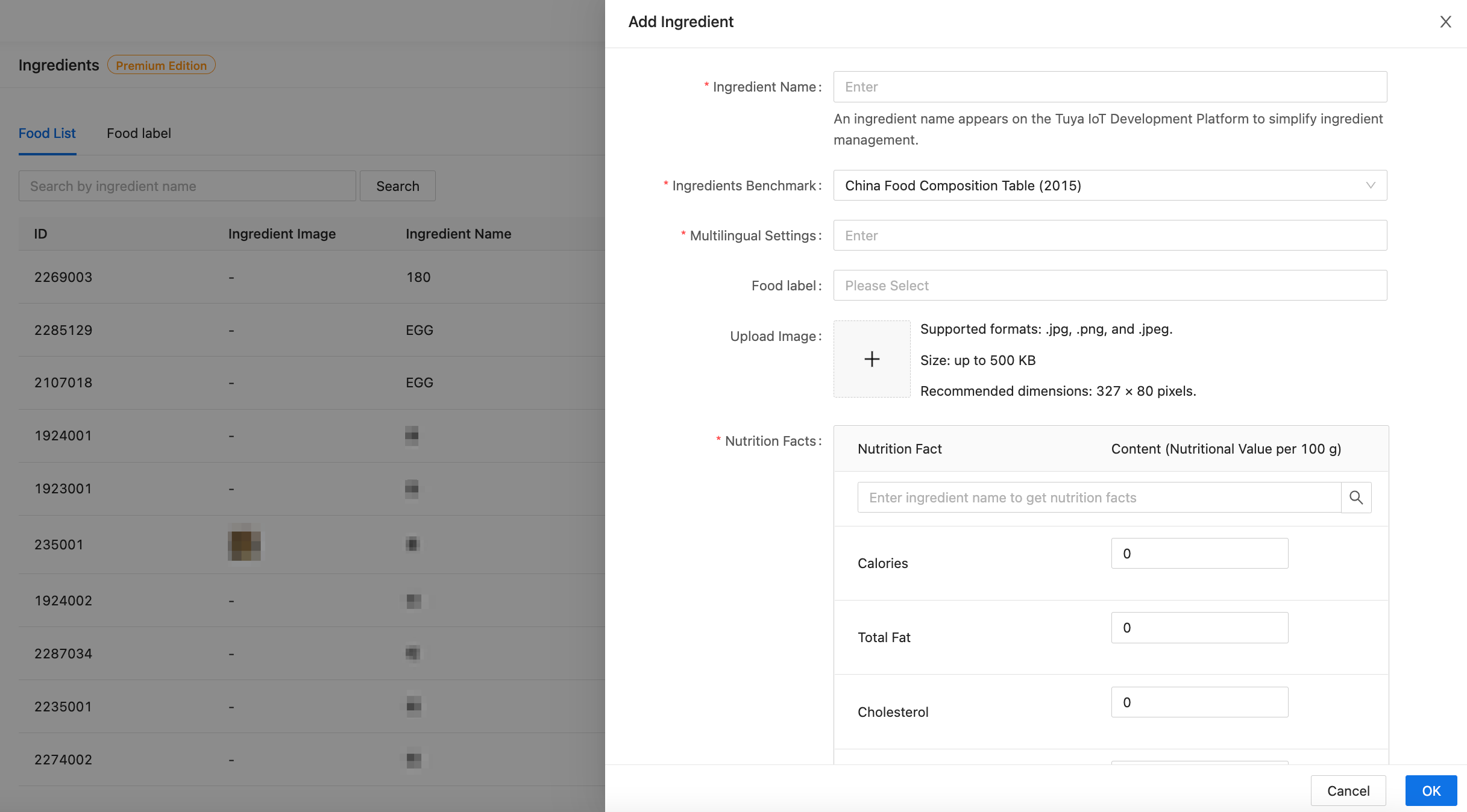 Food label:
Classify ingredients into different types, such as major ingredients and minor ingredients. To add a label, click Add label and set Label Name and Multilingual Settings. Food labels are optional and can be added as needed.

Product groups
Include the PIDs with the same recipe information in the same product group. Each recipe can be associated with a product group. Then, all product panels of the group will show the recipe on the app.
Only the products with identical identifiers can be included in the same product group.
When you edit a cloud recipe for the first time, you must create a product group first.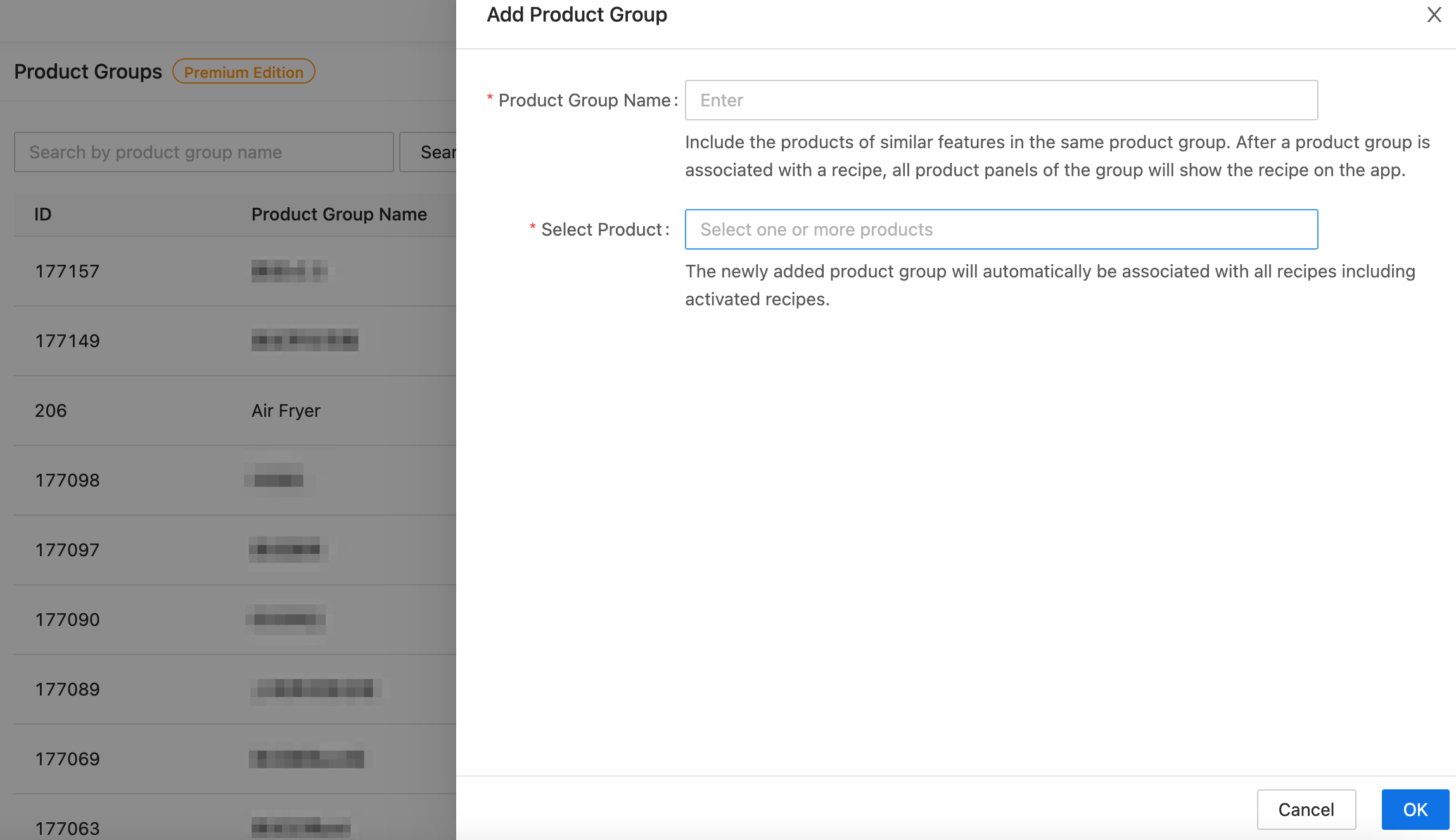 Properties
Centrally manage the fields required in recipes. Recipe properties consist of standard and custom ones. Standard properties include Flavor, Difficulty Level, Ingredient Type, and Secondary Unit.

Add Standard Property:
To add a standard property, click Add Property. In the drawer that appears, enter a property name, select a property type from the Type drop-down list, and then set multilingual options to be displayed in the app.

Add Custom Property:
To add a custom property, enter a property name to be displayed on the Tuya IoT Development Platform, set the multilingual options for the property name and property content that appear in the app, and then upload a property image.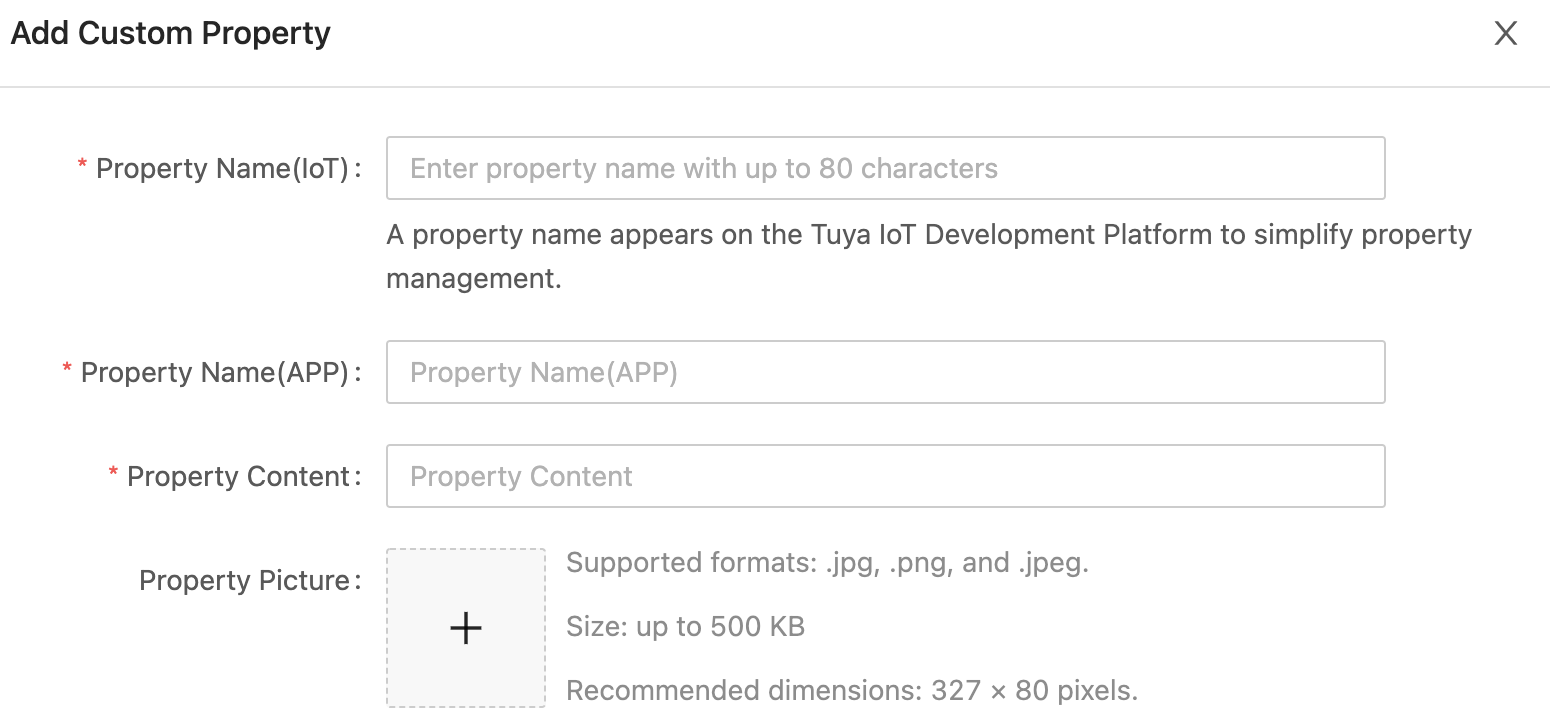 Marketing
Manage banners and recommended devices to promote marketing campaigns. To add a banner, set the banner name, image, languages, validity period, product groups, and banner URL.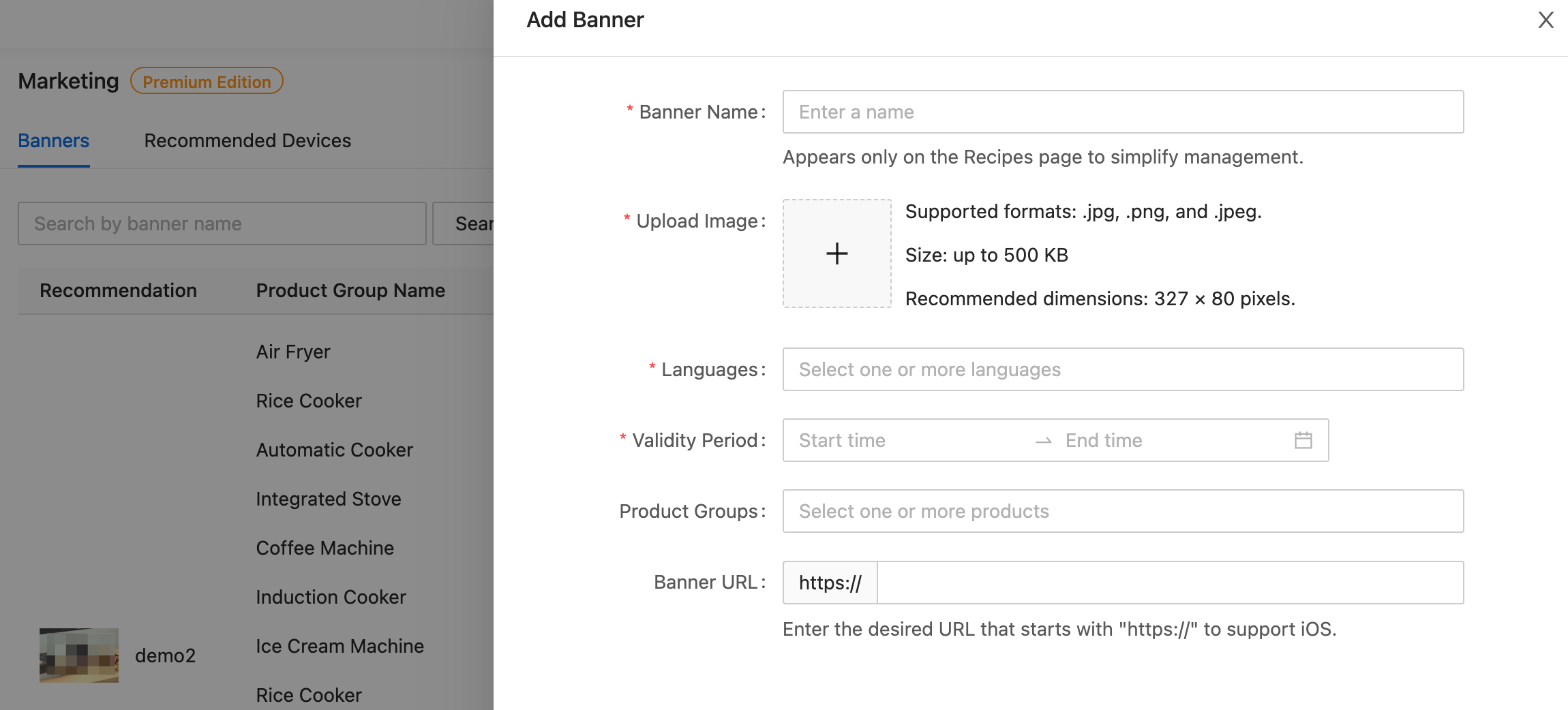 User recipes
Manufacturers and brand owners can browse the recipes uploaded and authorized by end users. A list of recipes and recipe details can be browsed on this page.
Recipe list

Recipe details