A wireless Zigbee gateway product solution involves a highly integrated Wi-Fi module, a low-power Zigbee module, and a motherboard. On the Smart Life app, users can add and reset devices, and also control third-party devices and Zigbee device groups in a smart home scenario and beyond.
Key features:
Control Zigbee sub-devices: Control Zigbee sub-devices connected to the gateway. Remote control and group control are available.

Easy pairing: Press the button on the gateway to enter and remain in the pairing mode for one hour. The indicator light will flicker slowly, indicating that sub-devices are allowed to connect to the gateway. After a sub-device to be added enters the pairing status, it will be automatically connected to the gateway. Devices can be easily added in bulk to the gateway, thanks to the user-friendly pairing process. To stop pairing, press the button again on the gateway.

This pairing process is supported no matter whether the gateway is activated or not.

Scene and automation in the cloud: Through scene and automation settings on the app, you can use the Zigbee sub-devices of a gateway as a trigger condition, and link them with other smart devices.

Local scene and automation: To run smart scenes, local tap-to-run and automation scenes take priority. This enables the smart scenes and automation to be executed in case of disconnection from the internet.
Components and working principle
Components
This gateway is composed of modules, electronic components, and structural parts.
Modules: WRG1 module and TYZS3_NS module. For more information, see Wireless Zigbee Gateway in Solution Center.

Motherboard: Connect the Wi-Fi module and Zigbee module, and integrate components such as capacitors and resistors.
Working principle
The working principle is shown as follows.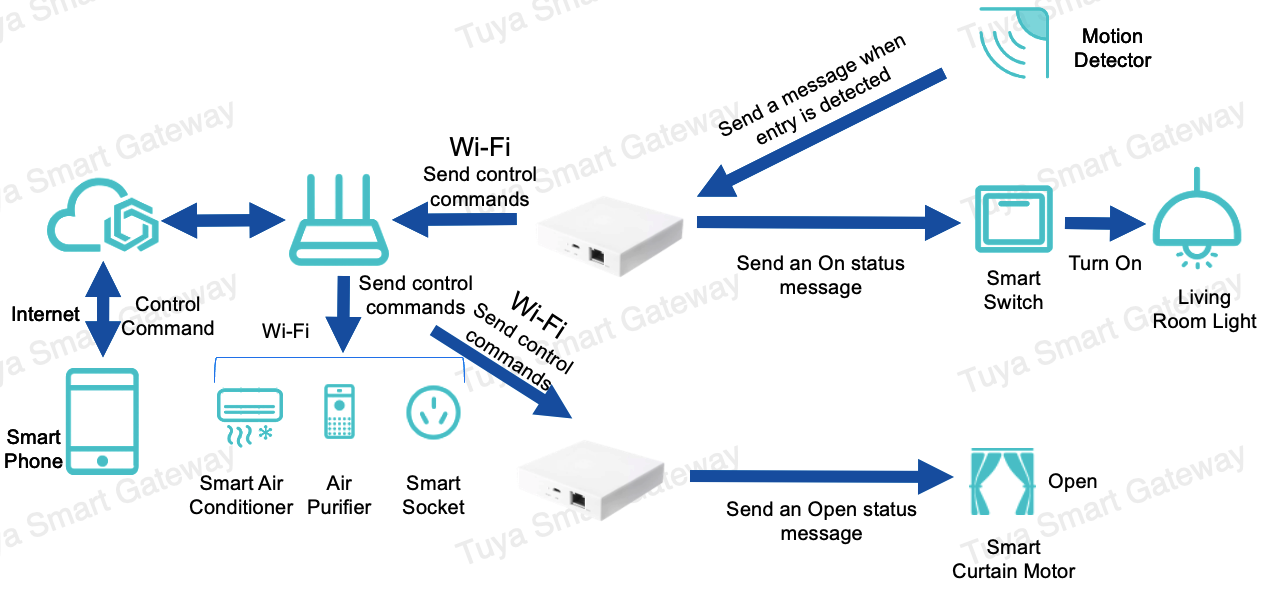 Technical features
Basic features
Small size
This ultra-small gateway owns a simple design, ensuring space efficiency in a home.
Plug-and-play
The plug-and-play gateway is easy to use, with a clear pairing user interface. Even novices can get started quickly.
Multiple network options
By integrating Wi-Fi and Zigbee protocols, this gateway can be remotely controlled over a Wi-Fi network, and locally controlled over a Zigbee network.
Stable and reliable networking
Wi-Fi and Zigbee signals are stable and reliable and characterized by wide coverage, excellent wall penetration performance, strong anti-interference capability, low heat generation, and low power consumption.
Super security and privacy protection
Industry-leading encryption methods are adopted to guarantee the security of the data transmitted over both Wi-Fi and Zigbee networks and to prevent malicious intrusions.
Peer-to-peer network
Multiple devices can run over the same network simultaneously, improving network reliability.
Push-button reset
Press and hold the reset button for five seconds, and the gateway will be reset in a fast and safe way.
Security features
The Transport Layer Security (TLS) protocol supports mutual device authentication and secures data transmission.
Business data is encrypted with random secret keys.
Data stored locally is protected by a one-key-per-device authentication mechanism.
Highlight features
The gateway can be used to quickly add sub-devices to the app. It only takes five seconds on average to connect a device and show it on the app.
Add sub-devices with one button. Multiple sub-devices can access the network at the same time, even without a connection to the internet.
Support stable networking and broadcast in bulk.
The random heartbeat packet algorithm allows users to get the online and offline status of sub-devices timely.
It takes about 120 milliseconds for a command to be sent and responded over the internet without signal interference. This delivers a wonderful user experience.
Device control and smart scene execution over a local area network (LAN).
Reliable local linkage services across gateways.
Over 100 sub-device categories. More categories can be extended.
Reliable local control of two-way or multi-way switches.
Comprehensive OTA updates throughout the lifecycle that covers gateways, Zigbee MCUs, Zigbee terminals, and MCUs connected to the Zigbee terminals.
Connect to standard Zigbee devices from well-known manufacturers such as Hue and SmartThings.
Follow standard Zigbee 3.0 protocols and pass the Zigbee 3.0 certification.
Support country and region codes. The output power can be set for specific countries or regions.
Prevent accidental deletion. This feature effectively solves the problem of sub-devices getting offline caused by misoperation.
Interaction ports
Port type and specification
Taking our smart wireless Zigbee gateway TYGWZW-01N as an example, the main interaction forms and lighting effects of the product are as follows:
| Port | Specification | Purpose |
| --- | --- | --- |
| Charging port | Micro USB 2.0 | Plug a charging cable into the port to start charging. |
| Button | Tactile button | Press the button for resetting or pairing. |
| Indicator light | LED | Indicate the network and working status. |
The product ports are shown as follows.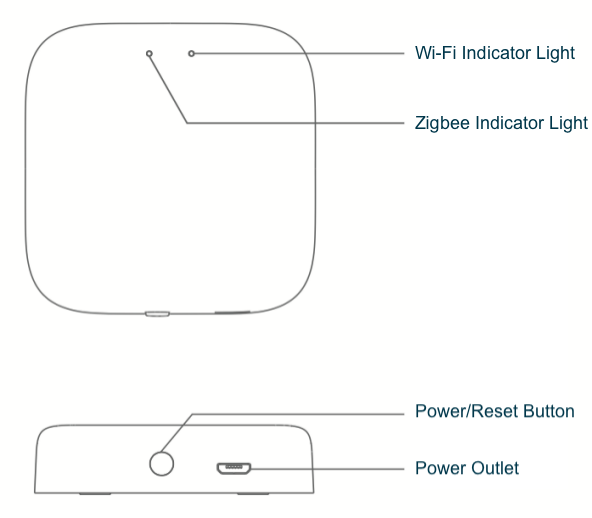 Power/reset button: Press and hold the button for five seconds to reset the gateway.
The following table lists the possible indicator light status:
| Type | Product status | Indicator light status |
| --- | --- | --- |
| Red indicator light (Wi-Fi) | Connected | Steady on |
| | To be connected | Flickering |
| | The Wi-Fi function has been configured, but the device is not connected | Steady off |
| Blue indicator light (Bluetooth) | Allow sub-devices to join network | Flickering |
| | Not activated | Steady on |
| | Activated | Steady off |
Installation
Connect this gateway to the power supply and place it on a wide and flat table at home. Do not place it in corners or low-lying places to avoid signal obstruction.
Usage process
The product usage process is described as follows:
Power on the gateway.
Make sure the red pairing indicator light flickers. If not, press and hold the reset button until the red indicator light flickers.
Connect your smart phone to a 2.4 GHz router, and make sure the phone and the gateway are in the same local area network.
Tap + in the top-right corner of the app homepage.
Find the gateway category on the left side of the page and select the gateway (Zigbee).
Perform pairing as per the prompts.
After the pairing is successful, find the gateway in My Home.
Product performance
| No. | Question | Answer |
| --- | --- | --- |
| 1 | Is wireless connection supported? | Only wireless connection is supported. |
| 2 | Is 5G Wi-Fi connection supported? | The pairing task can be performed in a 2.4 GHz Wi-Fi network only, rather than a 5G Wi-Fi network. |
| 3 | How many sub-devices can be added to this gateway? | Up to 50 sub-devices can be added to this gateway. |
| 4 | What is the maximum distance between a sub-device and the gateway to guarantee stable control? | To guarantee stable control, the maximum distance between a sub-device and the gateway is 35 meters indoors and 200 meters outdoors. |