This service is the agency application provided by Tuya for customers who need to apply for WWA certification, as well as the service of product testing required before certification (WWA certification itself is free). WWA testing does not include software testing, and customers or factories need to complete soft testing by themselves.
WWA (Works with Alexa) is a certification officially provided by Amazon for products that support Alexa voice control. It ensures that the product's voice control function is effectively guaranteed in terms of reliability, responsiveness and consumer experience, and quickly improves consumers' trust in the product.
Service subscription process
Opening the Value-added service
Click to enter the Tuya Value Added Service page. If you have an account, log in with the account. If you do not have an account, click Sign Up to register for an account and then log in.
Selecting the required service
Click Smart Speaker from the service categories at the top. Locate the WWA Testing and Certification Application service and click Subscribe to open the Create Service Order page. Alternatively, click more to view the service details and then click Subscribe.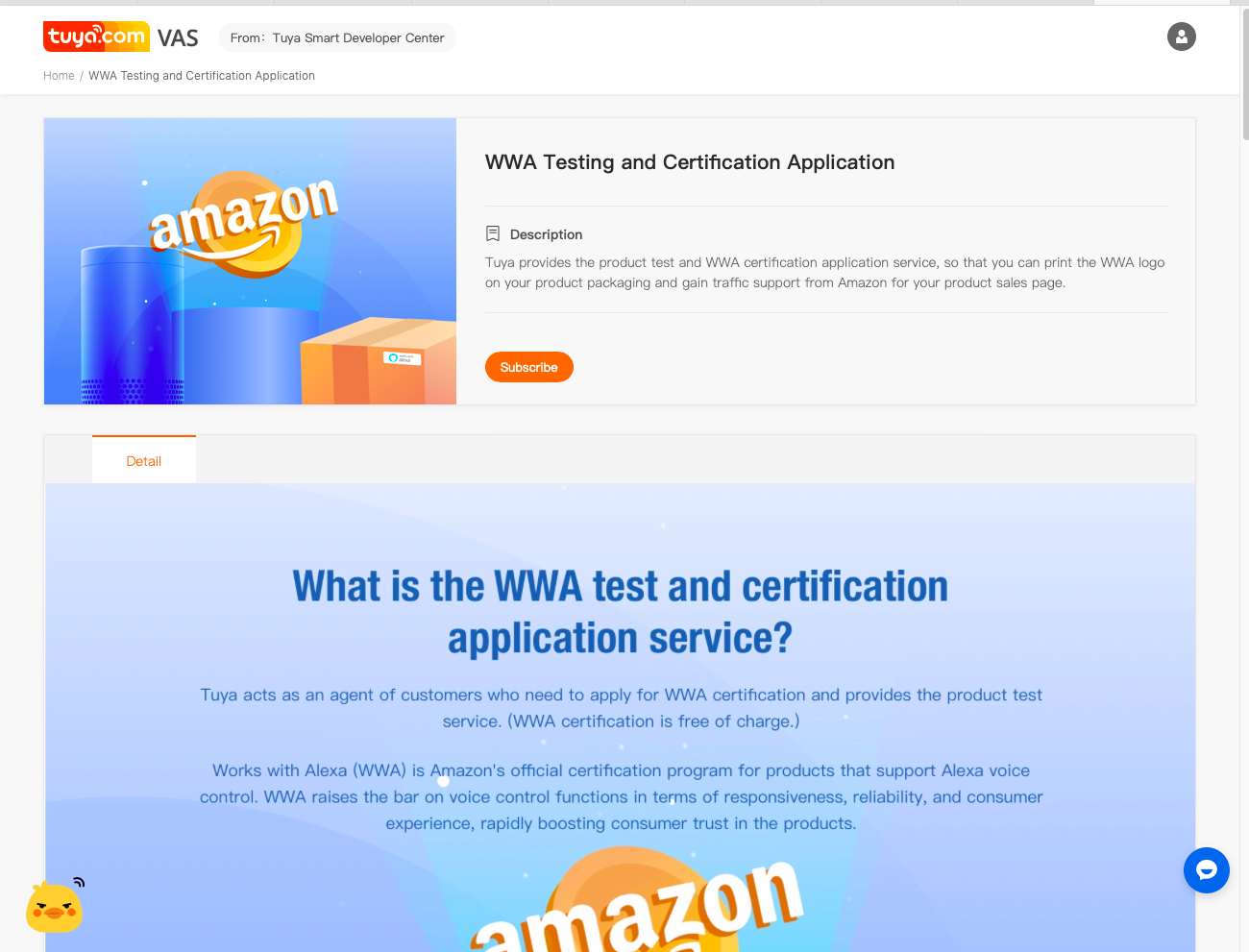 Entering purchase information
Select a product to be certified, enter the Brand name and Number of Amazon sales pages.


Specify your phone number and email address. If you have other special requirements, specify them in the Remark text box.

If you have a coupon, redeem it. If you require an invoice, select Need for Invoice and specify the invoice information. After the service is enabled, contact your Tuya business manager to obtain an invoice.

Select I agree Accuracy Waiver, click Submit Request to pay for your order.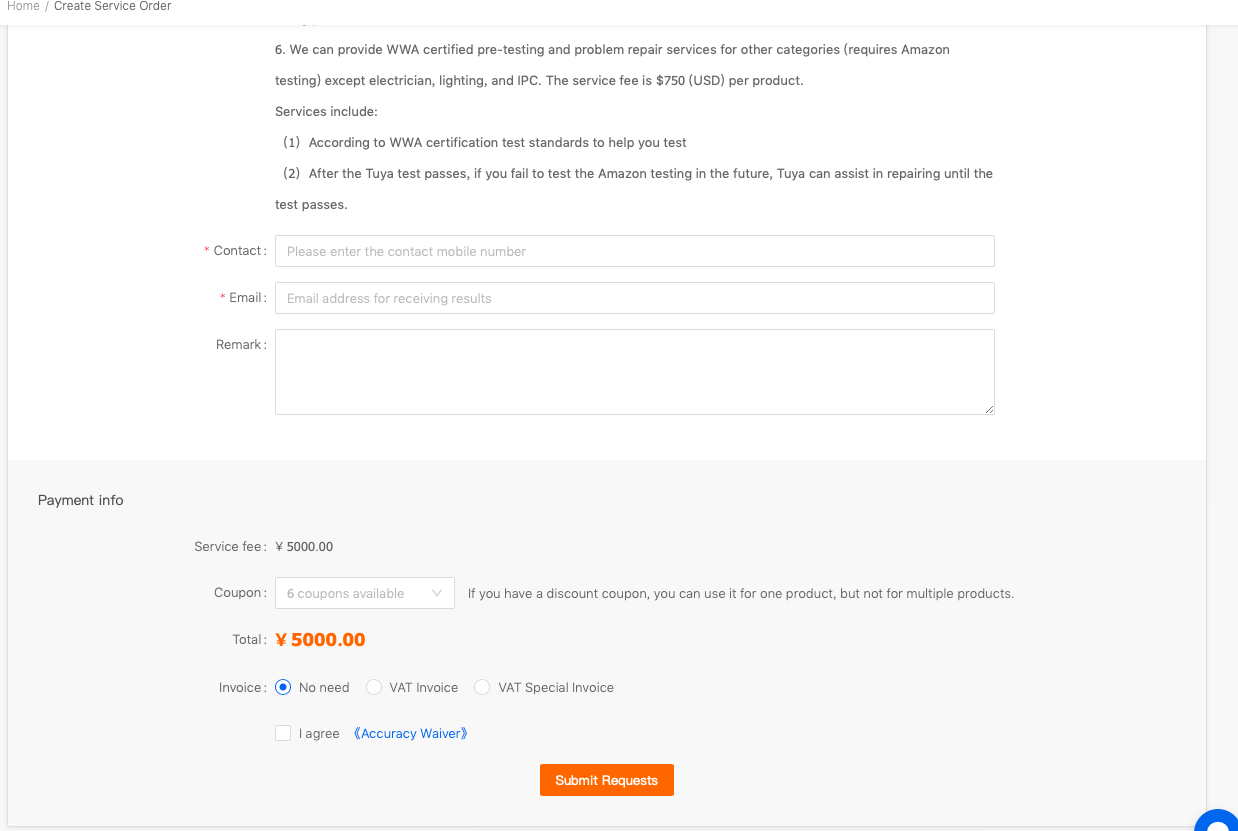 Selecting a payment method and pay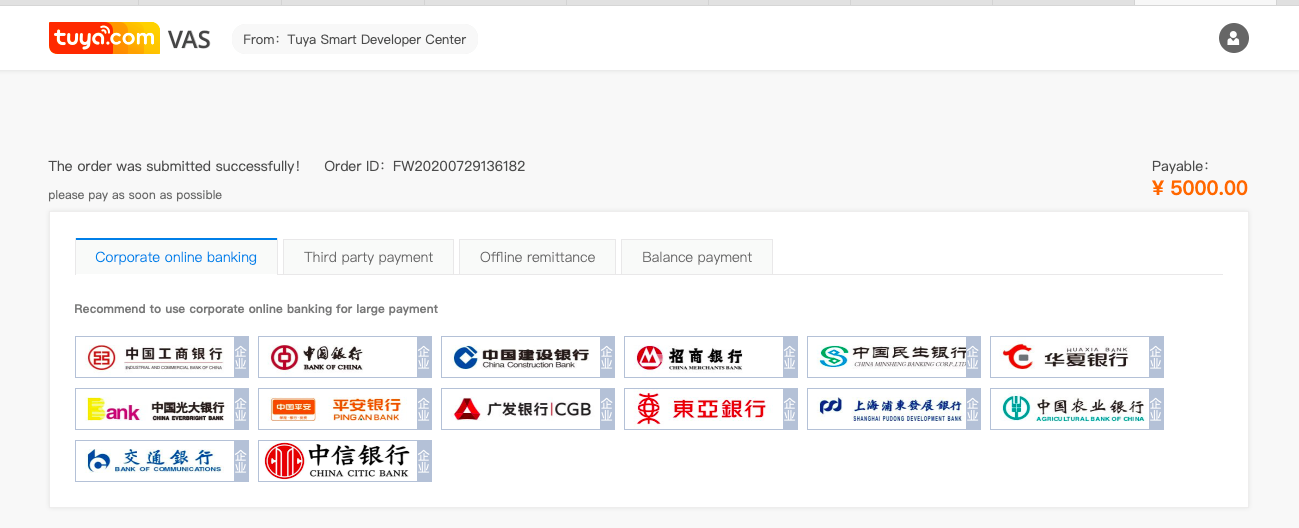 Fill out application forms
When payment completed, wait a moment then the page will auto change to an online application forms page. Alternatively, click My Order——Form. Fill out the application forms.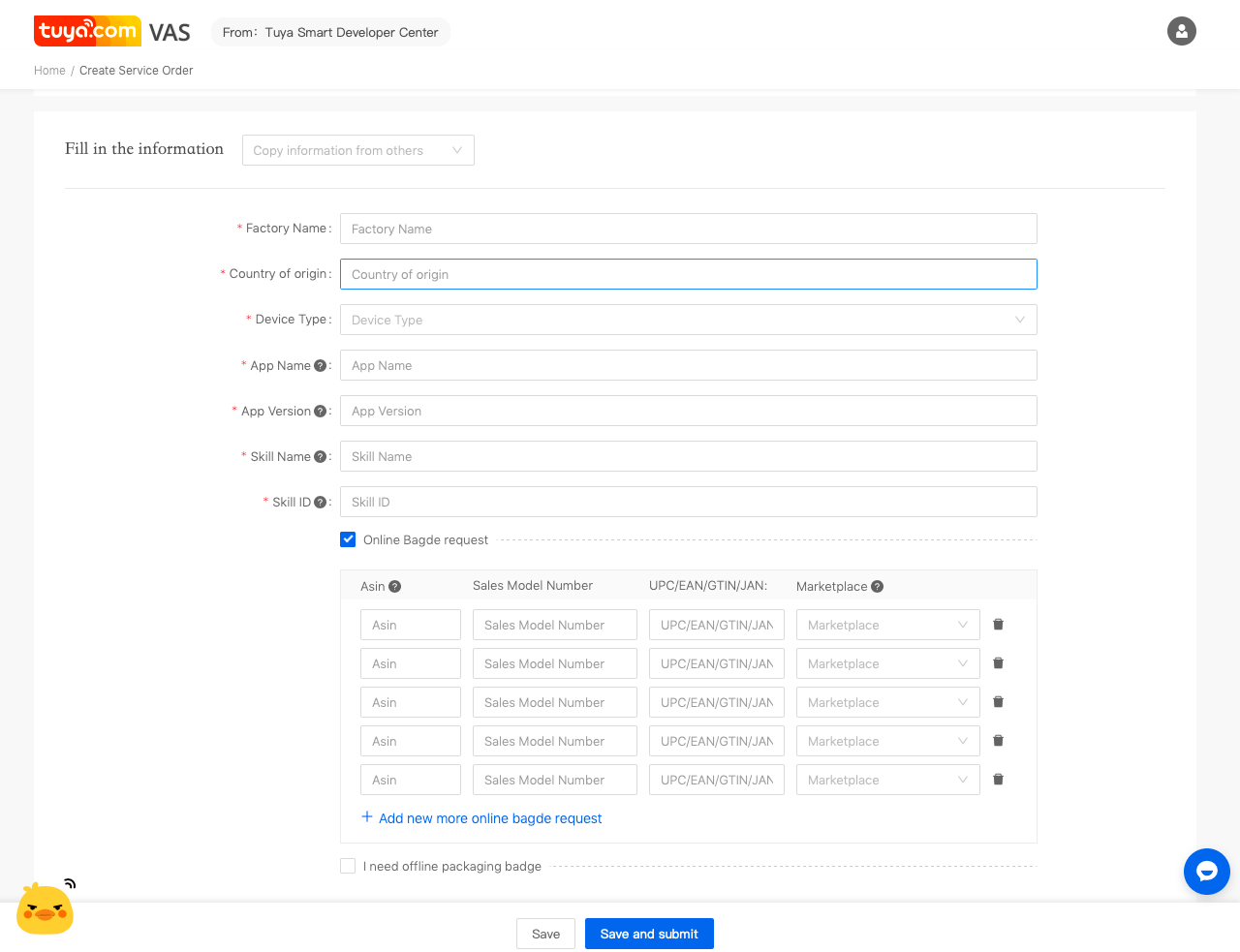 You can click the save or Save and submit buttons.
Review
Tuya will complete the review in 1-2 business days.
View verify results
Click My order–forms to check verified result

If the result is pass, then fill out the send samples form, or click No need to send any sample?
If the result is failed, complete the application form and waiting for review again.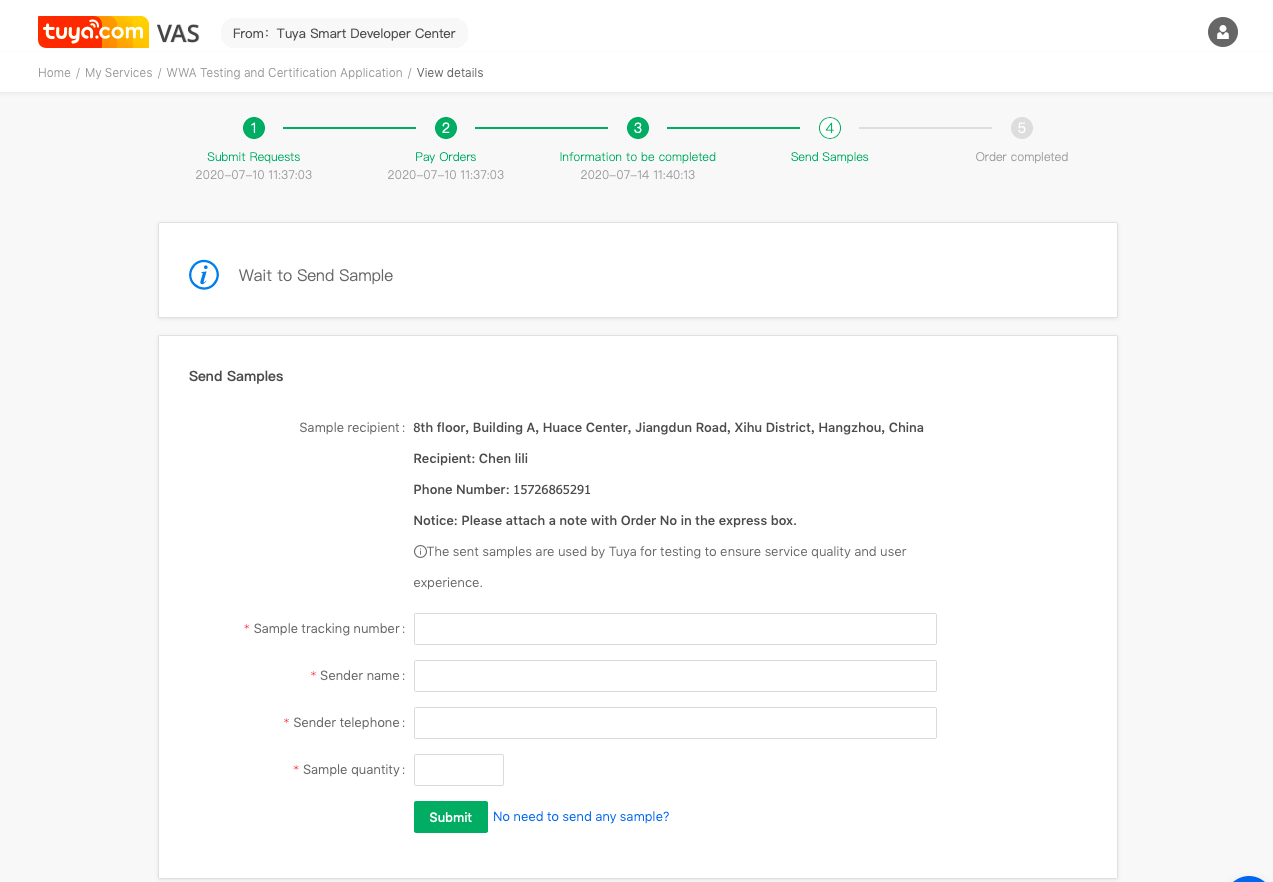 Send samples
Shipping requirements: The product must be a finished product, with two samples for each pid; if the product has multiple models, one sample for each model is enough.
Please enclose the following list in your package:
Order number
Factory and brand
Sample pid and corresponding quantity.
mailing address:
Address: 8th Floor, Block A, Huace Center, Intersection of Huajiang Road and Wuchanggang Road, Xihu District, Hangzhou, Zhejiang, China
Recipient: Zhang Xinglei
Phone number: 15557118603
Test
After receiving your sample, a voice test will be arranged for you in time. It takes 8-10 days to complete the certification without bug fixes. Note: Passing the software test is the prerequisite for applying for WWA certification. If your product fails the software test, we will submit the software test for you. After passing the test, we will arrange THE WWA voice test for you, and the service duration of the software test is not included in the service limitation.
Submit a certification request
After passed testing, Tuya will submit a Certification request. Which will be enabled in 1-3 days after the WWA team reviewed.