I. Service Introduction
Works with Google Assistant (WWGA) is Google's official certification program for products that support Google Home voice control. WWGA raises the bar on voice control functions in terms of responsiveness, reliability, and consumer experience. Products that pass WWGA certification can have the "Works with Hey Google " or "Works with OK Google "logo printed on the outer packages.
II. Service Subscription Process
Logging in to the Tuya Value Added Service platform
Click to enter the Tuya Value Added Service page. If you have an account, log in with the account. If you do not have an account, click Sign Up to register for an account and then log in.
Selecting the Required Service
Click Certification Service from the service categories at the top. Locate the WWGA Certification service, and click Subscribe to open the Create Service Order page. Alternatively, click Service introduction to view the service details and then click Subscribe to subscribe to the service.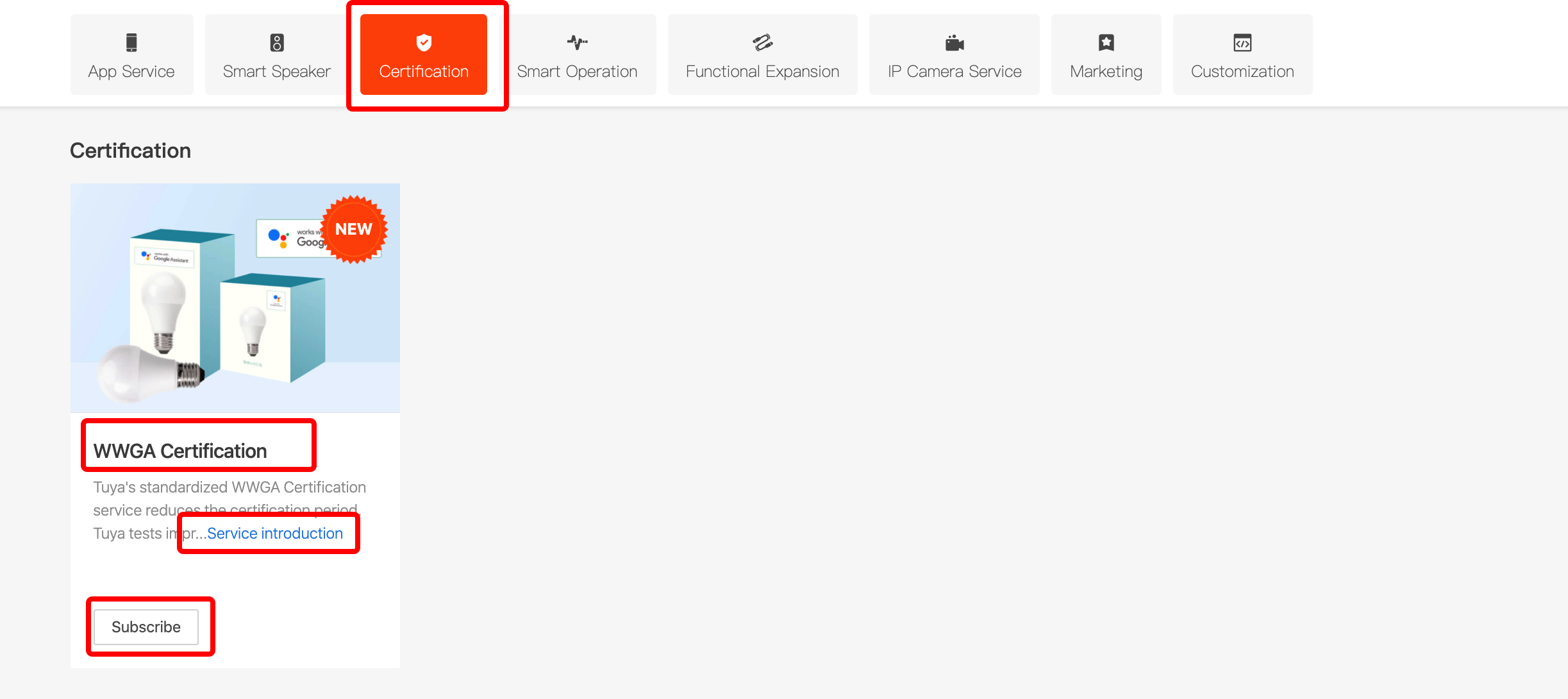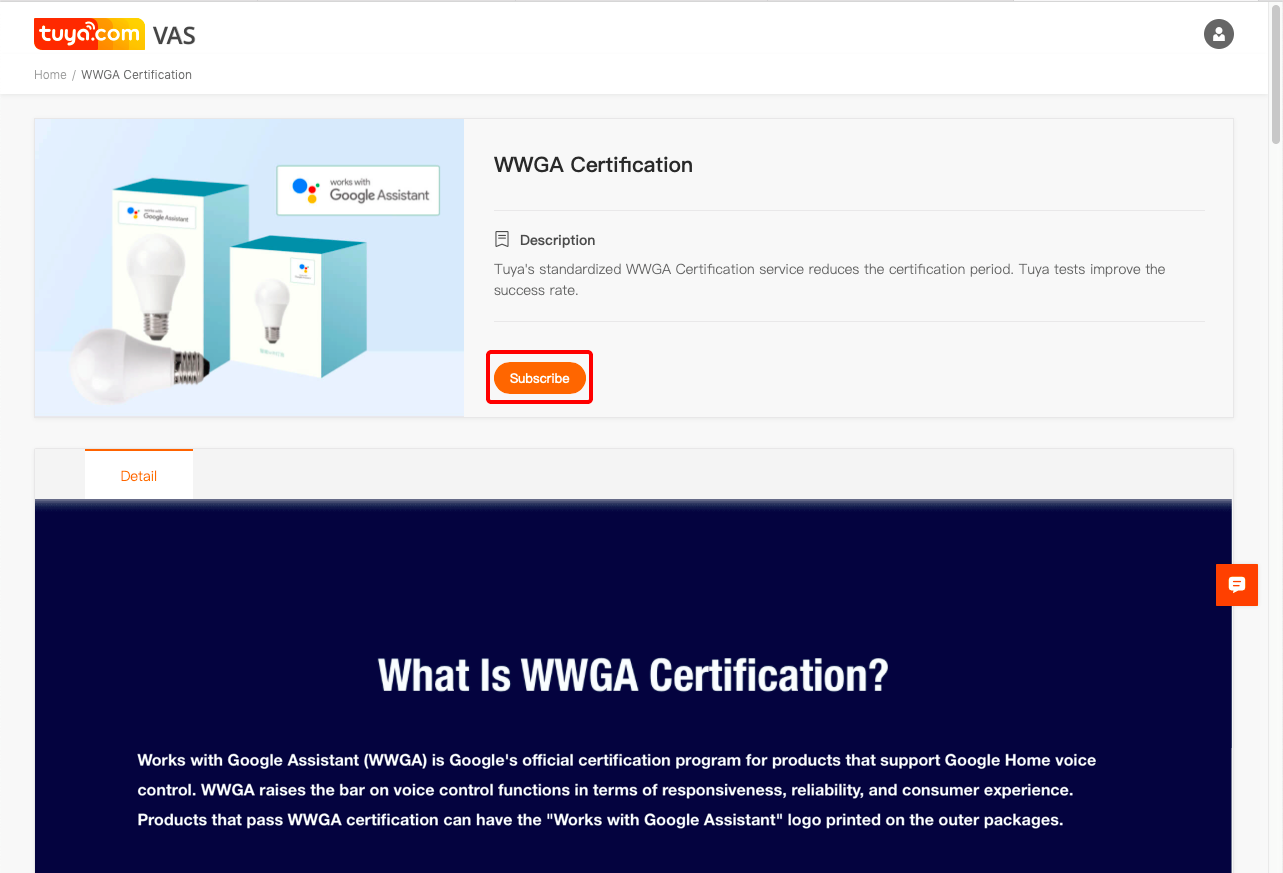 Entering Purchase Information
(1) Select a product to be certified.
(2) Download the application template, fill in information as required, and upload it.
(3) Specify your phone number and email address. If you have other special requirements, specify them in the Remark text box.
(4) If you have a coupon, redeem it. If you require an invoice, select Need for Invoice and specify the invoice information. After the service is enabled, contact your Tuya business manager to obtain an invoice.
(5) Select I agree Accuracy Waiver, click Buy now to pay for your order.



Selecting a Payment Method
Select a payment method on the Corporate online banking, Third party payment, or Offline remittance tab page.
III. FAQs
What Product Categories Does the WWGA Certification Service Support?
The WWGA Certification service supports all basic product categories.
Can I apply for WWGA Certification for My Product That Is Not Mass-produced or Connected to Google Assistant?
No. To apply for the service, ensure that your product has been mass-produced and connected to Google Assistant.
How Long Does It Take to Complete WWGA Certification?
It takes three to five weeks.
Do I Need to Send Samples to Tuya for WWGA Certification?
Electrical Engineering, Lighting, Curtain, Heater, Fan, Air Purifier, Washing Machine, Robot Vacuum without positioning function, Humidifier, Air Cooler, Diffuser and Dehumidifier categories can send samples directly to Tuya for testing. In addition to the other categories, each product needs to send two samples to Google for testing, and send one sample to Tuya for synchronization testing.
Is the WWGA Certification Service Refundable?
The WWGA certification review results and time are subject to Google. Because allocated service resources cannot be reclaimed, the service fee is not refundable.
Can I Modify the Product Package Design That Google Provides After WWGA Certification?
No. Google has clear specifications for the product package design. Use certified package files to prepare the product packages and ensure that the packages are used only for the certified product. If Google sues you because you use the logo incorrectly or use it for other products, or your product packages mismatch the product information in your WWGA certification application, you shall be held liable. If Tuya is implicated, you shall compensate Tuya for its losses.
Can I apply for WWGA Certification from Google?
Yes. To apply for WWGA certification from Google, you need to send samples to Google. It takes one to two months to complete WWGA certification.
How Do I Fill in the WWGA Certification application Form?
Fill in the application form based on the guidance.
For more FAQs, visit WWGA certification.
If the WWGA Certification still valid if we change brand or skill.
No.
If you change either brand or skill, please contact us ASAP to arrange a new WWGA test for you.