The Tuya Smart Platform's Cost Center module allows you to view and manage all capital-related information.
You can centrally manage bills, view App users' transactions, manage the platform account balance, and recharge your account in online top-up or offline bank transfer mode,
reducing routine management costs and improving management efficiency.
Cost Survey
Function: displays information about available balance for account top-up.
The account balance information is displayed in your account's settlement currency, which includes the available amount (Account balance – Amount to be deducted), account balance, and amount to be deducted (the amounts of all unsettled bills).

Click Set Alarm Threshold to set a threshold for your account balance. When your account balance is below the set threshold, the platform automatically sends an SMS notification to the mobile phone number specified.

The Bills to Be Processed area displays the numbers and amounts of unsettled bills in different data partitions. Click View in a data partition to view unsettled bills in the data partition.
Example:
Customer A subscribed to the Device Log Storage service in January and has a CNY 1000 bill to be deducted in March. The customer must ensure that his/her account balance is greater than CNY 1000 to ensure automatic bill deduction and continue to use the Device Log Storage service.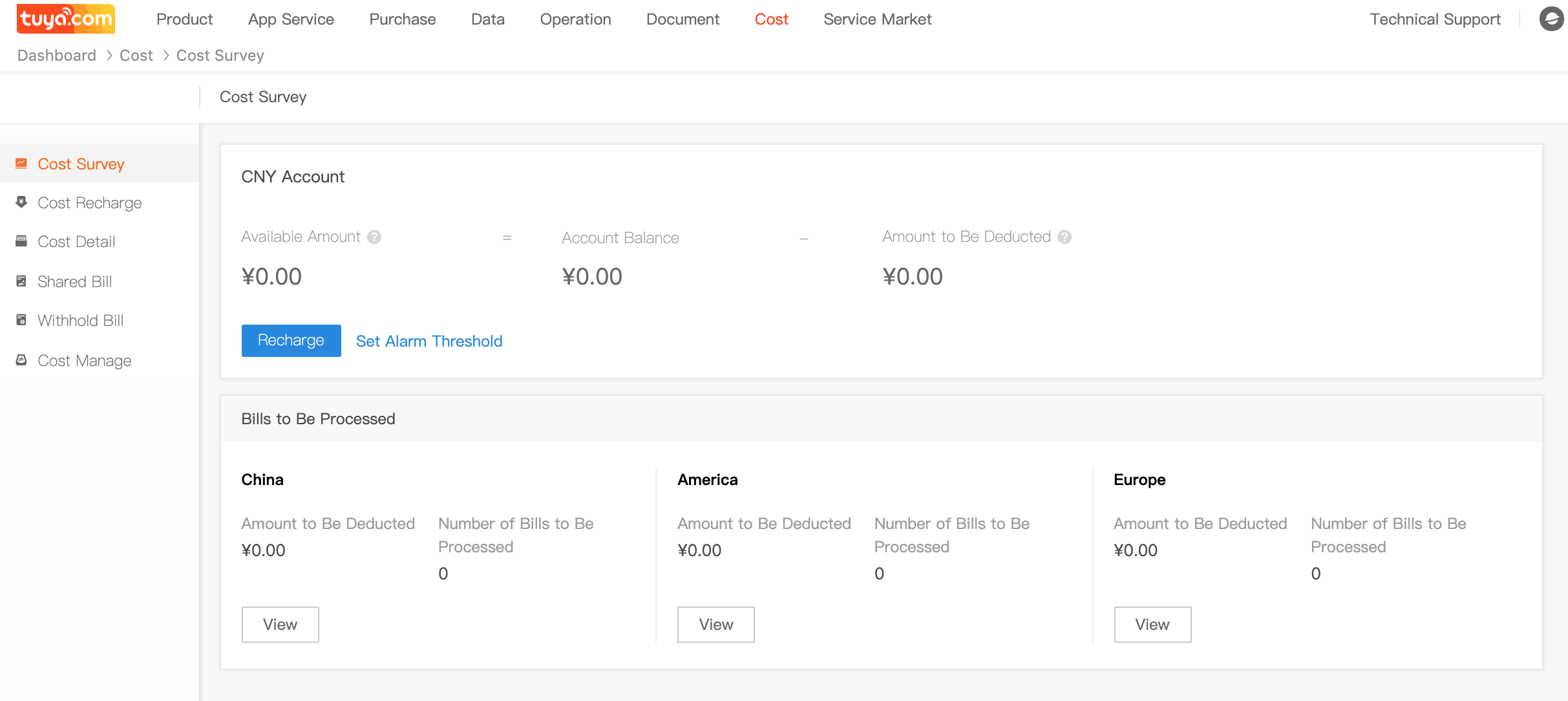 Cost Recharge
Function: allows you to top up your account with specific amounts online for automatic bill deduction.
By default, the available account balance is displayed. If the available balance is less than CNY 0, a message is displayed to remind you to top up your account.

Online Top-up: The default value of Currency on the Online Top-up tab page is your account's settlement currency. After you enter a top-up amount and click Go to pay, the payment page is displayed. After successful payment, the top-up amount is added immediately to your account balance.

Cost Detail
Function: displays capital change records by time and capital change type.
Income: from online top-up or offline bank transfer

Expense: deduction records with the corresponding debit record and source
Shared Bill: Sharing Statements
Function: displays a list of sharing statements by time and settlement status for you to check detailed statement data.
If you do not object within two days after the statement is issued, the platform will automatically transfer the corresponding amount to your account. For details about the form of sharing, see the sharing terms in the corresponding service contracts.
If your revenue share is not settled in your settlement currency, the platform will first convert the currency to your settlement currency based on the following exchange rates:
USD 1 = CNY 6.8; CNY 1 = USD 0.15.
For details, visit: https://support.tuya.com/en/help/_detail/K9fenldr33vaz

Withhold Bill
Function: allows you to view a list of bills involved in automatic deduction services and download bills to check the detailed data.
Search criteria: subscription solution, time, and detailed bill number of an automatic deduction service. You can specify multiple search criteria.

Detailed bill information:
Contract No.: indicates the contract number of the automatic deduction service to which a bill belongs.
Signing plan: indicates the subscription solution of the automatic deduction service to which a bill belongs.
Billing Generation Period: indicates the time range of the billing data.
Billing Date: indicates the externally displayed billing date.
Bill No.: indicates the unique number that the system allocates for each bill based on the customer, service, and billing generation period.
Amount: indicates the settled and unsettled bill amounts.
Detection Status: indicates the status of settled or unsettled bills.
Operation: allows you to download bills to view details.

Cost Manage
Function: displays App users' transaction data within the contract validity period of platform-related services for you to check bills and confirm revenue sharing or amount to be deducted.
Example: After platform users purchase the Cloud Storage for Videos service within the validity period of the Revenue Sharing Agreement for Camera Video Cloud Storage signed between you and Tuya, you can view the transactions.
Note:
To view a transaction from Tuya Smart platform's Cost Manage page, ensure that the following conditions are met:
You have signed an agreement with Tuya, and the agreement is valid.

A user has purchased and paid for Cloud Storage for Videos through your OEM App.

FAQ
For more questions, visit https://support.tuya.com/en/help/_list?category=371042