After you register a Tuya developer account, you can select the organization account type and finish organization verification. Currently, the Tuya IoT Development Platform supports two types of organization verification: automatic verification of business banking accounts and manual review of verification information.
Account benefits
Organization verification must be passed before your developer account can be regarded as an organization account. A verified organization account is entitled to the following benefits:
Trade online as an organization: Place orders, make payments, sign contracts, and get invoices online on the Tuya IoT Development Platform.
In-depth business cooperation: Share flexible business models as well as discounts.
Dedicated customer services: Troubleshoot your issues with efficient and professional technical support.
Promoted account level: Upgrade a Basic account to the Premium account after it passes the organization verification. After joining the organization space, a team member can share the benefits of a premium account.
For more information, see Account Types.
Select account type
After you register and log in to the Tuya IoT Development Platform, the system asks you to select an account type on the homepage. On the Account Type Settings page, select Organization to start the organization verification process.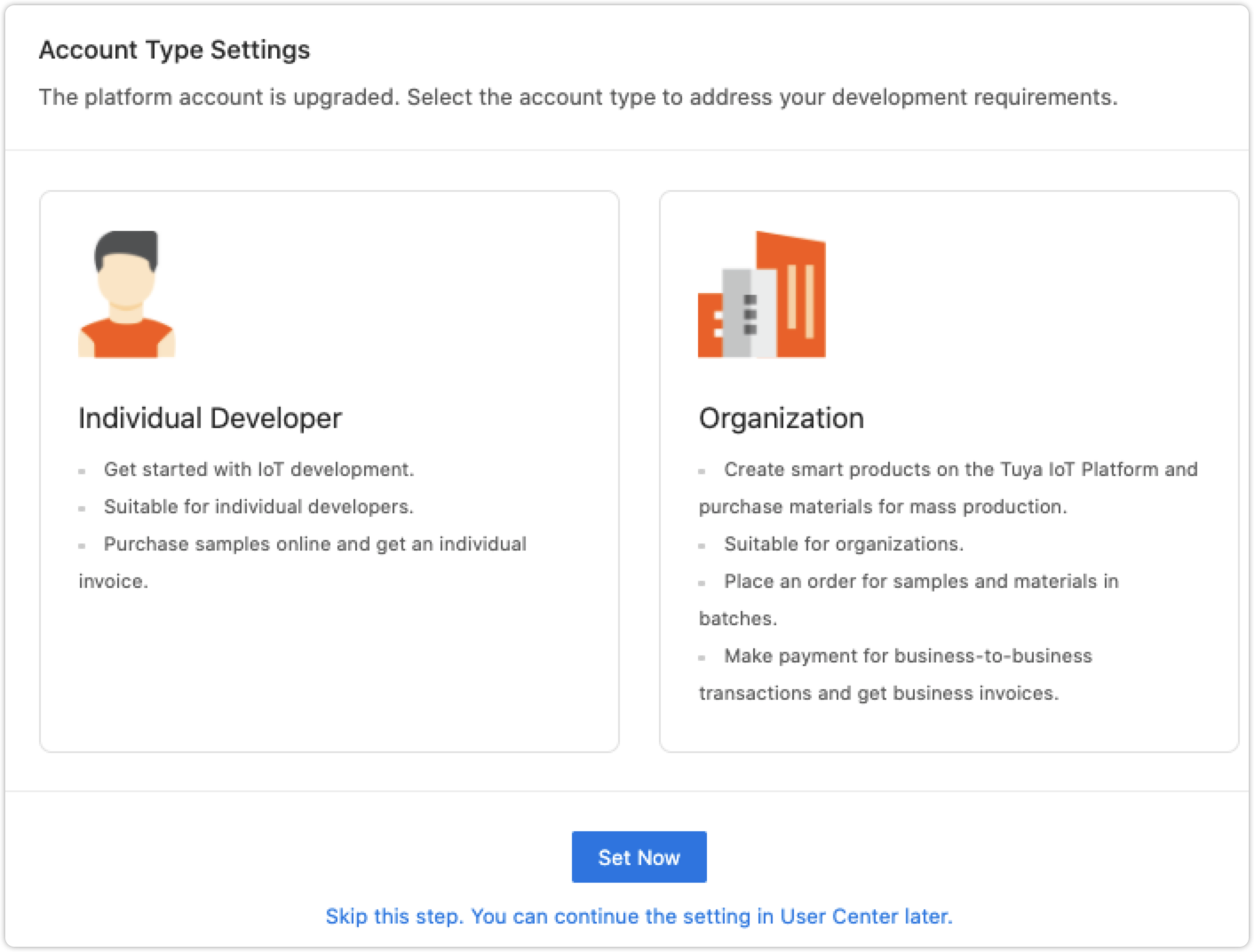 Pass organization verification
Log in to the Tuya IoT Development Platform.

In the top right corner of the homepage, click the account icon and choose Account.

In the left-side navigation pane, select Organization Information, and click Verify Now on the right of the Verification Status field.

After you enter the page organization verification, you can see the verification process for your current country or region. Then, you can start your organization verification step by step.

If the country or region is incorrect, you can return to My Account > Basic Information and modify the country or region.
For more information about the organization verification process, see the documentation for the specific country or region.
FAQs