Tuya provides the OEM App service as a one-stop shop for the development and management of branded IoT mobile apps. OEM App supports template-based, easy-to-use UI customization, and helps to build your branded app quickly online without coding.
Overview
An original equipment manufacturer (OEM) is a company that makes a product or component with the appearance, specification, and performance as required by a customer (also known as a brand owner). Then, the customer customizes and sells an end product with the OEM product or component. The end product goes with the customer's brand name.
OEM App is your go-to solution to build a branded mobile app and bring your smart product use, services, and marketing operations even further. You can effortlessly keep your template-based app up-to-date, make the user experience unique, and let your brand stand out. Supporting services such as app version management and app data operations can shorten the time to market new products.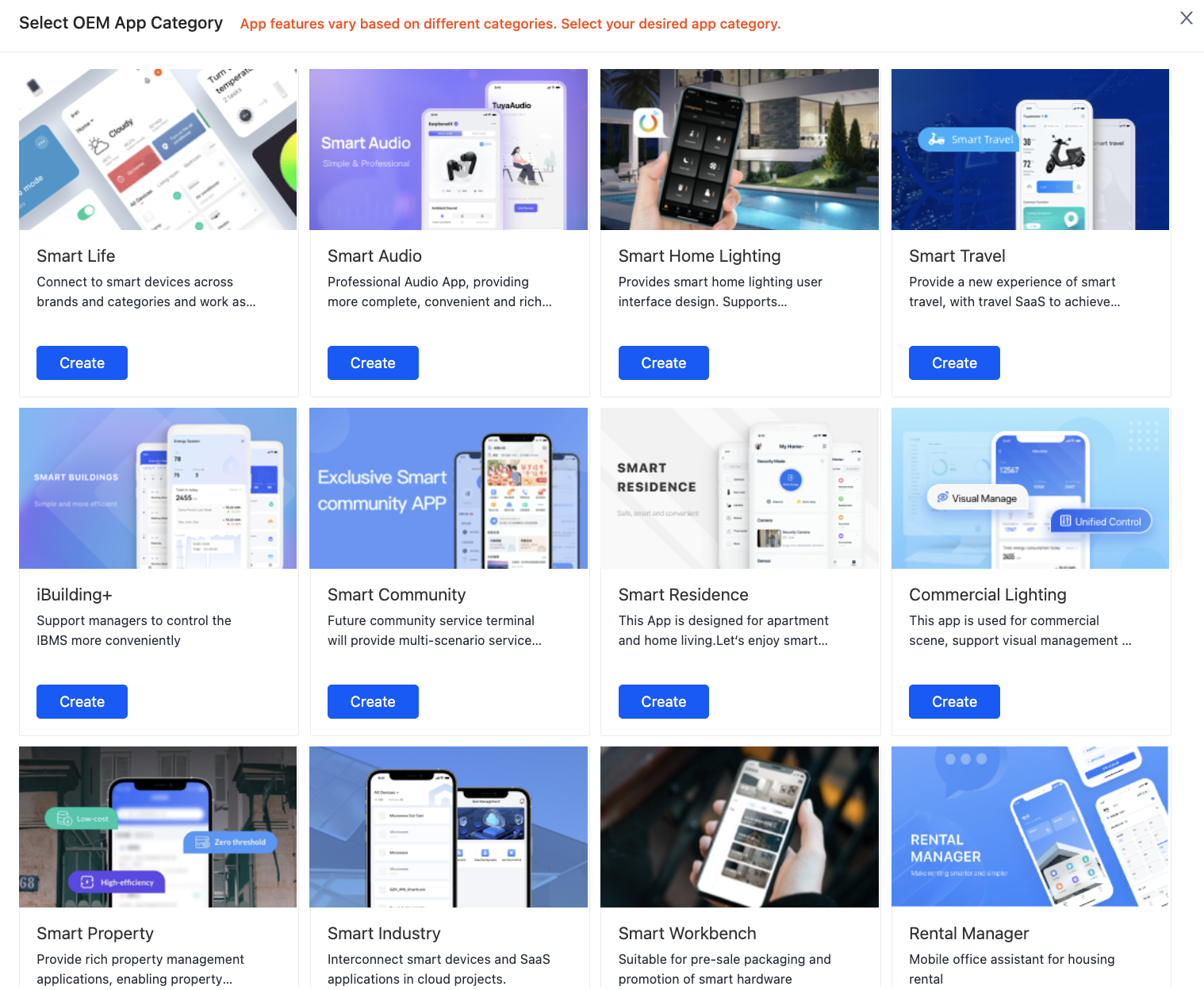 Advantages
Rapid building

Create your branded app that is as good as the complex solution made by hand coding. Template-based configurations make app building so productive, without any development or coding knowledge.

High price performance

Benefit from end-to-end OEM App services, ranging from all-around configurations to walkthroughs of app launching. Reimagine your no-code development with a price far below the market average.

Agile configuration

Serve as a control hub of smart products and support remote multi-path operations and third-party voice control to take the effortless implementation of smart scenes much further.

One-stop experience

Manage apps through the comprehensive process from creation to configuration and launch. Control diversified devices in one app of enriched functionality.
How to build
OEM App is a one-stop shop for you to build a one-of-a-kind app online without coding. Easy-to-follow online guidelines always meet you where you are and bring your distinctive app to life without additional investment in development. You can log in to the Tuya IoT Development Platform and complete the build process as instructed by the wizard: starting from Create App to Customize UI, Set Functions, Build App, and Launch App. For more information, see Create OEM App.