In the left-side navigation pane of the Tuya IoT Edge Gateway, click Services > Service Images > Custom > + Create to add a service image.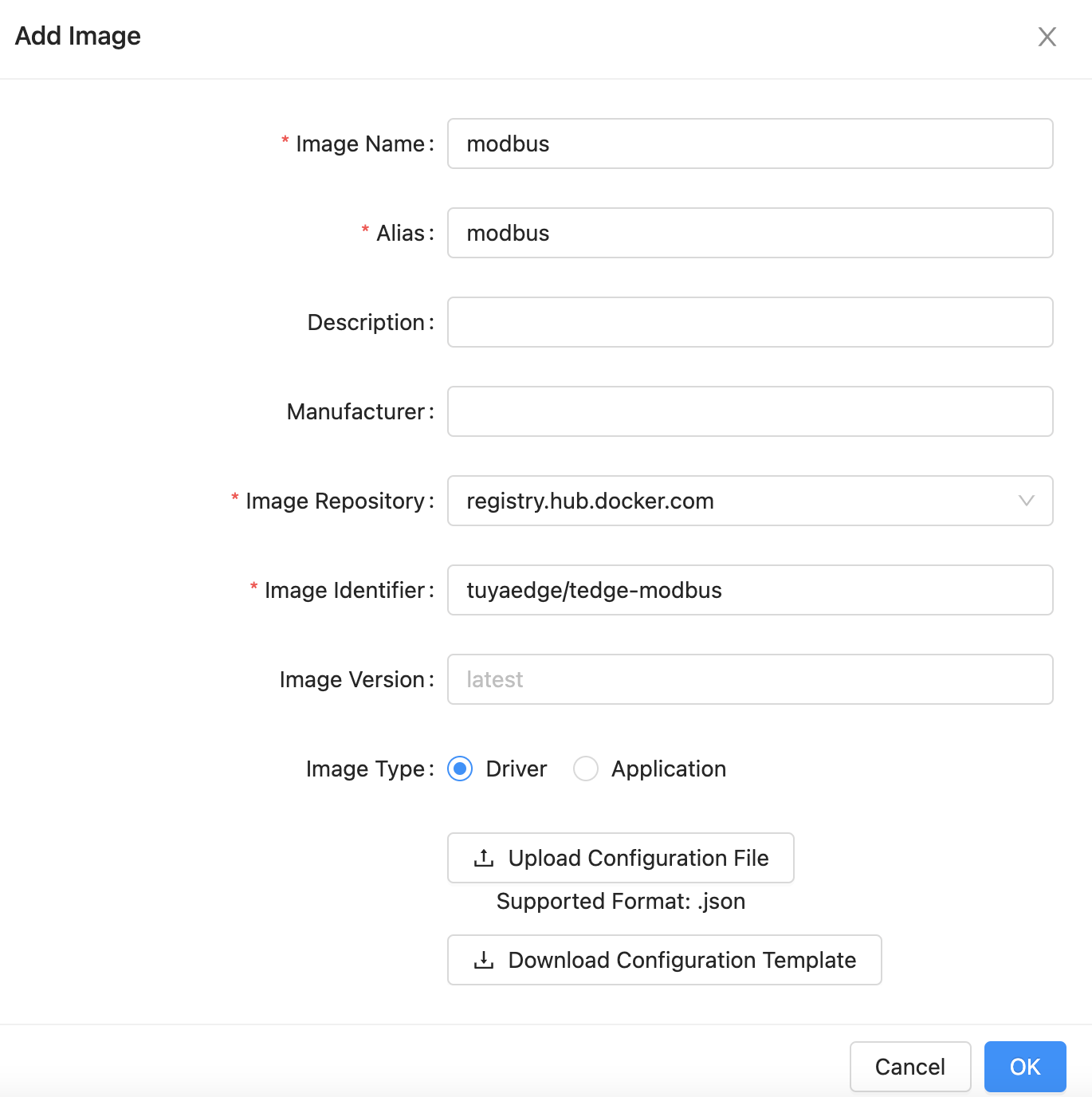 This section describes how to add a Modbus driver.
Image Name: modbus
Alias: modbus
Image Repository: registry.hub.docker.com (Docker Hub repository)
Image Version: latest
Upload Configuration File: Upload the Modbus driver image. The Modbus driver requires additional configurations of data points. You need to upload a configuration file.
{
  "deviceServer": {},
  "deviceProtocols": {
    "modbus-rtu": [
      {
        "name": "Address",
        "display": "Serial Port",
        "type": "string",
        "defaultValue": ""
      },
      {
        "name": "BaudRate",
        "display": "Baud Rate",
        "type": "string",
        "defaultValue": ""
      },
      {
        "name": "DataBits",
        "display": "Data Bits",
        "type": "string",
        "defaultValue": ""
      },
      {
        "name": "StopBits",
        "display": "Stop Bits",
        "type": "string",
        "defaultValue": ""
      },
      {
        "name": "Parity",
        "display": "Parity",
        "type": "string",
        "defaultValue": ""
      },
      {
        "name": "UnitID",
        "display": "Unit ID",
        "type": "string",
        "defaultValue": ""
      },
      {
        "name": "ReportDpsInterval",
        "display": "DP Reporting Interval (s)",
        "type": "string",
        "defaultValue": "120"
      },
      {
        "name": "DevCmdInterval",
        "display": "Device Command Interval (ms)",
        "type": "string",
        "defaultValue": "10"
      },
      {
        "name": "IsSwapCrc",
        "display": "CRC Swap",
        "type": "select",
        "defaultValue": "false",
        "options": [
          "true",
          "false"
        ]
      },
      {
        "name": "EnableDevice",
        "display": "Enable",
        "type": "select",
        "defaultValue": "true",
        "options": [
          "true",
          "false"
        ]
      }
    ],
    "modbus-tcp": [
      {
        "name": "Address",
        "display": "IP Address",
        "type": "string",
        "defaultValue": ""
      },
      {
        "name": "Port",
        "display": "Port",
        "type": "string",
        "defaultValue": ""
      },
      {
        "name": "UnitID",
        "display": "Unit ID",
        "type": "string",
        "defaultValue": ""
      },
      {
        "name": "ReportDpsInterval",
        "display": "DP Reporting Interval (s)",
        "type": "string",
        "defaultValue": "120"
      },
      {
        "name": "DevCmdInterval",
        "display": "Device Command Interval (ms)",
        "type": "string",
        "defaultValue": "10"
      },
      {
        "name": "EnableDevice",
        "display": "Enable",
        "type": "select",
        "defaultValue": "true",
        "options": [
          "true",
          "false"
        ]
      }
    ]
  },
  "deviceDpAttrs": [
    {
      "name": "readFunctionCode",
      "display": "Read Function Code",
      "type": "string",
      "defaultValue": ""
    },
    {
      "name": "writeFunctionCode",
      "display": "Write Function Code",
      "type": "string",
      "defaultValue": ""
    },
    {
      "name": "startingAddress",
      "display": "Address",
      "type": "string",
      "defaultValue": ""
    },
    {
      "name": "isByteSwap",
      "display": "Byte Swap",
      "type": "select",
      "defaultValue": "false",
      "options": [
        "false",
        "true"
      ]
    },
    {
      "name": "expandMultiple",
      "display": "Multiplied By",
      "type": "string",
      "defaultValue": "0"
    },
    {
      "name": "endian",
      "display": "Endianness",
      "type": "select",
      "defaultValue": "big",
      "options": [
        "big",
        "little"
      ]
    },
    {
      "name": "length",
      "display": "Length",
      "type": "string",
      "defaultValue": ""
    }
  ]
}