The Tuya Sandwich Zigbee gateway demo board helps you quickly build gateway prototypes. With Tuya Sandwich Zigbee gateway, you can connect Zigbee devices or development boards to the Tuya Cloud Platform.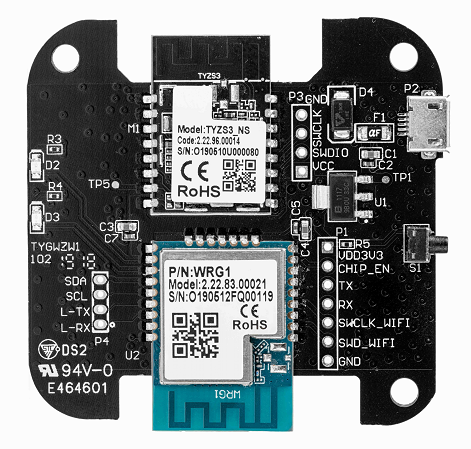 Main components
Tuya Sandwich NB-IoT communication board uses the TYZS3 module and WRG1 module developed by Tuya Smart. For more information about modules, see the TYZS3 Module Datasheet and WRG1 Module Datasheet. The gateway demo board also contains a Micro USB power port and a button.
I/O port
P2: Micro USB power port
P3: SWD port of TYZS3
P1: WRG1 programming interface and serial port
P4: WRG1 log interface and IIC interface
S1: Pairing button
D2: Indicator
D3: Indicator
Schematic diagram and PCB
Things to note
Regarding power supply, the Sandwich Zigbee gateway demo board must be powered by greater than 1A.