Tuya OEM App supports multiple push methods of App upgrade reminders. This article describes how to configure App upgrade notification push.
Prerequisites
App has been released in multiple versions in the app store.
Procedures
Log in to Tuya IoT Platform.

In the left navigation bar, click App > OEM App > Common Tools > Upgrade > Select the corresponding App

Click Create in the upper right corner,

On the Configure App Upgrade Reminder page, configure the upgrade reminder information.

After the configuration is complete, click Save and release.

Note: Support Save the configuration content first, and then release it later.
Configure download link
You need to configure download links for apps on different platforms. Please obtain the download address of each version in the corresponding application store.
Explanation: For example, iOS address, please click Share on the app details page of the App Store to get the address.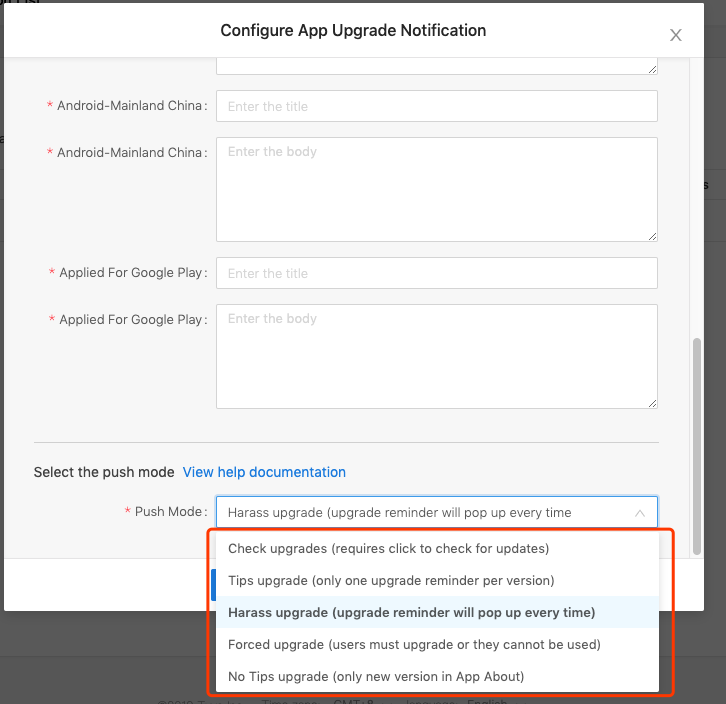 Choose the push method
Currently supports five push methods:
Check upgrade: You need to click "Check for Updates" in App Me>Settings>About to get upgrade reminder

Tips upgrade: Only one upgrade reminder for each version, can choose Later or Update Now

Harass upgrade: Upgrade reminder will pop up every time while starting the App

Forced upgrade: Forced to push the upgrade reminder, the user must click Update Now to complete the upgrade and cannot be canceled or skipped

No Tips upgrade: No push notification, only the new version will be prompted in a
pp Me>Settings>About