Product description
With the energy monitoring chip, the energy monitoring socket can collect and report the energy consumption data of the equipment connected to the socket. In addition to the basic on-off functions, the energy monitoring socket can also realize energy consumption monitoring, energy management, remote control, circuit protection and other functions, creating a green and energy-saving smart home environment for users.
Solution details
Core function
Various smart control methods
Remote operation: You can turn on the air purifier in the living room in the bedroom and turn on the water heater at home on the way off work.
Near field control: You can turn on and off electrical products with the remote control on your phone.
Voice control: With voice assistants, you can control electrical products conveniently.


Energy consumption monitoring
View real-time energy consumption: current voltage, current, energy.
Energy consumption history query and statistical curve: current day, current month, etc.
Overload automatic protection: automatically power off once checking the overload.

Abnormal detection and electrical protection
Overcurrent protection: When the device detects that the current exceeds the maximum rated value, it will automatically cut off the power to protect the power supply equipment and electrical equipment.
Over or under-voltage protection: When the instantaneous high voltage and voltage are lower than the rated value, the power can be automatically cut off to ensure the service life of the equipment.
Preset schedule
Basic timing and countdown.
Cycle timing: Switch on and off on a repeating loop for a certain period of time within a preset time period, used for aquarium aeration.
Random timing: Preset the device to switch randomly. For example, after the owner leaves home, it can simulate that someone is at home.
Auto switch between daylight saving time and standard time. It can still perform timing tasks when the network is disconnected
Panel Introduction
Optional panel: All-in-one panel v3.
Supports jack icons of different specifications from different countries all over the world. Supports DIY background color and button style, etc.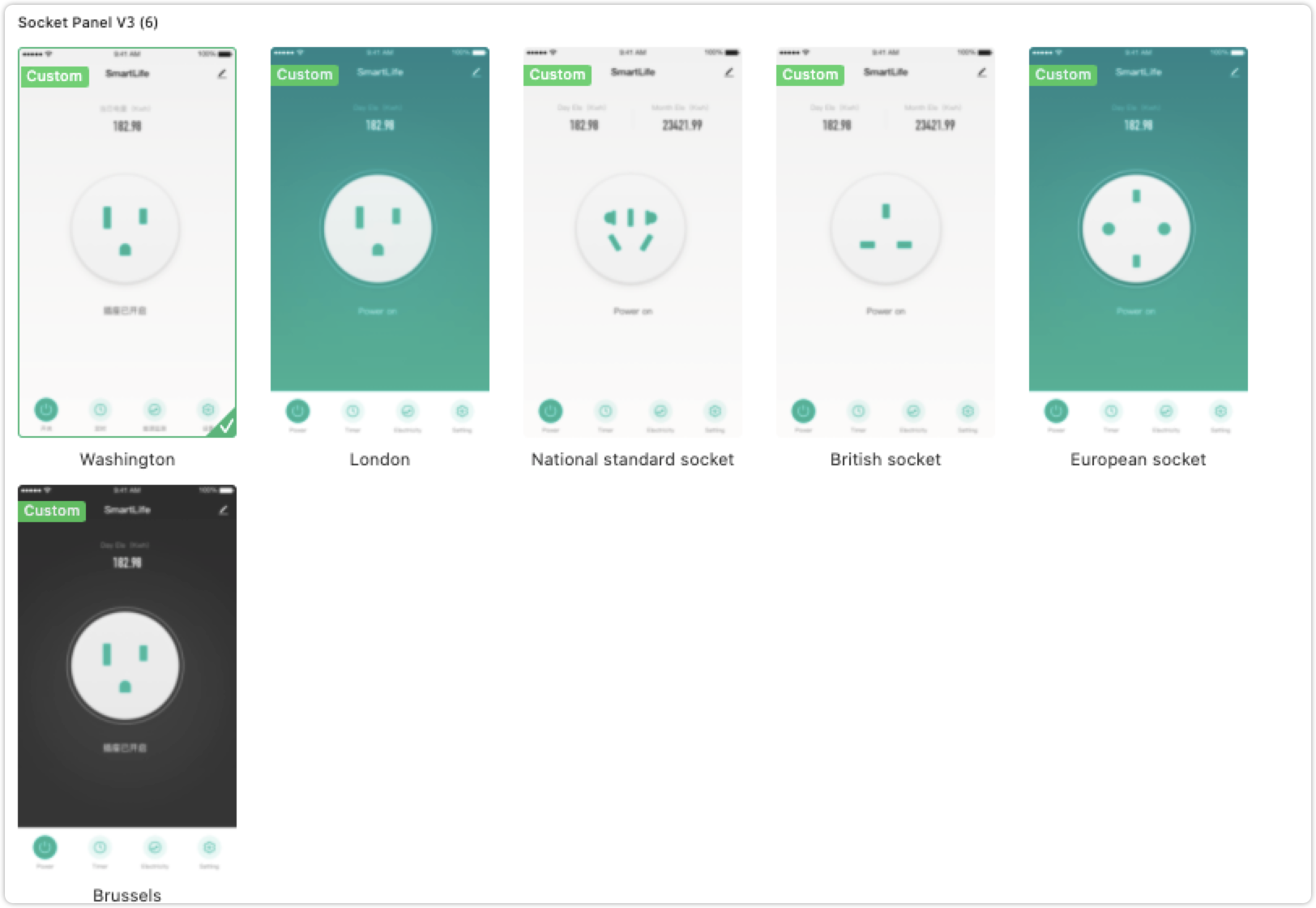 Available modules
This solution supports the following modules.
Applicable single product
Single socket
Wall socket
Courtyard socket
Outdoor socket
···