Tuya Edge Gateway (TEdge) can support connections to almost all IoT smart devices. TEdge combines stock-keeping units (SKUs) of Powered by Tuya devices and integrates the no-code development solution over third-party protocols. This allows you to build a leading ecosystem that interconnects diverse smart devices. You can use TEdge to manage drivers and manage sub-devices that are added to the edge gateway.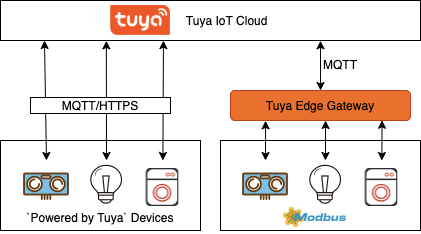 Manage drivers
The edge gateway provides excellent support for third-party protocols based on drivers. You can also develop drivers for private protocols.
Supported standard protocols
Modbus: an industrial protocol that implements communication between automation devices.
BACnet: designed to provide mechanisms for communication between building automation and control systems for different applications, such as heating, ventilating, air-conditioning control, refrigeration, lighting control, access control, and fire detection systems.
OPC Unified Architecture (OPC UA): applies to embedded field devices, such as radio-frequency identification (RFID) readers and protocol converters. This protocol is a machine-to-machine communication protocol for industrial automation developed by the OPC Foundation.
OPC Data Access (OPC DA): a group of client-server standards that provides specifications for real-time data communication between different applications. These applications can be deployed on programmable logic controllers (PLCs) at workshops, on-premises remote terminal units (RTUs), and desktop computers. OPC DA servers can maintain stable communication with these applications.
Simple Network Management Protocol (SNMP): an internet standard protocol for communication with managed devices on IP networks. Typical SNMP-based devices include servers, workstations, routers, switches, and hubs.
KNX: built on the European Installation Bus (EIB) communication stack and extended with the beneficial configuration modes of BatiBus and European Home Systems Association (EHSA). This protocol supports comprehensive solutions for home and building automation.
DALI: an international open standard for network-based products that control lighting.
Manage sub-devices
TEdge allows you to manage sub-devices that are added to the edge gateway. For example, you can edit device information, manage Tuya's things data models, and convert a point location for a specific protocol to a things data model.