Security SaaS provides full-stack security solutions for all users, scenarios, and processes, implements a closed-loop application of security scenarios for homes, enterprises, and organizations, and supports security home scenarios. Full-stack product application support is provided for enterprises, organizations, and developers in security scenarios.
Components
Smart Security Service Platform
The comprehensive organization management system is designed to adapt to the development of multiple business types. Organization members can be assigned different identities, roles, and permissions to achieve optimal business management and operations.
Enterprises or organizations can subscribe to and use lightweight applications in various industry security scenarios, and develop their own application services based on the security PaaS capabilities.

Smart Security app
Designed for home and small business users, the Smart Security app connects to terminal devices in the field of security, sensing, video, and health. It provides diverse functions such as alarm, monitoring, smart linkage, and alarm monitoring center to simplify the development of a smart self-monitoring system.

Security Station app
Designed for various business security scenarios, the Security Station app is mainly used by enterprises or organizations for remote centralized control, status monitoring, and business management of security devices.

Diversified hardware product ecosystem

Security sensors: contact sensor, water detector, human infrared sensor, temperature and humidity sensor, SOS button, siren, vibration sensor, repeater, smoke sensor, gas sensor, remote control, heat sensor, temperature control valve, security alarm kit, and alarm host.
Cameras: cube camera, PT camera, bullet camera, outdoor camera with lighting, IPC, dome camera, low-power camera, and NVR kit.
Security gateways: wired security gateway, wireless security gateway, Wi-Fi security alarm gateway, 4G security alarm gateway, IR+Zigbee AVS security gateway, and Wi-Fi security gateway.
Healthcare solutions: sleep band, 4G positioning watch, fall detector, blood pressure monitor, body fat scale, SOS button, smart speaker, and gateway central control.
Service architecture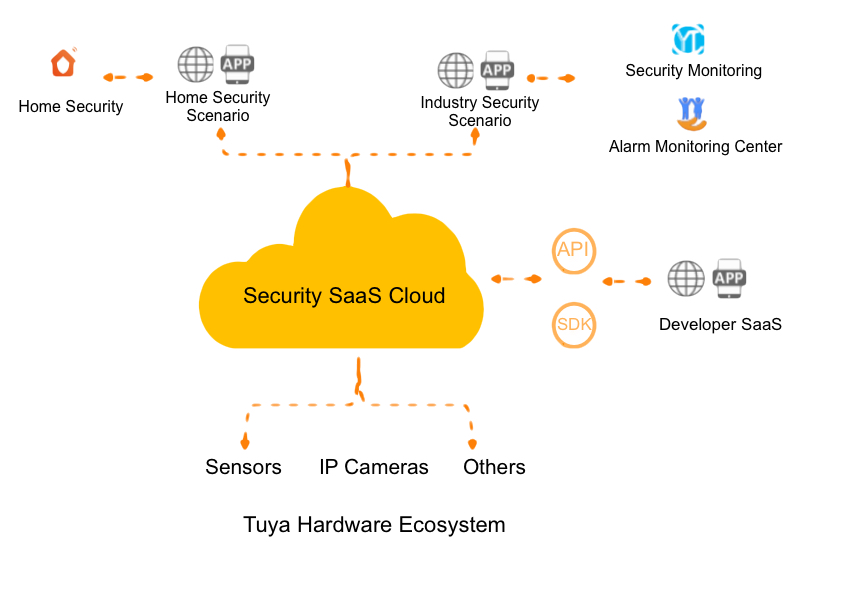 Six advantages
Multiple scenarios: Cover home and business security scenarios, and create a closed-loop business model.
Zero operations and maintenance costs: The platform saves your costs of building, development, deployment, and maintenance. You do not need to build a data center.
Abundant categories: In an ecosystem that encompasses more than 200,000 smart hardware products, devices can be interconnected in all preferred architectures.
Open capabilities: Quickly connect to third-party devices and systems based on an open platform.
Smart services: Choose from a wide range of solutions covering diverse scenarios. No custom development is required.
Global deployment: Provide stable services in more than 220 countries and regions. The average cloud response time is minimized to 10 ms.
Home security scenario
Based on the Tuya Smart Security Cloud Platform, help end-users to implement DIY home security. Empower enterprises to provide users with desirable products and services through operational management and data analytics.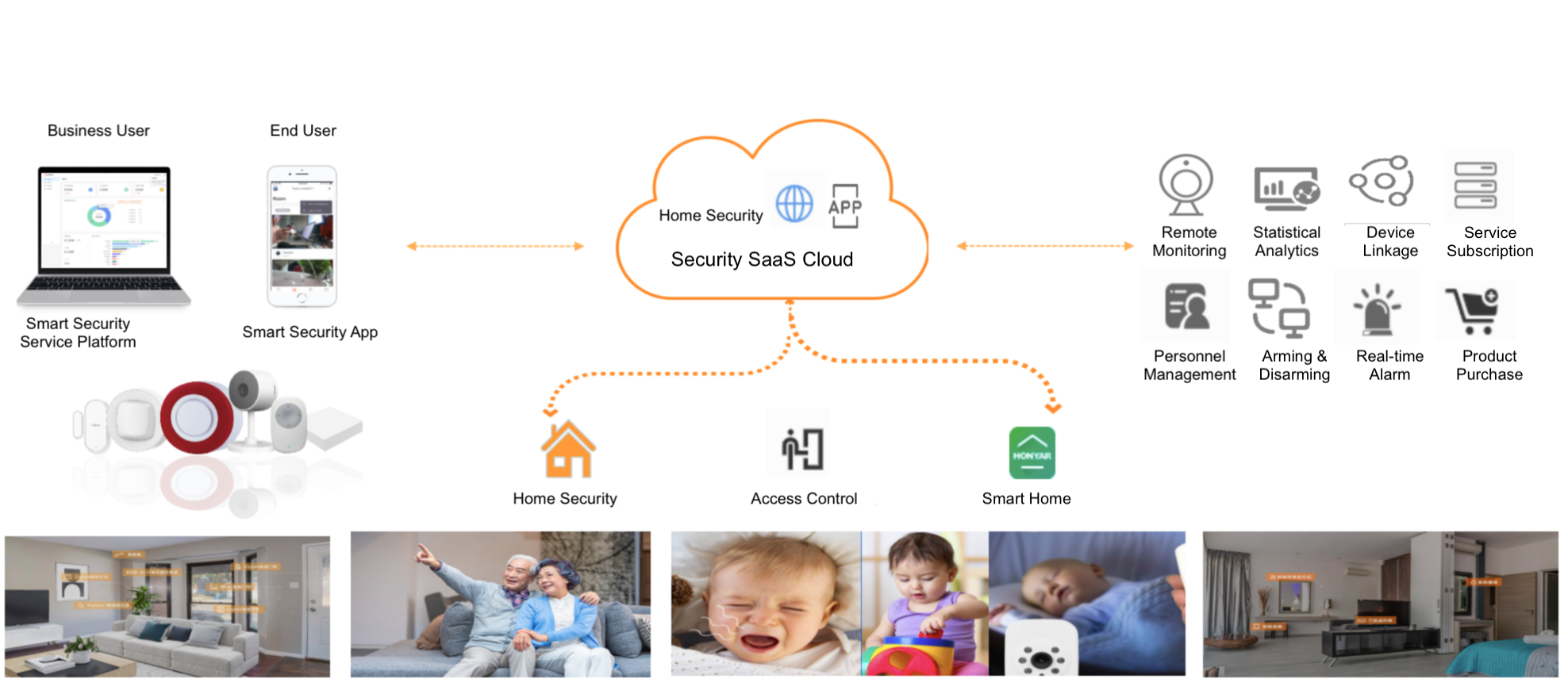 Video surveillance, voice chat, and smart control.

View live video and cloud-stored video.
Communicate timely by voice.
Add smart devices and set up a smart home scenario.
Search for footage by criteria.

Choose from a variety of value-added services, and customize package services.

Adopt multiple service types such as cloud storage, phone calls, SMS, and hosting services.
Release the specified product categories and types.
OEM users can flexibly customize service marketing plans.
Customize the domain name logo.

Arm and disarm with only a few simple steps, and verify the alarms on a pop-up window.

Enable geofencingfor home members
Customize arming and disarming, and set up a 24/7 defense zone.
In case of an alarm, a window pops up to show the video.
Deep learning algorithms minimize false alarms.
Users can verify alarms during alarm device linkage.

Professional security services.

Integrate multiple solutions supported by global professional security service providers.
Customize home alarm hosting services with flexible business models.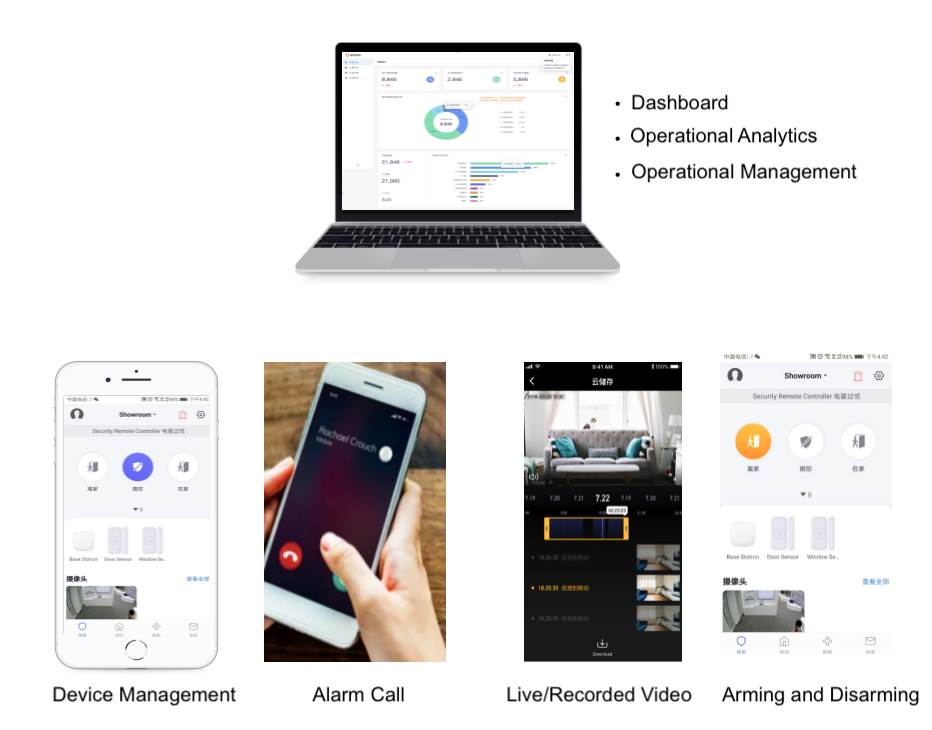 Lightweight application for business security scenario: security monitoring
Manage security devices efficiently with an all-in-one application. The featured role-based permission control optimizes staff and device management across organizations.
Devices across platforms
With one mobile or web application, connect various security devices from numerous manufacturers and across multiple categories.
Role-based management
Support efficient management of permissions for enterprise employees.
Multi-category devices
Connect smart cameras and a wide range of detectors and alarms.
Efficiency and convenience
A few clicks allow you to manage the enterprise security scenarios in the cloud, without on-premises operations and maintenance.
Stability and security
Provide a full life-cycle privacy protection, and set security benchmarks in the global IoT markets.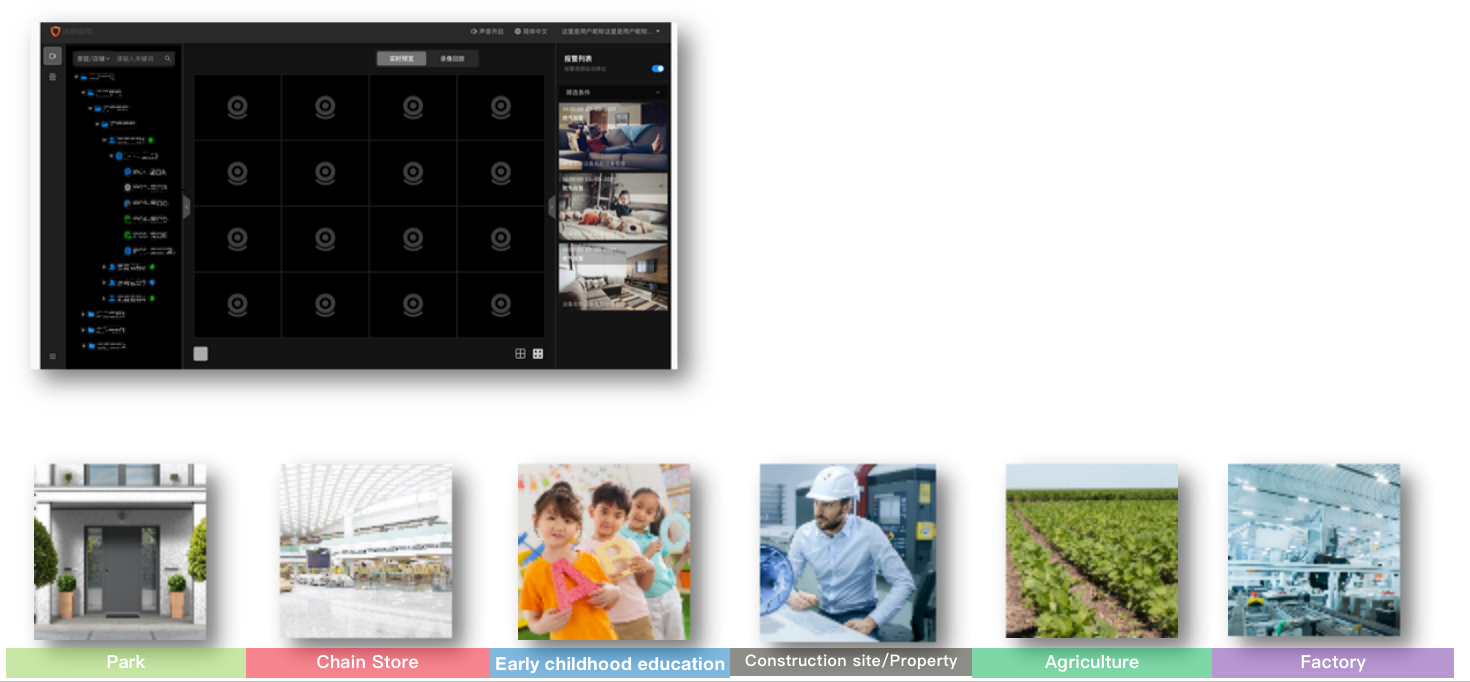 Security monitoring: lock management
Enterprises or organizations share smart locks and other devices to residents to manage room check-in status, locks, and residents' self-service access control.
Access control
Set a valid period for personnel access, manage permissions, and monitor the room status in real time.

Device management
Control smart products on the app easily.

Efficient management
An enterprise or organization shares devices with the client and sends permissions of access control devices and smart devices. Therefore, the devices can be controlled by both the enterprise and the client.

Diverse categories
Support the linkage among security alarms, access control, and AI video devices to ensure the safety of homes.

Stability and safety
Protect the privacy data during the entire life cycle, and take the lead in the security compliance standards in the global IoT field.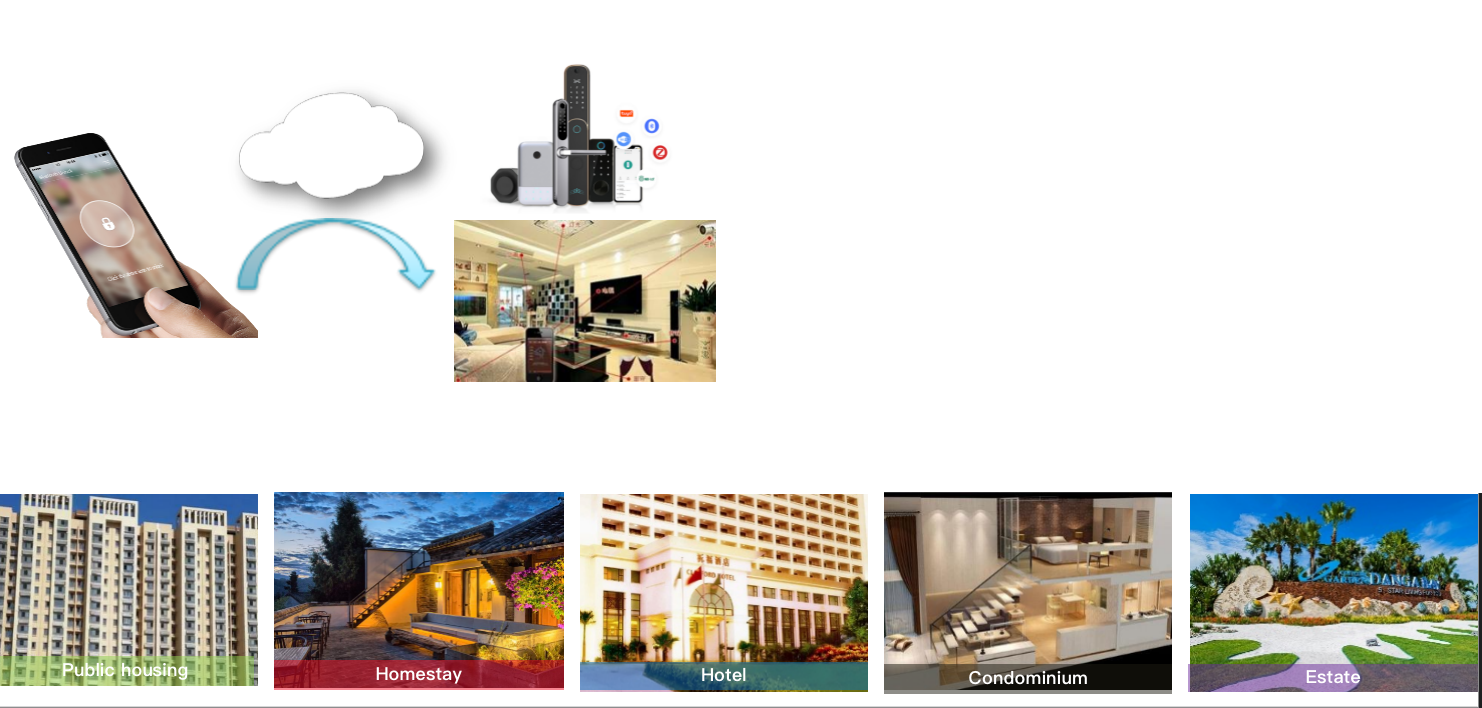 Lightweight application for business security scenario: alarm monitoring service
The enterprise or organization provides users with a 24/7 security alarm monitoring service, designs the whole process, and achieves the closed-loop system of the Consumer app, Alarm Monitoring Center, and Security Station app.
Diverse categories
Implement the linkage between security alarms and IP cameras to enhance the credibility of alerts.

Complete business process
24/7 on call. Receive and deal with alarms, and dispatch personnel in time.

Precision verification and processing
Perfect verification and processing designs have solved a big challenge in the industry in an efficient way.

Organization permission
Configure the organizations, roles, and permissions flexibly to manage the personnel efficiently.

Video surveillance: live streaming and video playback.

With the user's approval, view the live streaming and video playback of the homes and stores.
Conveniently make a proper division of labor and view the specified users.

Anomaly detection: users' status
Users' arming and disarming status, offline device status, low battery alerts are provided in real time.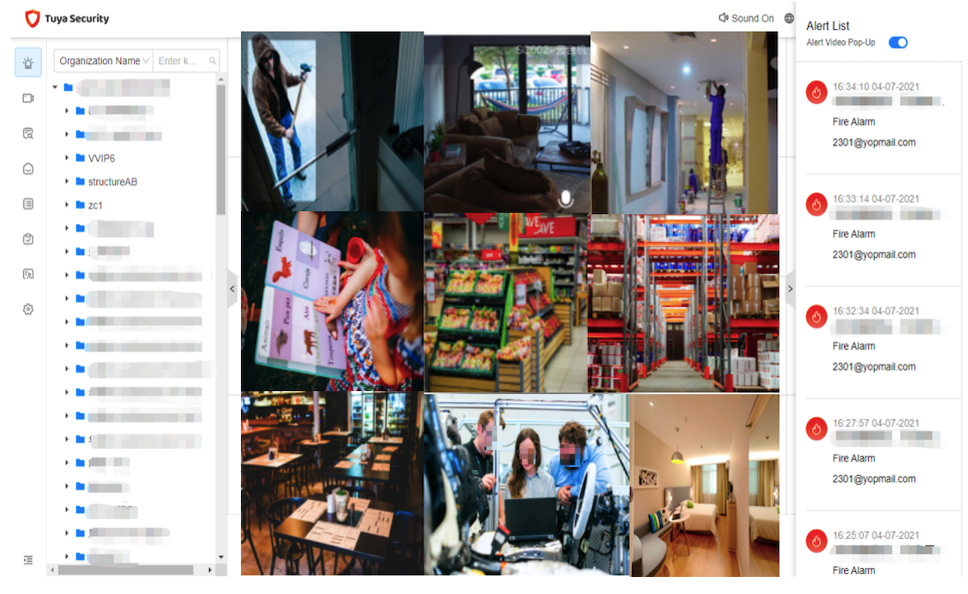 Lightweight application for business security scenario: third-party application
Based on the Tuya Smart Security Cloud Platform, open up all business capabilities, provide various application SDKs, components, and APIs, and work with partners to build end-to-end smart security scenarios.
Open APIs
After years of practice in the IoT industry, a wealth of open APIs has been provided, covering multiple business scenarios such as authorization management, user management, pairing management, and device control automation scenarios.
Things data model
Provide component APIs to support multiple features such as arming, disarming, alarm, arming countdown, alarm countdown, and canceling alarms. You can call the security API operations to quickly achieve professional security capabilities in pan-scenario applications.
Flexible device authorization mode
Integrate with multiple authorization methods by using App SDK, OEM app, and all-in-one apps. You can get the user and device data by calling Open API, and control devices with the specified permissions.