A Wi-Fi channel, also known as a frequency band, refers to a data signal transmission channel that uses wireless signals as a carrier. This topic describes information about Wi-Fi channels and suggestions on how to choose them. It also provides a list of Wi-Fi channel codes in different countries or regions for you to choose from.
Scope of application
To enable your product to communicate over Wi-Fi, you need to set the Wi-Fi channel code for your product on the Information page of the Tuya IoT Development Platform. This way, the Wi-Fi channel code can be written to the firmware through the production process.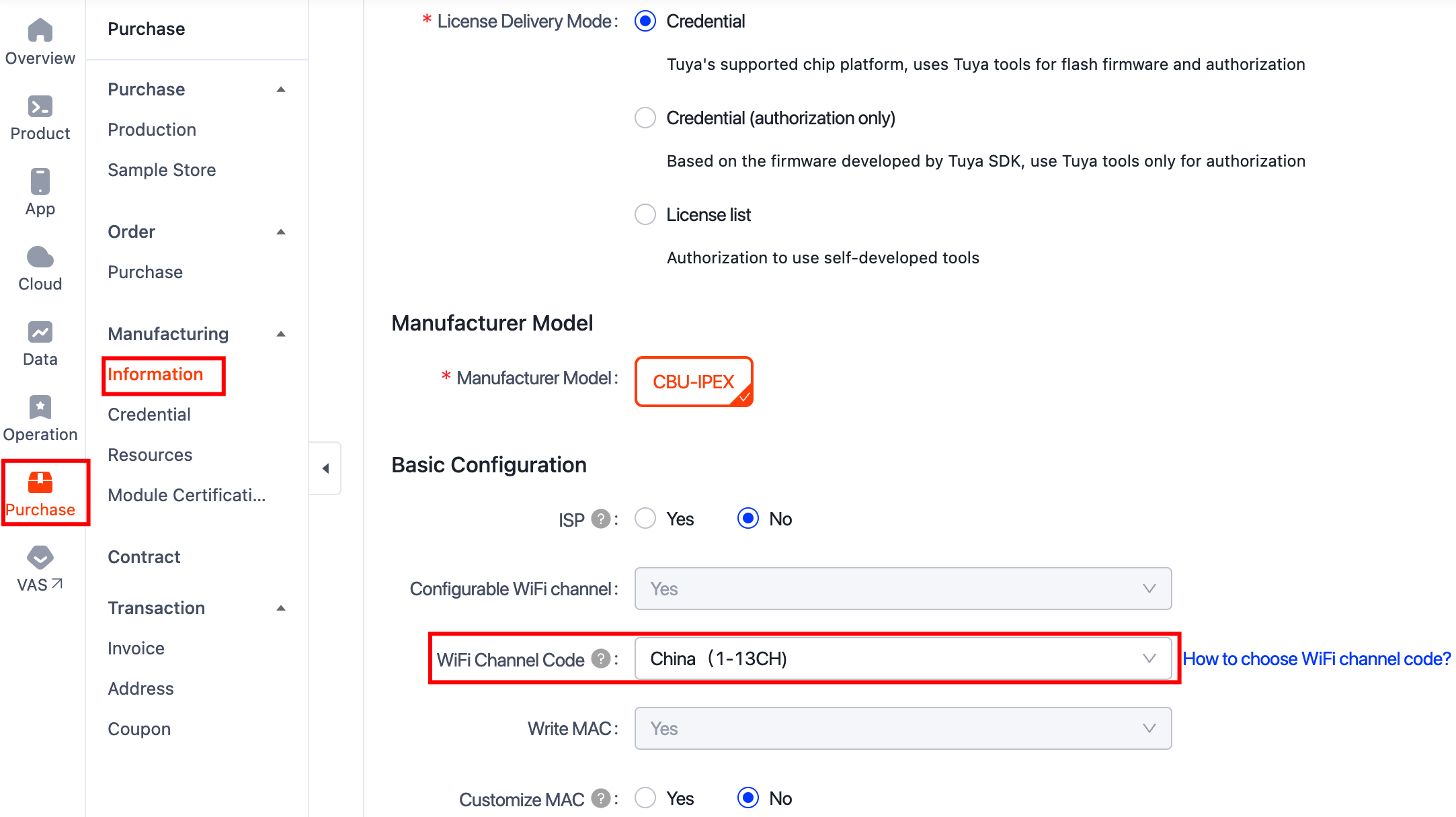 Channel codes
You can choose the suitable Wi-Fi channel code depending on the country or region to which your product is shipped. The following table provides a reference for you to determine the mappings between Wi-Fi channel codes and countries or regions.
| Country/region | Channel | Recommendation |
| --- | --- | --- |
| Argentina | 1-13CH | Other (1-13CH) |
| United Arab Emirates | 1-13CH | China (1-13CH) |
| Oman | 1-13CH | China (1-13CH) |
| Azerbaijan | 1-13CH | China (1-13CH) |
| Egypt | 1-13CH | Other (1-13CH) |
| Ireland | 1-13CH | Europe (1-13CH) |
| Estonia | 1-13CH | Europe (1-13CH) |
| Austria | 1-13CH | Europe (1-13CH) |
| Australia | 1-13CH | Australia (1-13CH) |
| Pakistan | 1-13CH | China (1-13CH) |
| Bahrain | 1-13CH | China (1-13CH) |
| Panama | 1-11CH | USA (1-11CH) |
| Brazil | 1-13CH | Other (1-13CH) |
| Bulgaria | 1-13CH | Europe (1-13CH) |
| Belgium | 1-13CH | Europe (1-13CH) |
| Iceland | 1-13CH | Europe (1-13CH) |
| Poland | 1-13CH | Europe (1-13CH) |
| Bolivia | 1-13CH | Other (1-13CH) |
| Belize | 1-13CH | Other (1-13CH) |
| Denmark | 1-13CH | Europe (1-13CH) |
| Germany | 1-13CH | Europe (1-13CH) |
| Dominican Republic | 1-11CH | USA (1-11CH) |
| Ecuador | 1-13CH | Other (1-13CH) |
| France | 1-13CH | Europe (1-13CH) |
| Philippines | 1-13CH | China (1-13CH) |
| Finland | 1-13CH | Europe (1-13CH) |
| Colombia | 1-11CH | USA (1-11CH) |
| Costa Rica | 1-13CH | Other (1-13CH) |
| Georgia | 1-13CH | China (1-13CH) |
| Kazakhstan | 1-13CH | China (1-13CH) |
| Republic of Korea | 1-13CH | Korea (1-13CH) |
| Netherlands | 1-13CH | Europe (1-13CH) |
| Honduras | 1-13CH | Other (1-13CH) |
| Canada | 1-11CH | Canada (1-11CH) |
| Czech Republic | 1-13CH | Europe (1-13CH) |
| Zimbabwe | 1-13CH | Other (1-13CH) |
| Qatar | 1-13CH | China (1-13CH) |
| Kuwait | 1-13CH | China (1-13CH) |
| Croatia | 1-13CH | Europe (1-13CH) |
| Latvia | 1-13CH | Europe (1-13CH) |
| Lebanon | 1-13CH | China (1-13CH) |
| Lithuania | 1-13CH | Europe (1-13CH) |
| Liechtenstein | 1-13CH | Europe (1-13CH) |
| Luxembourg | 1-13CH | Europe (1-13CH) |
| Romania | 1-13CH | Europe (1-13CH) |
| Malta | 1-13CH | Europe (1-13CH) |
| Malaysia | 1-13CH | China (1-13CH) |
| United States | 1-11CH | USA (1-11CH) |
| Peru | 1-13CH | Other (1-13CH) |
| Morocco | 1-13CH | Other (1-13CH) |
| Monaco | 1-13CH | Europe (1-13CH) |
| Mexico | 1-11CH | USA (1-11CH) |
| South Africa | 1-13CH | Other (1-13CH) |
| Nigeria | 1-13CH | Other (1-13CH) |
| Norway | 1-13CH | Europe (1-13CH) |
| Portugal | 1-13CH | Europe (1-13CH) |
| Japan | 1-14CH | Japan (1-14CH) |
| Japan | 1-13CH | Japan (1-13CH) |
| Sweden | 1-13CH | Europe (1-13CH) |
| Switzerland | 1-13CH | Europe (1-13CH) |
| El Salvador | 1-13CH | Other (1-13CH) |
| Cyprus | 1-13CH | China (1-13CH) |
| Saudi Arabia | 1-13CH | China (1-13CH) |
| Sri Lanka | 1-13CH | China (1-13CH) |
| Slovakia | 1-13CH | Europe (1-13CH) |
| Slovenia | 1-13CH | Europe (1-13CH) |
| Thailand | 1-13CH | China (1-13CH) |
| Trinidad and Tobago | 1-13CH | Other (1-13CH) |
| Tunisia | 1-13CH | Other (1-13CH) |
| Turkey | 1-13CH | China (1-13CH) |
| Guatemala | 1-11CH | USA (1-11CH) |
| Venezuela | 1-13CH | Other (1-13CH) |
| Brunei | 1-13CH | China (1-13CH) |
| Ukraine | 1-13CH | Europe (1-13CH) |
| Uruguay | 1-13CH | Other (1-13CH) |
| Uzbekistan | 1-11CH | China Taiwan (1-11CH) |
| Spain | 1-13CH | Europe (1-13CH) |
| Greece | 1-13CH | Europe (1-13CH) |
| Singapore | 1-13CH | Singapore (1-13CH) |
| New Zealand | 1-13CH | Australia (1-13CH) |
| Hungary | 1-13CH | Europe (1-13CH) |
| Armenia | 1-13CH | China (1-13CH) |
| Yemen | 1-13CH | China (1-13CH) |
| Iraq | 1-13CH | China (1-13CH) |
| Israel | 1-13CH | China (1-13CH) |
| Italy | 1-13CH | Europe (1-13CH) |
| India | 1-13CH | China (1-13CH) |
| Indonesia | 1-13CH | China (1-13CH) |
| United Kingdom | 1-13CH | Europe (1-13CH) |
| Jordan | 1-13CH | China (1-13CH) |
| Vietnam | 1-13CH | China (1-13CH) |
| Chile | 1-13CH | Other (1-13CH) |
| China | 1-13CH | China (1-13CH) |
| Macao SAR, China | 1-13CH | China (1-13CH) |
| Taiwan, China | 1-11CH | China Taiwan (1-11CH) |
| Hong Kong SAR, China | 1-13CH | China (1-13CH) |